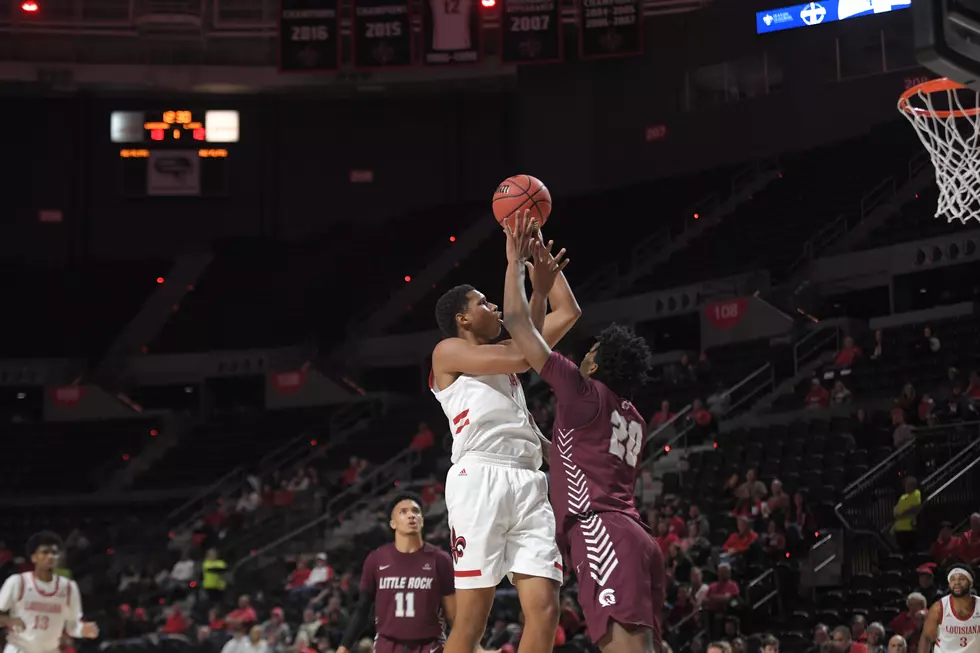 Cajuns Go Cold, Fall to Little Rock 69-66
BRAD KEMP PHOTO
The Louisiana Ragin' Cajuns were doing fine.
They opened the second half on a 10-4 run to take a 51-37 lead with 17:16 remaining in the game Saturday night against Little Rock at the Cajundome.
But over the next 13:19, the Cajuns (5-7, 0-2 Sun Belt) went ice cold, making only one field goal, and the Trojans rallied to hand Louisiana its first home loss of the season, 69-66.
"We just couldn't buy a shot," Cajuns' coach Bob Marlin said after the game.  "And, then we didn't guard down the stretch and gave up some easy baskets.  We're just not good enough right now."
The Cajuns led 55-46 after a Cedric Russell jumper ended a drought of over seven minutes without a field goal.  But Louisiana went cold again and had five missed shots and a pair of turnovers on their next seven possessions, allowing the Trojans (8-5, 2-0 Sun Belt) went on a 10-0 lead to take the lead, 56-55 with 6:04 to play.
As the teams traded free throws, Trajan Wesley hit a bucket in the paint to give the Cajuns a 61-60 lead with 3:16 to play.  Jalen Johnson then hit a pair of free throws to put the Cajuns up three with 2:13 to go.  But Kamani Johnson hit a layup and Marquis Nowell drilled a three pointer from the corner to give Little Rock a two point lead.  Ruot Manyyong scored inside with :17 left to make it a two possession game, but Mylik Wilson hit a three pointer with nine seconds left to cut the lead to one point.  Isaiah Palermo then made two free throws with 3.4 seconds remaining.
Louisiana ran a play and got a wide open look, but Russell's three pointer went in and out as the buzzer sounded.
Jalen Johnson matched his career high with 26 points and Russell added eleven for the Cajuns.
Manyyong had a career high 21 points and added 12 rebounds for Little Rock, while Kamani Johnson also had a career high with 19 points, while Ben Coupet added eleven.
Marquis Nowell, who came into the game leading the league in scoring, was held to just eight points.
Trailing 31-30 with 2:49 left in the first half, the Cajuns got a pair of free throws from Wesley, a jumper from Johnson, a three pointer from Russell and two more free throws from Wesley to take an eight point lead at the break.
More From News Talk 96.5 KPEL