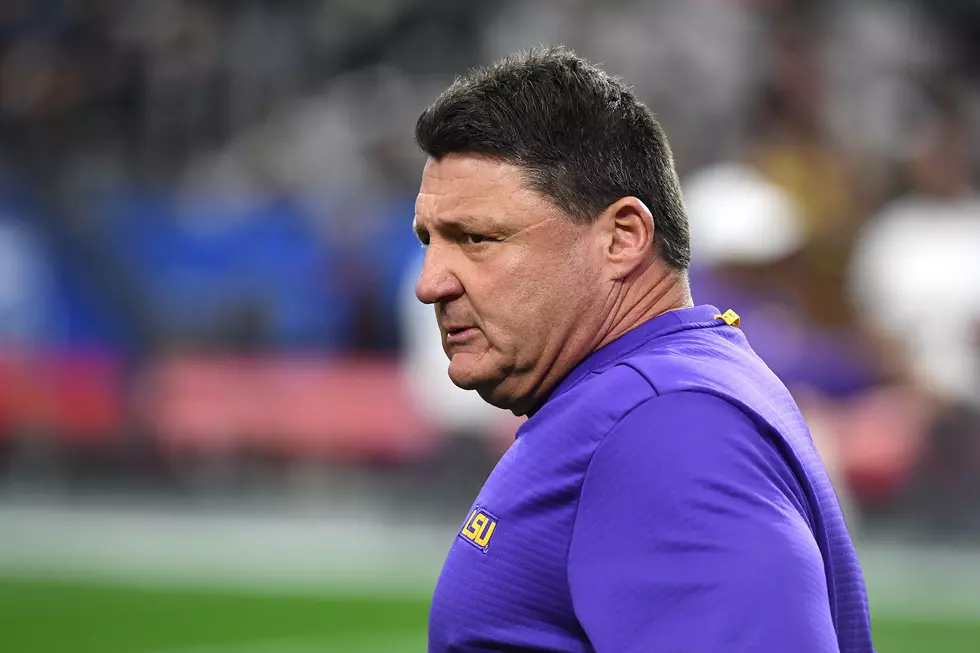 Coach O the 30th highest paid coach in NCAA, 9th in SEC
Getty Images
LSU head coach Ed Orgeron is the 30th highest-paid coach in the NCAA and the 9th highest paid in the SEC at four million a year according to the annual USA Today salary report.
The Tigers are the number two team in the nation and O is raking in the plaudits, but USA Today LSU writer Glenn Guilbeau says it's important to remember this success hasn't always been the case.
"It looks like a bargain right now, but you have to look at where he was when he was hired, not a lot of schools were going after him, and it got off to a kind of rocky start," says Guilbeau.
Orgeron has a career 57% win percentage as a coach, mostly held down by his 29% win percentage during his three years leading Ole Miss.
Guilbeau says if Orgeron can finish the season the way he started it, he won't stay low ranked for long. Fans will rush to crown Orgeron a king if he beats Bama November 9th, but Guilbeau urges caution.
"They shouldn't give a raise to Ed the Monday after he beats Alabama if that happens, because you have to watch the rest of the season," says Guilbeau who adds Orgeron could still score a major raise even if they lose to Bama by taking the team into, or close to the NCAA playoffs.
LSU is the second highest-scoring team in the nation, averaging 50.1 points per game. Guilbeau says dollar for dollar it's tough to find a better value than LSU's offensive trio.
"LSU, the salaries they are paying to Orgeron, (offensive coordinator) Steve Ensminger, (passing game coordinator) Joe Brady, based on this season, they are definitely getting a bargain," says Guilbeau.
Orgeron, Ensminger, and Brady make a combined 5.2 million dollars. That's 1.6 million less than Auburn coach Gus Malzahn's total salary.
More From News Talk 96.5 KPEL