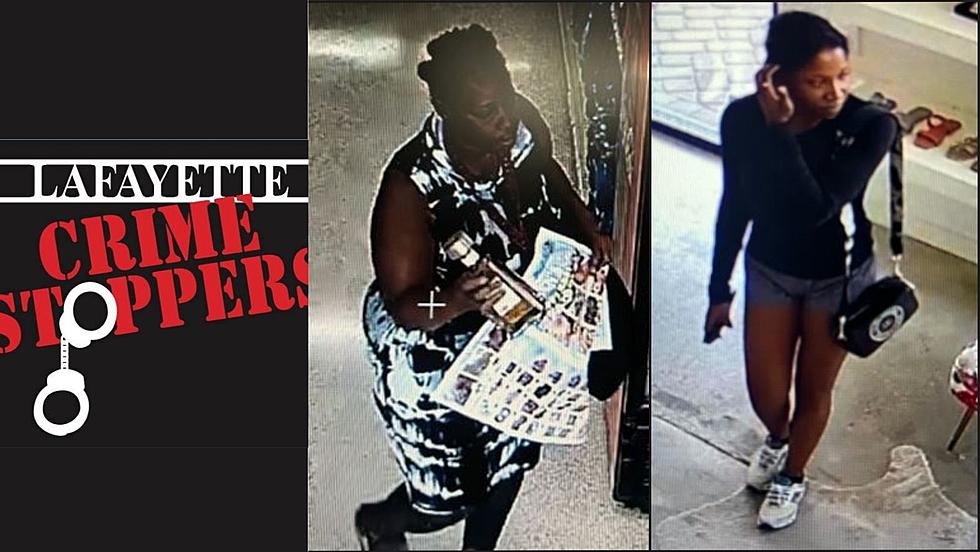 Crime Stoppers Looking for 3 Lafayette, Louisiana Thieves
Credit: Lafayette Crime Stoppers
LAFAYETTE, La. (KPEL News) - Lafayette law enforcement are looking for a pair of thieves responsible for taking jewelry at one local boutique and another thief who stole alcohol from a local grocery store. The thefts are not related, but were both shared by Lafayette Crime Stoppers on Monday.
One of the thieves was caught on camera at Adrien's Supermarket March 27. According to Crime Stoppers and what was seen on surveillance video, the suspect was seen stuffing four bottles of Malibu rum into a pink bag and leaving the store without paying.
The second theft occurred at the beginning of March at Wildflower Boutique on Settler's Trace.
According to the video and law enforcement reports, two women entered that shop on March 4 and stole $105 worth of costume jewelry. They left the store without paying shortly after taking the jewelry.
Lafayette Crime Stoppers is asking for the public's help in locating the three suspects. If you know their identities or have any information that can help, you are encouraged to call Lafayette Crime Stoppers at (337) 232-TIPS (8477). You can also download the P3 TIPS Mobile App or dial **TIPS (**8477) on your mobile device. All callers remain anonymous.
What Is Crime Stoppers?
Crime Stoppers is part of a larger collection of organizations that are utilized in an effort to get more information on crimes that police need assistance with. Often, the tips that come in help police identify a suspect or at least point them in the right direction and help lead to critical arrests.
According to their website, Crime Stoppers "encourages members of the community to assist local law enforcement agencies in the fight against crime by overcoming the two key elements that inhibit community involvement: fear and apathy."
By utilizing anonymous sourcing and offering incentives for accurate information, Crime Stoppers is able to better help local law enforcement.
Fighting Fentanyl: Important Arrests Made Across Acadiana in 2022
The fight against fentanyl is a daunting one as the highly potent drug continues to take lives every day across the country. From Lafayette to the surrounding areas, law enforcement agencies have their hands full as they fight to get fentanyl off their respective streets.
Let's take a look back at headline-catching cases involving fentanyl in 2022.
List of Homicides and Deaths in Acadiana for 2023
Whether you pay attention to the news each day or just sporadically check in every once in a while, I think you will agree that we are often reading about homicides and deaths around Acadiana. 2023 seems to be showing that Acadiana will have a busy year when it comes to homicides, fatal crashes, and pedestrian deaths.
More From News Talk 96.5 KPEL