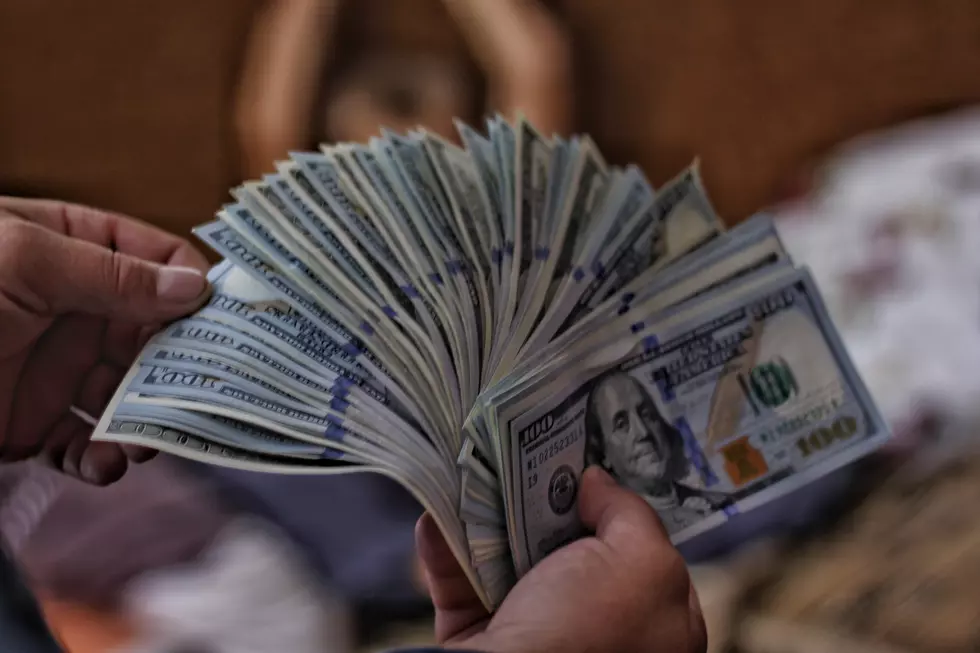 Louisiana Gets Wins: Mega Millions, Powerball, Lotto, and Easy 5
Viacheslav Bublyk via Unsplash.com
Maybe the reason Louisiana is shaped like an "L" is because we are lucky. We certainly hit the jackpot when it comes to good food and good times. But, apparently when it comes lottery games, Louisiana is among the luckiest states in the union.
Our reason for implying that is pretty simple, over the weekend Louisiana lottery players racked up three big wins in the country's largest multi-state lottery games. There were two big money winners from Friday's Mega Millions drawing and now we've learned that Saturday's Powerball drawing produced a $150,000 winner in the state as well.
There was also a $3.3 million dollar winning ticket sold for Lotto and the Easy 5 game also got a winner too. The jackpot in that drawing was $210,000. So all in all over the weekend Louisiana Lottery players, just counting prizes of $10,000 or more, won $3,670,000. That's not bad for two minutes work, right?
Let's get you to the details and the winning numbers.
On Saturday we reported on the Louisiana's big Mega Millions winners. But at the time of our report the point of purchase location for the winning tickets had not been released by the Louisiana Lottery. We now know where those two tickets were sold. 
By the way, here are the numbers from the January 6,2023, Mega Millions game:
03   20   46   59   63   Mega Ball 13   Megaplier x3.
In that drawing there were two tickets sold in Louisiana that earned $10,000 prizes. If you'd like to see the drawing or read more about the 2,600 plus other cash prizes state players earned, that information is available right here.
We were informed by Louisiana Lottery officials that one of the two $10,000 winners was sold in New Orleans at Chef Chevron on the Chef Menteur Highway. The other $10,000 winner was sold in Acadiana. In fact the Lottery has confirmed the ticket was purchased the Raceway in Eunice on East Laurel Avenue.
For Saturday's Powerball here's the way the balls bounced out of the hopper and turned into cash for some lucky players.
If you were unable to watch the video, here's how the numbers fell out.
35   36   44   45   67   Powerball 14  Power Play  x 3
The Powerball website confirmed that no single ticket matched the numbers needed to claim the game's top prize of $320,600,000. However some Louisiana players did manage to get a sizeable return on their $2 or $3 dollar investment, depending on if they opted in on the Power Play.
Thirty-two tickets sold for last night's Powerball drawing in Louisiana have won prizes of $100 or more. The big money winner was a $150,000 winner. That ticket matched four of the five white-balls and the Powerball. The only thing we don't know as of early Sunday morning, is where that ticket was sold.
We have requested the information from the Louisiana Lottery and they are usually pretty quick to reply. When we get the point of purchase information we will update this page for you.
The same can be said for last night's Lotto drawing in Louisiana. We do know there was a jackpot winner and we don know the amount won was $3,300,000. Again we do not have point of purchase information. If you'd like to check your Lotto numbers here are the ones that were reported by the Louisiana Lottery for Saturday January 7, 2023.
If those are your numbers, you're now a millionaire. Congratulations.
In the Easy 5 game there was also a jackpot winner in last night's drawing. At the time the balls dropped last night the top prize in Easy 5 was $210,000. If you didn't see the drawing here are the numbers reported by the Louisiana Lottery website.
Just like the Powerball numbers we are waiting on point of purchase information for the Lotto winning ticket and the Easy 5 winning ticket. Our suggestion is to not wait on the Lottery you can go ahead and check your numbers against our information here and re-confirm with the Lottery website.
The Easy 5 jackpot and the Lotto jackpot will now reset for their next drawings on Wednesday evening. The Easy 5 top prize will be $50,000. The Lotto top prize will start at $500,000.
With no big winner from Saturday the Powerball jackpot will climb to an estimated $340 million for Monday night's drawing. The Mega Millions jackpot on Tuesday will be an estimated $1.1 billion. Our sources tell us the jackpot for Mega Millions will likely climb beyond the $1.1 billion estimate as ticket sales across the nation have been brisk since Friday night.
We encourage you to play lottery games and all games of chance responsibly. Most tickets purchased for these games are not big money winners. In fact, most tickets don't win anything. So only spend what you can afford to lose. If you or someone you love is having an issue with gambling addiction or gambling has affected their lives in a negative way, please reach out. You may call 1-877-770-STOP (7867) for free and confidential advice and counseling.
19 Straight Up Facts You Can't Argue with About Louisiana
Louisiana is truly a melting pot of cultures, consciousness, and sensibility. We have it all from the perfectly straight-laced to ridiculous and sublime. But one thing's for sure you can count on these 19 facts to be real, no matter where in the state you happen to be.
More From News Talk 96.5 KPEL