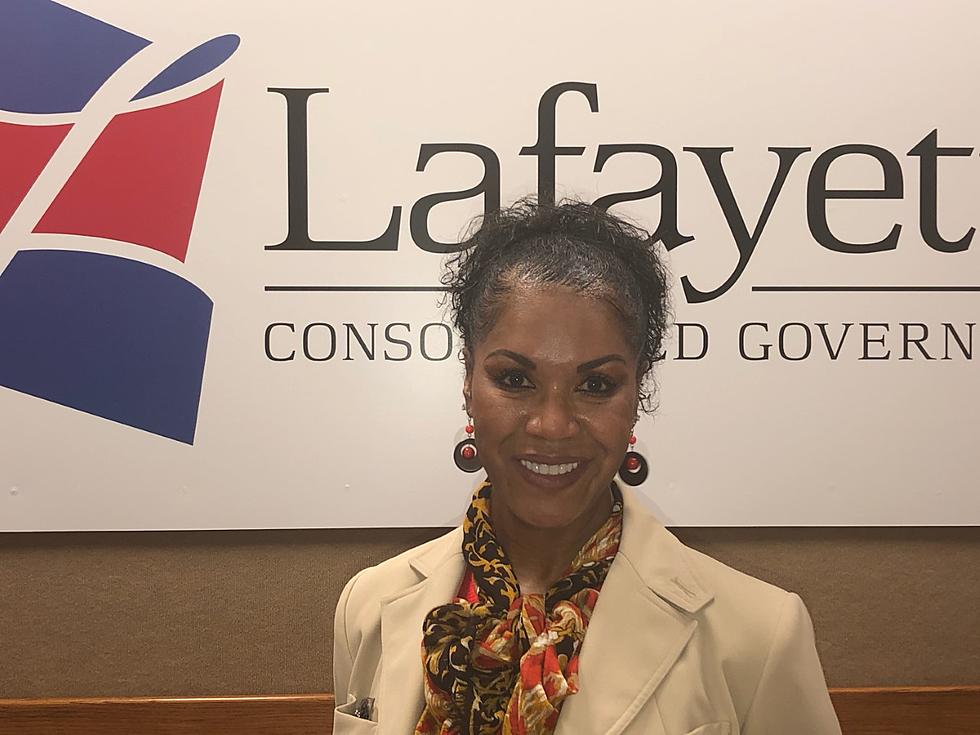 Lafayette Council Clerk Recognized for Service
Ian Auzenne/KPEL
A member of the Lafayette Consolidated Government staff is making history.
You may not know who she is, but she makes an impact on the community every day.
"I started off as a temporary employee," Veronica Williams said.
That was 28 years ago. Since then, Williams has risen through the ranks to become the clerk of the Lafayette City and Parish Councils.
Her journey began thanks to a friend and two Lafayette power brokers.
"I was contacted—I have a sorority sister, actually, who knew (former city councilman) Chris Williams, who's no relation to me at all," Williams said. "She knew him and said, 'Look. I have someone who can temp for you.' He contacted (then-council clerk) Dee (Stanley), and that's how that came about. He was the one who hired me permanently and started my 28-year career in government."
Since then, Williams has served under five mayors. She has been an administrative assistant, a legislative assistant, assistant clerk, and, since 2013, the clerk of the council.
Despite all the changes in administrations and forms of government, Williams says her duties have remained constant.
"It's changed, but a lot has stayed the same," Williams said. "I've served all 28 years in government in the legislative branch. I've always worked for the council. It's always about agendas, minutes, open meetings laws, and constituency concerns."
Williams's work has earned her recognition from her peers. She was recently appointed as the public relations chair of the Louisiana Municipal Clerks Association. She also was recognized for a first in Louisiana history.
"I was recognized by two Louisiana statewide organizations as being the first clerk to serve two councils at the same time--the first in the entire state of Louisiana," Williams said. "I'm also the first clerk in the entire state of Louisiana to serve a separate city council, a separate parish council, and a separate consolidated council. It is an honor to serve in that capacity and to represent the city I love—Lafayette, Louisiana—and to be in that role."
Williams says she is grateful for those who given her the opportunity to serve her community.
"I want to thank all of the councils and all of the guys and gals that came as council members before me who approved me, supported me, and had faith in me in this journey," Williams said.
Williams's community service extends beyond her role at LCG. She is active in the Delta Sigma Theta sorority, which, along with LCG, puts out the Black Pages of Greater Lafayette business directory. She's involved in her church. And through it all, she still finds time to run and bike.
2021 Glenn Armentor Pay It Forward Scholarship Winners
More From News Talk 96.5 KPEL