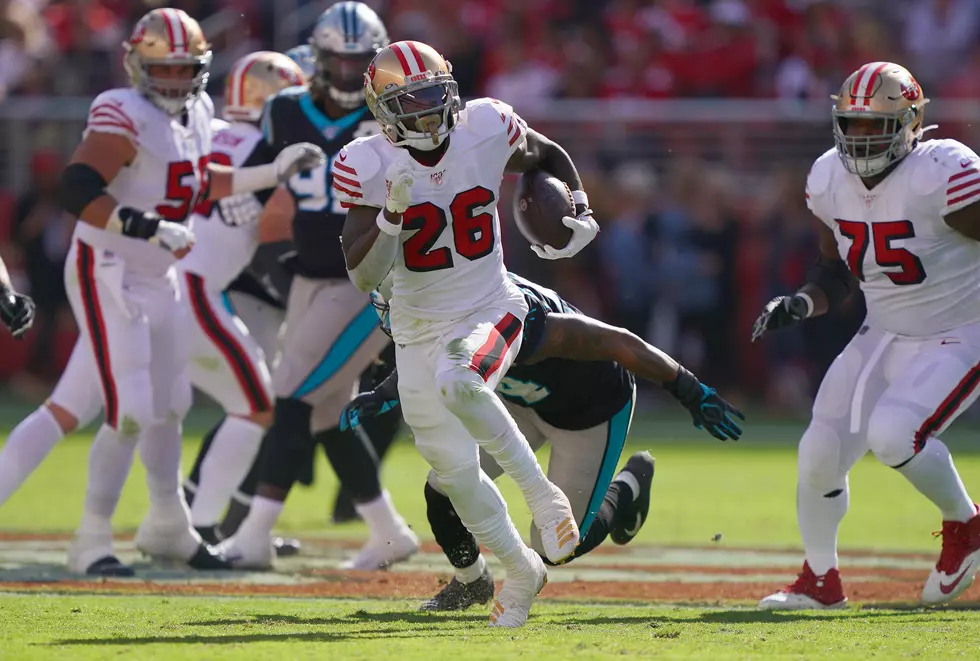 Midseason: Best and Worst in the NFL – From the Bird's Nest
Getty Images/Thearon W. Henderson
We have reached the midway point of the NFL season and you remember that word "parity" that's been thrown around the league for a lot of years.
There are some very good teams in the NFL.  And, there are some very bad teams.
Here's my list of the best and worst:
1.  SAN FRANCISCO 49ers (7-0) Yes, the schedule has been kind to the 'Niners thus far, with their best win.  But San Francisco is playing hellacious defense and they run the ball better than anyone in the NFL.  Their second half schedule is pretty rugged with two against Seattle, a rematch with the Rams and a trip to New Orleans...oh, and Green Bay visits as well.
2.  NEW ENGLAND (8-0) The Patriots are good, again.  Their defense continues to be as good as their is in the NFL.  But they have benefited from the softest schedule in the NFL, with their best win over Buffalo.  Trips to Baltimore, Philly and Houston await in the second half, with home games against Kansas City and Dallas.
3.  NEW ORLEANS (7-1) Sean Payton is a ridiculously good head coach and is the midseason Coach of the Year in the NFL (with apologies to Kyle Shanahan.)  Winning five games without Drew Brees is a remarkable feat.  There are some potential landmines in the second half, with two meetings against the Panthers and games against San Francisco and Indianapolis.  But three of those four games are in the Superdome.
4.  GREEN BAY (7-1)  They got by the Mahomes-less Chiefs last night to reach the midway point with just one loss.  They're running the football more and benefiting from it.  And, their defense has been better than expected.  They've still got to go to San Francisco and Minnesota and have a home game with Carolina.  It will be a surprise if they finish with fewer than 12 wins.
5.  MINNESOTA (6-2)  Don't discount these guys, even with Kirk Cousins at quarterback.  He's playing very efficiently and Minnesota can play defense.  They get the Packers at home, but have road trips to Kansas City, Dallas and Seattle on the horizon.
1.  MIAMI DOLPHINS (0-6)  There isn't much to say about this team, except they are pretty bad.  They've been outscored by a whopping 148 points in their six losses (they have Pittsburgh tonight.)  But there might be hope in the second half, as Miami plays the Jets twice, along with the Bengals, Giants and Browns.
2.  CINCINNATI BENGALS (0-8)  Granted their schedule has been pretty rugged with their worst loss to the Cardinals, but 0-8 is still 0-8.  The second half will give them some opportunities for wins as the play the Jets, Dolphins and have two meetings with underachieving Cleveland.
3.  WASHINGTON REDSKINS (1-7)  Hey, they have a win.  Over Miami.  By one point.  The Redskins are a mess in just about every facet of the game.  But it's the offense that's especially brutal, as Washington has scored in single digits four times.  There won't be many opportunities in the second half, with their best chance for a win coming against the Jets after their bye week.  Daniel Snyder is still waiting to win the Executive of the Year Award
4.  ATLANTA FALCONS (1-7)  They did get a win against Philly in week two, but the Falcon's defense has been deplorable.  They've give up 250 points in eight games, the most points of anyone in the NFL (although Miami has given up a bigger average.)  The Falcons have six games against NFC South foes in the second half along with games against Jacksonville and the 49ers.  Owner Arthur Blank says there are no changes forthcoming.  Saints fans like that statement.  Oh, and they also blew a 27-3 lead in the Super Bowl.
5.  NEW YORK JETS (1-6)  Well, they do have that win over the Cowboys.  And, they've played as tough a schedule as any of the losers.  They'll have some opportunities in the second half.  Several, in fact:  They've got two against the Dolphins as well as games against Cincinnati and Washington.  They might be a downright juggernaut in the second half.  Well, maybe not.
More From News Talk 96.5 KPEL