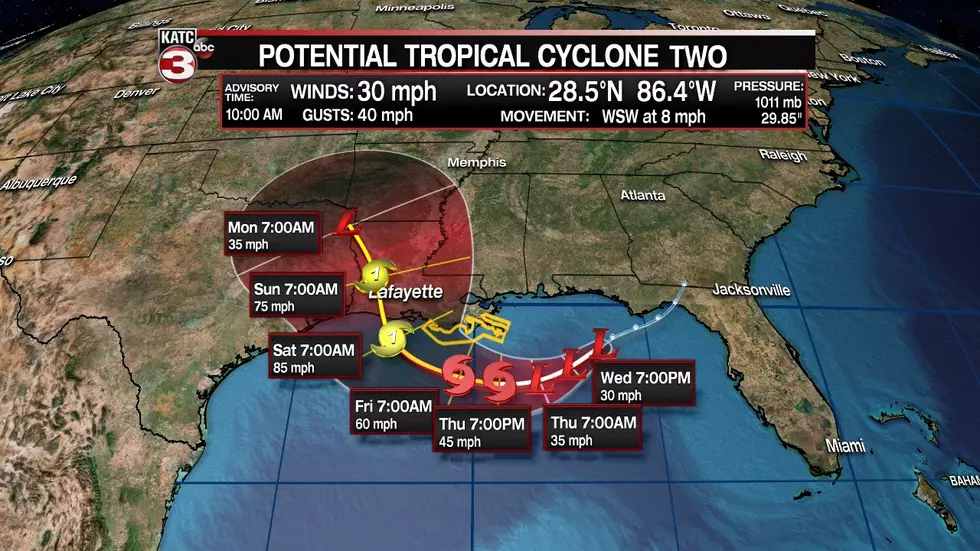 National Weather Service says tornadoes, rainfall, and storm surge among concerns from tropical system
KATC
The state is bracing for a slow-moving tropical system that's expected to drop a ton of rain, as 10 to 15 inches of rain is possible. National Weather Service meteorologist Tim Erickson says much of that rainfall will come between Friday and Sunday.
"The bulk of that rainfall should fall west of I-55, so we're expecting the highest tallies west of I-55 and a little bit lower to the east of that," said Erickson.
Erickson says the river is expected to hit 19 feet on Friday and a flood warning has been issued for the New Orleans area.
"The thing that would be causing it to go up that 19 feet level that we have right now in the area forecast is the storm surge provided by the storm as it develops and that will depend greatly on it actually developing," said Erickson.
Levees in New Orleans are built to handle 20 to 21 feet river levels. Erickson says another concern that comes with this storm is the possibility of tornados.
"We do expect that storm to be to the west of us, so we will be within that flow where we can expect some tornadic areas," said Erickson.
More From News Talk 96.5 KPEL