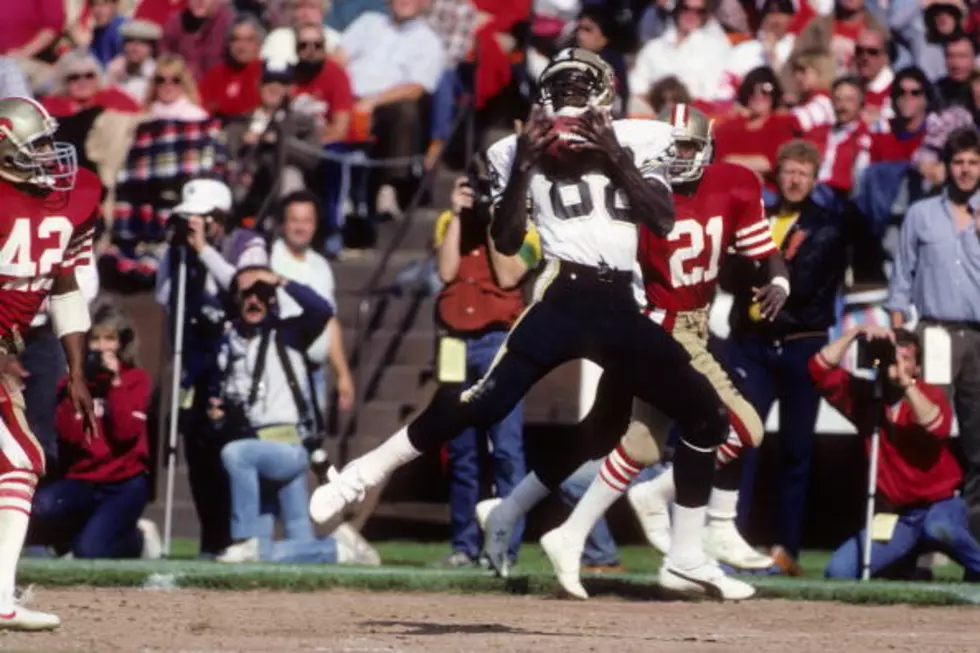 New Orleans Saints Flashback: Eugene Goodlow
(Photo by George Rose/Getty Images)
Eugene Goodlow was a receiver for the New Orleans Saints, from 1983-1986, who compiled 115 career receptions for 1,677 yards and ten touchdowns.
The St. Louis, Missouri native played two years of college football at Kansas St. After catching 26 passes for 613 yards in 1978 with the Wildcats, Goodlow only had three receptions for 54 yards in 1979, as injuries hurt his productions.
After playing two years of college football, Goodlow joined the Winnipeg Blue Bombers of the Canadian Football League. In only five games in 1980, he compiled 17 catches, before totaling 100 catches for 1494 yards in 1981, garnering him All-Star honors.
Those 100 receptions were the most ever by a CFL receiver, at the time.
Suffering from a neck injury, Goodlow only appeared in six games in 1982, but still managed 30 catches for 515 yards.
The Saints, who took note of Goodlow's 1981 season, took him in the third round of the 1982 NFL Draft, and held his rights when he became eligible for the NFL.
After Jeff Groth and Guido Merkens led all Saints' receivers in receptions in 1981, the team made it a point to address the receiver position in the 1982 NFL Draft, where they drafted Lindsay Scott in the first round, before taking Kenny Duckett and Goodlow in the third round.
The Saints had to wait a year for Goodlow, but he produced right away, catching 41 passes for 487 yards and two touchdowns in their 8-8 season in 1983.
Those 41 receptions tied him for second on the team, with tight end Hoby Brenner, eight fewer than Groth, who led the team with 49 that year.
1983 would turn out to be the best season Goodlow would have, from a receptions standpoint, as he went on to total 22 catches in 1984, followed by 32 in 1985, and 20 in 1986 after which he career with the Saints, and his career in the NFL ended.
He did finish the 1985 season second on the team in receiving yards, with 603, only 49 fewer yards than Brenner, who finished with 652, but most Saints' fans would consider 1983 as Goodlow's most productive year with the team.
Now 55-years old, Goodlow won't be remembered in the same light as Danny Abramowicz, Eric Martin, Joe Horn, or Wes Chandler, but for Saints fans who remember 1983, the year Saints could have, and should have made their first playoff appearance, they probably remember Eugene Goodlow.
More From News Talk 96.5 KPEL