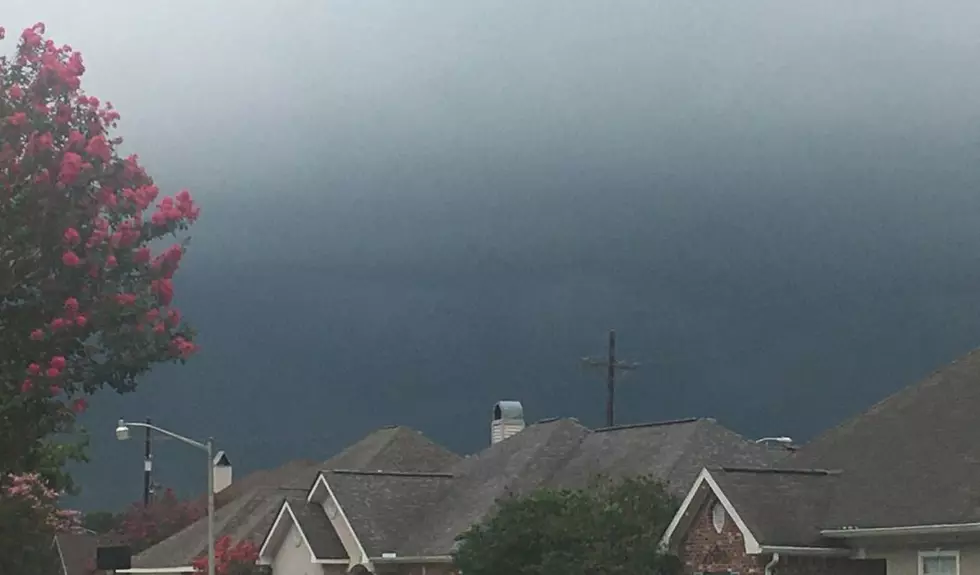 Timing Today's Severe Weather Threat for Lafayette and Acadiana
Staff Photo
There is a really good chance that if you live and work in South Louisiana today you will experience at least some rain showers. Many of us will see stronger weather conditions in the form of thunderstorms. The good news is that it shouldn't rain all day. If you're looking for more good news. The wet weather should exit the area in time for Good Friday gatherings and Easter weekend happenings.
This morning skies across much of South Louisiana are cloudy and things are quite calm. But the old adage about March coming in like a lamb and going out like a lion is about to come true later today. A cold front pushing out of the Great Plains should make its way across Louisiana during the day today. That frontal system is forecast to spark several episodes of showers and there's even a potential for severe storms.
The Storm Prediction Center has placed most of Louisiana in the marginal risk zone for severe storms. That means severe weather isn't really likely but it could happen so tell your smartphone app to accept breaking weather alerts. You can make that adjustment to your alerts in the settings if you have the radio station's app.
Chief Meteorologist Rob Perillo at KATC Television, based on projections from the GRAF Model seems to think that our best time for bad weather will come between lunch and supper. If the model guidance holds true Acadiana could start to experience some of the heavier showers associated with the cold front as early as 2 pm today. The front should move through the area from northwest to southeast and exit the area about sundown.
Rainfall totals with this system will be minimal. Most areas in South Louisiana won't see more than a quarter of an inch of precipitation but heavier amounts are possible in some of the heavier thunderstorms.
Behind the front conditions will change drastically. We can expect temperatures to begin falling this afternoon and they should continue to drop during the evening hours. The temperature in Lafayette for Thursday morning is expected to be in the lower 40s. That's going to be about 30 degrees colder than we are starting this day.
The outlook for Thursday through the Easter Weekend is really nice. Skies will be mainly sunny through Saturday with a few more clouds streaming in by Easter Sunday. The next rain threat will be a minimal threat of rain on Monday as temperatures begin to warm back up to seasonal norms.
You know, this might be our last "gumbo weather" for a while. Since you don't want to mess that up, here are some important things you need to know.
10 Ingredients to Make Your Gumbo Stand Out
More From News Talk 96.5 KPEL