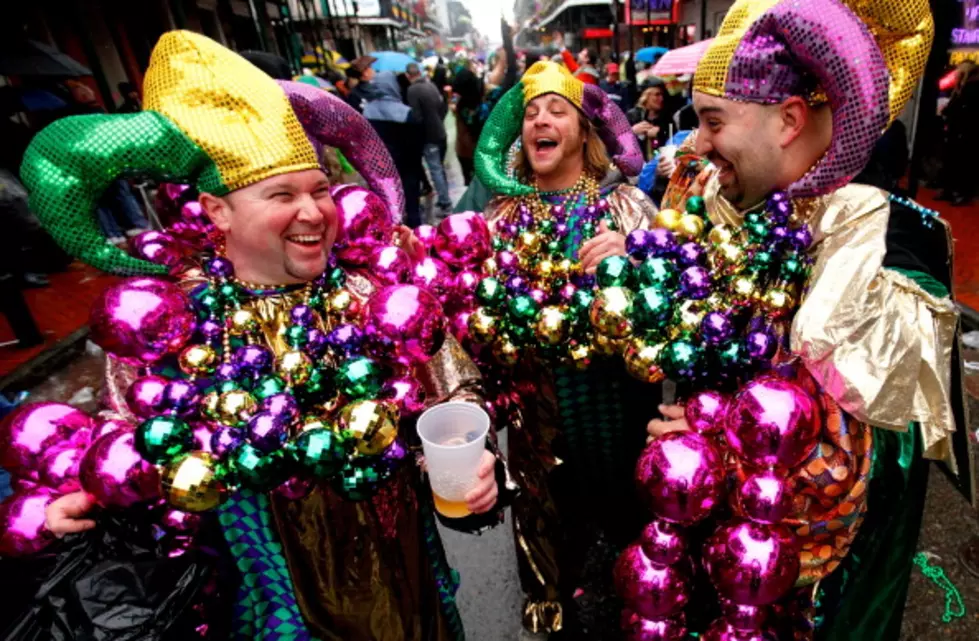 Tips On Having A Safe & Happy Mardi Gras In Lafayette
Getty Images
There are plenty of parades scheduled for this weekend through Tuesday, and there are some safety measures to follow.
Thousands of people enjoy the many parades that are scheduled in Lafayette each year for Mardi Gras, but there are some things that are not allowed.
Lafayette Police say some of the things that you can't do or have along Lafayette's parade route include the following:
You can't have whips
You can't have any items or clothing that depict nudity or profanity
You can not have clothing or items that show illegal narcotics
You can't bicycle, skate, rollerblade or do any skateboarding
No silly string is allowed
There should be no open flames for heating or cooking devices in any public right-of-ways
You can't use any product that can be thrown against a hard surface or stepped on to make popping noises including products like Pops, Cracker ball or Snaps
You can't have any animals along the parade route
Here are some safety reminders to keep in mind to ensure you have a good time:
Make sure you and your children have decided on a meeting place should you become separated
Make sure you never leave your children alone
If your child is missing, make sure you tell a police officer right way
Do not move, stand or sit on any barricade
Always stay behind the barricades while the parade is going
You must follow all parking rules and regulations
You must obey any special event parking signs
Those watching the parade
Never throw anything at a float or anyone riding on float
You are not allowed to climb any trees along the route
No indecent exposure is allowed
Always designate a driver if you are planning to drink.
More From News Talk 96.5 KPEL