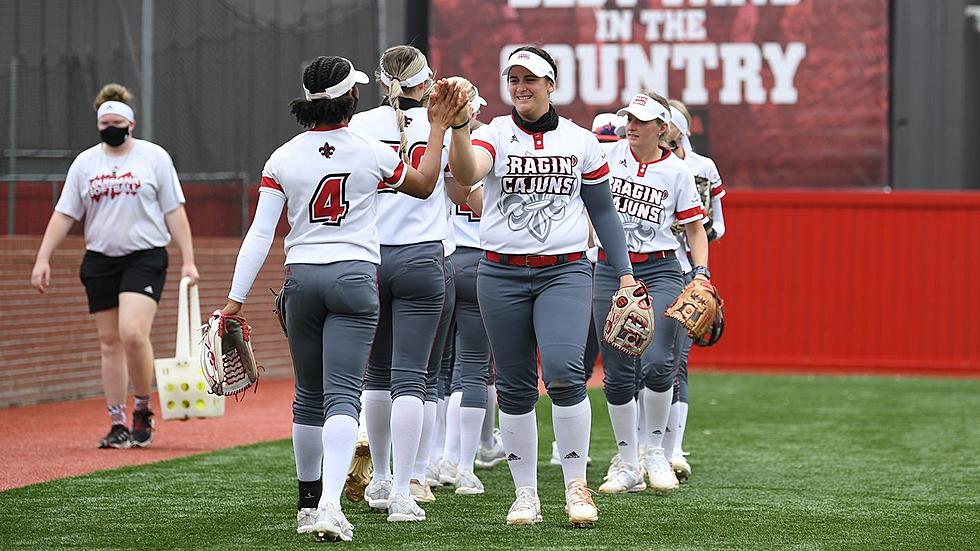 UL Softball Takes A Dip In Latest RPI Listings
Photo Courtesy: ragincajuns.com
The Louisiana Ragin' Cajuns took a little bit of a dip in the latest college softball ratings percentage index (RPI) of 2021, which was released on Monday.
No, these don't mean a whole lot right now, as the NCAA Women's College World Series takes place this week, but they're still fun and interesting to look at.
Louisiana, who had their 2021 season come to an end after falling to the LSU Tigers in the title game of the Baton Rouge Regional nine days ago, is listed at number 24 this week, down two spots from a week ago.
UL, who appeared in the Regional finals for the 13th-consecutive year, went 3-2 in the Baton Roge Regional, after a 1-0 win in 11 innings over George Washington, followed by a 10-3 setback to LSU, as well as a 4-0 win over McNeese St., before splitting a pair of games with LSU on Championship Sunday.
Louisiana is now 81-63, all-time, in NCAA Tournament play, including a 69-40 record in Regionals.
The Cajuns, who are now 35-13 in Regional play since 2008, won the regular-season Sun Belt Conference Championship, as well as the Sn Belt Conference Postseason Tournament crown.
UL made their 22nd-consecutive NCAA Regional appearance in 2021, including their 30th in the last 31 years.
Louisiana ended their season with an overall record of 47-12.
Alabama, UCLA, Oklahoma, Florida, and Oklahoma St. are the top five teams in this week's RPI listings.
6-10 consists of LSU, Arkansas, Florida St., Arizona, and Texas.
Louisiana is the highest-listed Sun Belt Conference school, ahead of Texas St. (#33), South Alabama (#39), and Troy (#50), who all made the NCAA Regionals as at-large teams.
Georgia St. is the lowest-rated Sun Belt Conference school, listed at number 179.
View this week's complete RPI listings here.
Best Nicknames In NFL History
More From News Talk 96.5 KPEL