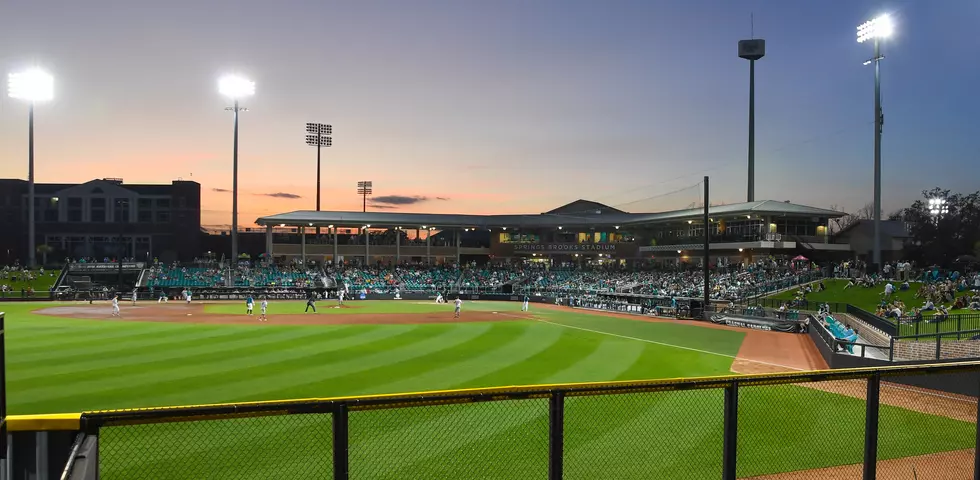 A Look at Sun Belt Baseball Scheduling – From the Bird's Nest
Coastal Carolina University
When it comes to scheduling for Sun Belt Baseball, coaches really have control over four weekends.  Conference play is dictated by the league.  Mid week games are dictated by geography.
That leaves the first four weekends to navigate.
When it comes to baseball, I am of the opinion that if you think you're going to be good, schedule opponents that will test you and win your share.  Conversely, if you are going to be a second division club, schedule teams you can beat (but save at least one weekend to challenge your team).
Today, I'm going to take a look at how Sun Belt teams have put their schedules together.  But first, here's a reminder of how the coaches think the league is going to shake out.
EAST:  Coastal, USA, Troy, Ga. Southern, Ga. State, App State
WEST:  Louisiana, TxSt, Little Rock, A-State, ULM, UTA
APP STATE (18-36, 9-21):  at Tennessee, Manhattan, Gardner-Webb, Greenville SC Tournament (Western Carolina, Furman, Michigan St):  I like this schedule for App.  They get an immediate test  in week one and then play teams that they can compete with for the most part.  App was 9-15 out of conference last year.  They've got a shot to be better this year with this schedule.
ARKANSAS STATE (20-32):  At Stephen F. Austin, Valparaiso, at Louisiana Tech, Missouri State.  Tommy Raffo's club has an interesting schedule.  They open with two teams that are beatable and then take a pretty big bite, playing a Louisiana Tech team that is projected to be in a regional and then hosting a Missouri State team that won 40 games a year ago.
COASTAL CAROLINA (43-19):  The Chants play in four tournaments and host three of them.  At home they'll get VCU, Maryland and Campbell in week one, Michigan State, Kent State and North Carolina State visit in week two.  Illinois, Connecticut and Indiana are in Conway for week three and then Coastal heads to Seattle, WA to take on San Diego, Washington and defending national champion Oregon State.  Seven of the ten games are scheduled against teams from the Big Ten, Pac-12, ACC and American.  Nice.
GEORGIA SOUTHERN (30-26):  at Auburn, West Virginia, at Georgia, UNC-Ashville:  Rodney Hennon has never been afraid to schedule well in non conference play and this year is no exception.  Six against the SEC and three against the Big 12.  And, they return nearly all of their position players.
GEORGIA STATE (26-29):  Host a tournament in the first weekend with RIchmond, West Virginia and Illinois-Chicago.  Then it's a trip to Charleston Southern, followed by home series against Samford and East Tennessee State.  Not bad.  Samford had a good club last year and ETSU was respectable.
LITTLE ROCK (28-28)--Creighton, Evansville, at Northwestern State, South Dakota State (4)--This might be the second best team in the West Division. Creighton won 36 games last year but had a losing record in the Big East.  Northwestern State is a solid club.  I honestly wish Chris Curry was challenging his team a little more, although they do have a salty mid-week schedule.
ULM (23-31)  LSU Tournament (LSU, Army, Air Force), SIU-Edwardsville, Pensacola Tournament (Tennessee, Western Kentucky, North Florida), McNeese State--Personally, I think this is good scheduling for a team that's been in the dumps for several years but is improving under MIke Federico.  A few challenges and some winnable games.
LOUISIANA (34-25)  Texas, at Sam Houston State, Maryland, Loyola Marymount  Two really salty series to open the season.  The Terrapins were 24-30 last season.  Marymount had a winning record in the WCC.  The strength of Maryland will tell the story of how tough this OOC schedule is.
SOUTH ALABAMA (32-25)   at Clemson, Tennessee Tech, Alabama, Sacred Heart.  Tennessee Tech was in a super regional last year and while no one expects them to be as good, they won't be a slouch.  Having Alabama at home is a nice coup.  And, South plays a very rugged mid-week schedule.  Mark Calvi is really going to challenge his club.
UTA (22-35)  They lost 12 of their last 13 last season.  at TAMU-CC (4), play Stephen F. Austin and Wichita State twice each at home, then play road series at Incarnate Word and Seattle.  Hopefully they can get some wins early.  They ought to with this schedule.
TEXAS STATE (30-28-1)  They'll host a tournament with Nevada, Missouri State and Utah in week one.  They travel to Lake Charles where they will fact Creighton and McNeese State twice each.  In week 3 they're at the Shriners' Classic against Rice, Houston and Baylor before hosting Connecticut in a three game series.  Ty Harrington is going to challenge his club.  With his weekend rotation returning intact, that's a good move.
TROY (42-21)  Central Michigan (4), at Louisiana Tech, Southeastern Louisiana, North Alabama.  The Trojans will get challenged by the Lions and Bulldogs, both of whom are postseason contenders.  But North Alabama is in its first year in Division I and Central Michigan has been indoors the whole pre season.  Given Troy's losses from last year, this isn't a bad schedule.
Just three more days.  Let the games begin.
More From News Talk 96.5 KPEL