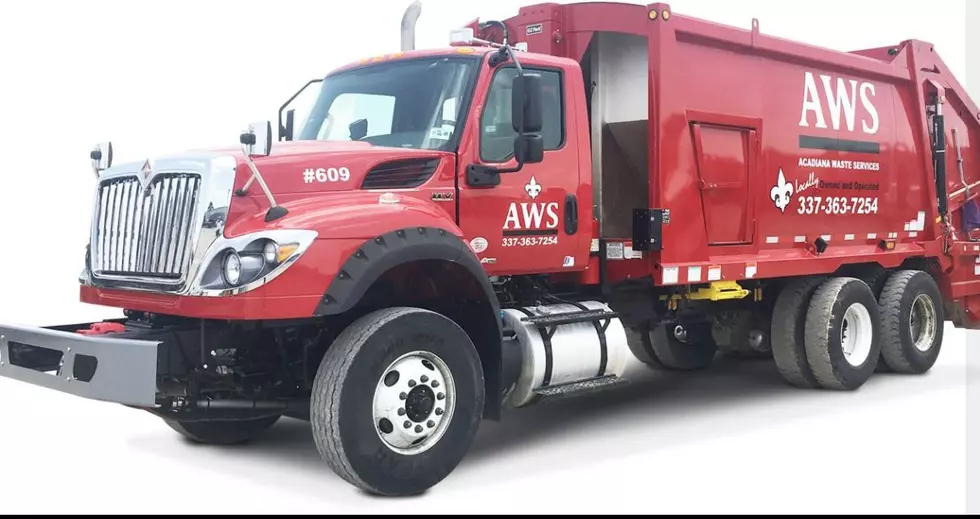 Acadiana Waste Services to Take Over Garbage and Recycling For Lafayette Residents; Here is What You Need to Know
Acadiana Waste Services Truck, Facebook via Lafayette Consolidated Government
LAFAYETTE, La. (KPEL News) - The time is near for Lafayette's new garbage and recycling provider to take over.
In October 2022, KPEL News reported that Acadiana Waste Services had won a public bid process to be the new waste service provider for the City of Lafayette and unincorporated areas of the parish.
What Can City And Unincorporated Parish Residents Expect?
The primary changes customers will see under the new contract are:
Recycling Carts must be requested
Recycling and garbage carts will be two different colors
Garbage, recycling, yard waste, and bulky waste will all be collected on the same day, once per week. However, some residents may have a change in their collection day. These residents will be notified via postcard with their new collection day.
Bulky items will be collected every week instead of just one week each month
Tires will be collected curbside on bulky day
Monthly Cost for City Residents: $28.68 per month
Monthly Cost for Unincorporated Parish Residents: $29.67 per month
What Will Be Required Of Acadiana Waste Services?
According to the contract information provided by LCG, these are the terms that AWS is required to abide by:
All new trucks will be provided by AWS for doing the job in Lafayette.
There will be expanded penalties if service or operation is poor, including leaking onto roads.
AWS will also participate in keeping streets free of waste during Mardi Gras parades by providing at least 750 garbage carts for collection during the festivities.
AWS will operate a future solid waste drop-off center.
Important Dates for New AWS Customers to Know
October 2nd
AWS will begin delivering new waste and recycling carts to residents.
October 30th
AWS will begin collecting waste. Residents will quit using the blue Republic Services carts for trash collection on this date.
Republic Services will begin the process of removing their blue carts, which should be placed EMPTY on the road on your respective collection day. The process may take a few weeks so if the old carts are not picked up within 24 hours, residents should bring them in and put them back out the next week on collection day. Residents may also bring their old carts to Republic Services at 

102 BJ Services Road, Lafayette, LA 70507

 if they wish to do so beginning on this day.
For more information, please visit www.lafayettela.gov/AWS or call 311 to identify your weekly collection day or learn more about the transfer to AWS services.
About Acadiana Waste Services, LLC
AWS was founded in 2012 and is a locally owned and operated full-service solid waste management company that provides residential, commercial, and roll-off solid waste collection services. AWS has grown to servicing over 2,500 commercial containers and over 15,600 residential homes. Their service area includes seven parishes in the Acadiana region, the Alexandria area, and the Beaumont, Texas, area.
Republic Services will continue to provide waste collection services through the remainder of its contract term of October 31, 2023.
Things You MUST Experience When Visiting Lafayette, Louisiana
There is no shortage of things to do in Lafayette, Louisiana, and if you're a visitor to the city, you definitely need to experience all of these before you leave town. Here's our list of must-have experiences in our city.
More From News Talk 96.5 KPEL