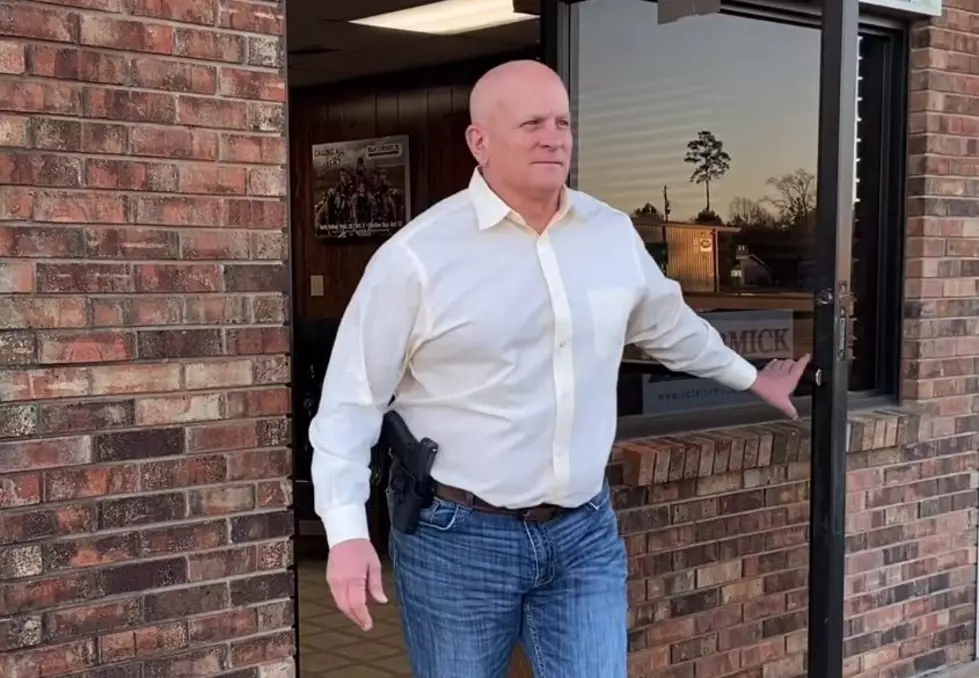 Constitutional Carry Bill Filed for Louisiana Legislative Session Again This Year With Renewed Hopes of Passage
Mccormick4la via Facebook
BATON ROUGE, La. (KPEL News) - Will the third time be the charm for Constitutional Carry becoming legal in Louisiana? Oil City Representative Danny McCormick sure hopes so.
Currently, here in Louisiana, an adult is required to have a permit to conceal carry a gun. According to usconcealedcarry.com, "Louisiana is a shall-issue state (and) concealed weapons permits are processed at the state level by the Department of Public Safety." An adult can own a gun without a permit but not conceal carry a gun without a permit.
Over the past two years, McCormick's gun bills have been shot down in two different ways.
In 2021, McCormick's legislation was vetoed by Governor John Bel Edwards, who cited a lack of training as something he couldn't approve. Edwards' veto came after the bill passed the state House and Senate. He threatened to veto the bill again if it made its way through the Louisiana Legislature.
By the way, 70 yea votes in the House AND 26 yea votes in the Senate are what's required to override a governor's veto - a supermajority. Edwards can veto a bill that meets that threshold and essentially force lawmakers to vote again. But, if Edwards vetoes a bill that does not obtain supermajority in BOTH chambers, then the bill is dead.
In 2022, McCormick's bill passed the state House by a 64-27 vote. While McCormick did not believe training should be required, he allowed for an amendment to be added to his bill that would allow State Police to offer a free online training course that would be optional.
"Constitutional carry means no required training," pointed out McCormick to Louisiana Radio Network. "That's the definition of constitutional carry so that's the reason for my objection," said McCormick.
Fellow Republican state Senator Eddie Lambert of Gonzalez added an amendment to turn the 2022 bill into one that would allow for teachers to be armed, as pointed out by lailluminator.com. In the wake of the school shooting in Uvalde, Texas, the clock was allowed to run out before a final vote could be had in the state Senate after passing committee.
McCormick believes adult non-felons shouldn't need a permit or training to be able to conceal carry a gun, otherwise known as constitutional carry.
If you look at this map, you will see Louisiana sticks out when it comes to gun rights.
Every border state and most states in the South allow their citizens to conceal carry without having to go through training to get a permit.
"This is a very popular bill in Louisiana," says McCormick in this LRN article, "Every state that touches Louisiana has this. Louisiana is the only one in this area that doesn't have it."
McCormick's bill is the same as the one filed last year. He says concealed carry without a permit is a right guaranteed by the Second Amendment.
"It's very important to me, being the grandfather of four granddaughters, that they're able to put a pistol in their purse and protect themselves from murderers and rapists," McCormick told LRN. "Innocent, law-abiding citizens who legally carry a firearms is not the wild, wild west. The wild, wild west is when only criminals have firearms."
So, what's different this session?
It's an election year! As McCormick points out, it's the time of year when many elected officials start becoming a little more concerned once again with how their constituents view their voting record.
The legislature convenes April 10th.
From coast to coast: The 20 best regional fast-food chains to try
From burgers to subs and even creamy milkshakes, these tasty fast-food chains, compiled by
Stacker
, are a must-try on your next road trip.
LOOK: 23 astronomical events to look out for in 2023
Sta



cker
compiled a list of 23 astronomical events to observe in 2023 using a variety of news and scientific sources.
LOOK: The biggest scams today and how you can protect yourself from them
More From News Talk 96.5 KPEL