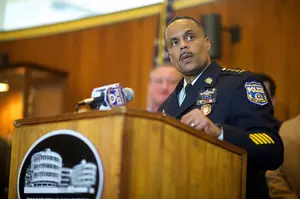 Deadly Shooting Among Philadelphia's 'Most Violent Acts'
Philadelphia Police Commissioner Richard Ross (Photo by Mark Makela/Getty Images)
PHILADELPHIA (AP) — Philadelphia's police commissioner says a man who shot and killed a woman and wounded five other people, including two police officers, committed "one of the most violent acts that we've seen in Philadelphia in a long time."
Commissioner Richard Ross said 25-year-old Nicholas Glenn left behind a letter labeled "Doomed" that was full of "rantings" mostly about himself but also about his anger at his parole officer and police in general.
He said Glenn was well-known to police and they believe he acted alone and not as part of any group. Ross said he "would have no difficulty" believing that mental illness was involved in Glenn's actions.
Authorities are working to track the weapon, which had an obliterated serial number.
Police said he ambushed a police sergeant as she sat in her car, shot two people as he was fleeing police, fired into a car, killing a 25-year-old woman and injuring a man, and wounded another officer before police killed him in an alley.
Copyright 2016 The Associated Press. All rights reserved. This material may not be published, broadcast, rewritten or redistributed.
More From News Talk 96.5 KPEL