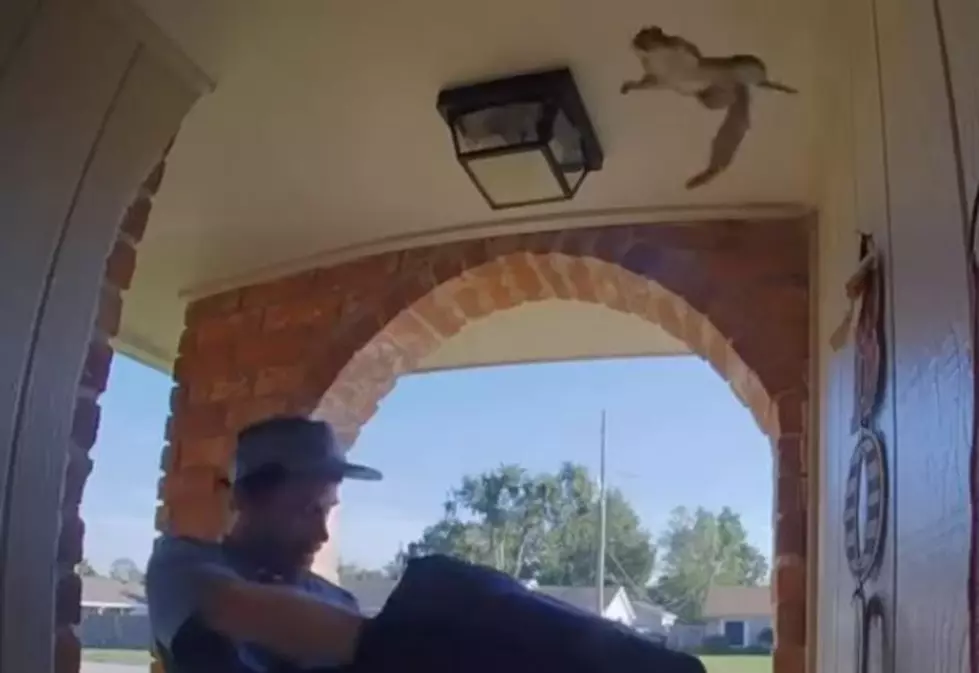 Louisiana Squirrel Launches Itself Into Home During Pizza Delivery
Fox 9 Minneapolis-St.Paul via YouTube
I am going out on a limb to say most of us have had a pizza delivered to our home. I am also going out on a limb to say most of us have seen a squirrel out on a limb. But hilarity ensues when you combine these wild wooded creatures with what was supposed to have been a routine pizza delivery the other day at home in Slidell. 
The video captured from a Ring Doorbell was featured on Rodney Hebert's Storyful account. As you might imagine the video seems to be very mundane and quite normal. But if you focus your eyes on the top right section of the brick archway of the home in question you can see the squirrel.
The animal appears to be just sitting there doing what squirrels do. I don't know if animals such as squirrels have the brain power to plan such an attack or whether the squirrel just felt threatened by the sudden appearance of the pizza delivery man.
But as the video unfolds you can hear the knock on the door and the creak of the door opening. It is just about the time the homeowners open their door to grab their pizza the squirrel springs into action.
And I do mean springs into action.
The animal leaps from one end of the covered entryway directly into the front door of the home. While we don't see the squirrel going inside judging by the screams off-camera I think we are safe to assume that's where he went.
I will caution you there is some Not Safe For Work language that can be heard off-camera but as far as on-camera goes, the pizza guy couldn't have been anymore cooler. It's like "this happens all the time" is his vibe as he waits to hand off the pies and collect his payment.
Could this be another Only in Louisiana moment? Probably not but I do know a squirrel in the house is not a good thing. Let's hope the homeowners were able to get the animal out the door and back into the trees. Oh, and I hope the pizza was still hot when they finally calmed down to eat it.
Only in Louisiana Experiences for Visitors
More From News Talk 96.5 KPEL