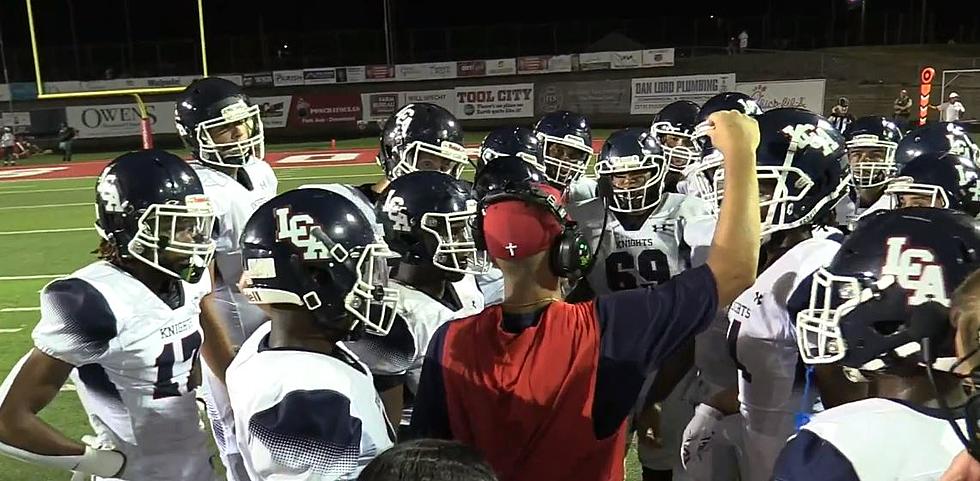 Lafayette Christian Academy's 4th Quarter Comeback Falls Short as Controversial Call Allows Ruston to Survive
Faccebook via LCA Knights Athletics
RUSTON, La. (KPEL News) - It was a heartbreaking end to a hard-fought yet sloppy football game between the Ruston High School Bearcats and the Lafayette Christian Academy Knights on Friday night.
In a game that LCA could have easily lost by double digits, the Knights fought back twice after getting down by double digits to nearly pull off the road win.
The Bearcats got on the scoreboard first when the defense picked off LCA QB Ju'Juan Johnson and took it back for a touchdown. That was the first of two pick-6's for Ruston as the Bearcat defense frustrated Johnson into throwing four interceptions on the night. But, Johnson kept the Knights in it as he led two quick touchdown drives in the 2nd Quarter to whittle a 14-0 deficit to 14-12 at Halftime.
In the 3rd Quarter, the momentum swung back the way of the home team as the Bearcats used their second pick-6 and another rushing touchdown to take their largest lead of the game 29-12. But the 4th Quarter belonged to the Knights as the offense went on two touchdown drives to cut the Ruston lead down to three points.
With the ball on the 21-yard line on the final drive of the game with only seconds remaining, LCA decided to throw to the end zone on 4th down instead of kick the field goal. In what LCA coaches believed to be blatant pass interference against Ruston, the referee crew decided to call Offensive Pass Interference against LCA.
The story of the game: Ruston scored 21 points off of five LCA turnovers to hand the Knights their first loss of the season.
Up next for LCA is a home contest against the Avoyelles Mustangs, who are 0-3 and coming off a BYE week.
2023 Louisiana Ragin' Cajuns Football Season In Review
Recapping the 2023 Louisiana Ragin' Cajuns Football season
Texas' Top 10 Most Expensive High School Football Stadiums in '23
There's a reason every good high school football movie is based in Texas. Here in the Lone Star State Friday nights are revered and our young men in football pads exalted to legends in their hometowns.
More From News Talk 96.5 KPEL