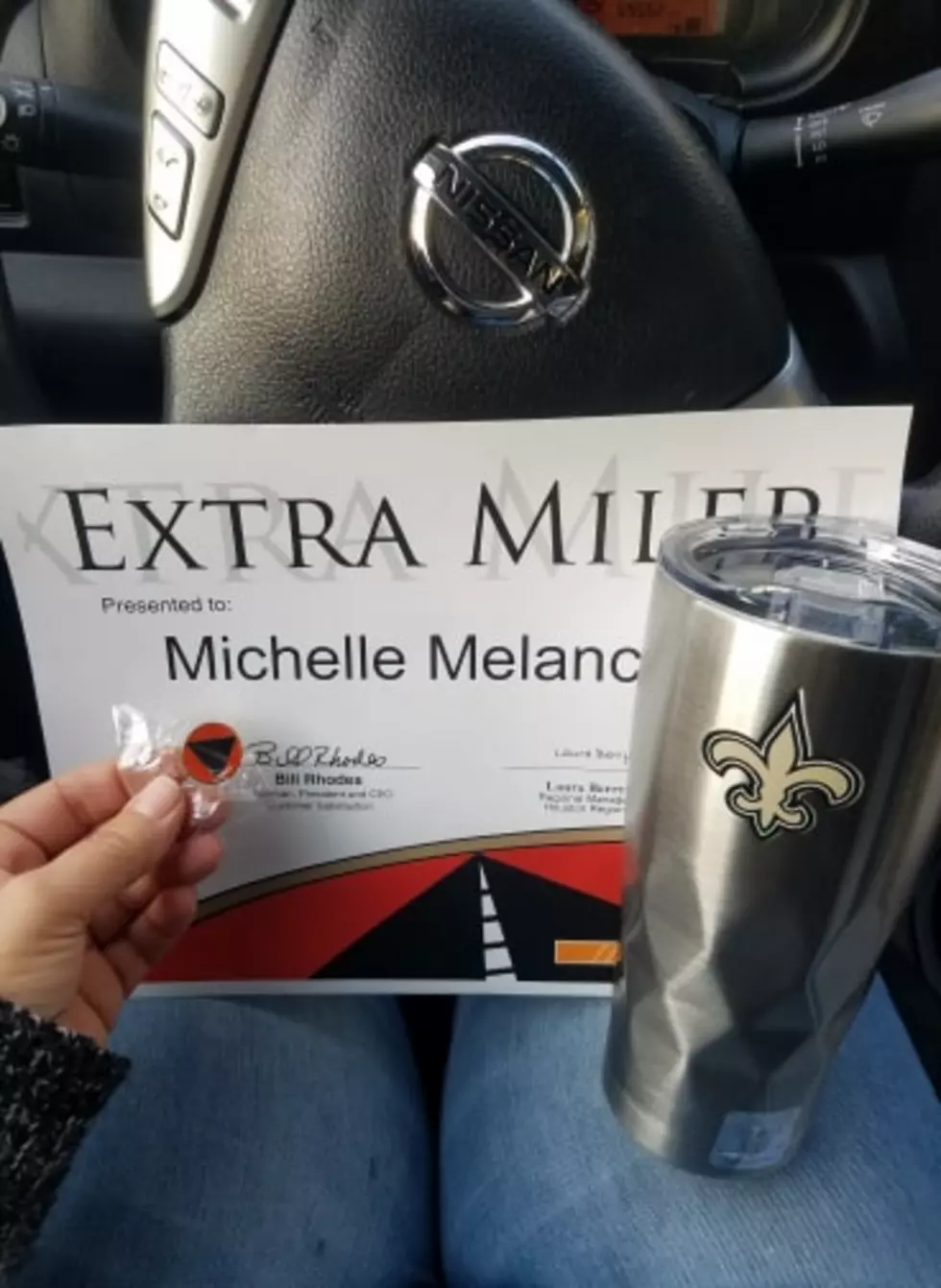 Local Employee Wins 'Extra Miler' Award
Photo Courtesy of Michelle Melancon
Michelle Melancon, a local AutoZone employee, received that company's "Extra Miler" award for her efforts in supporting a local non-profit.
The company defines the "Extra Miler" recipient as
One who is unfazed by obstacles, goes above and beyond the call of duty, exceeds expectations and consistently does more than expected.  - Autozone
Michelle was at the Pinhook location of Autozone on the morning of October 28, 2018, readying the store for opening when there was a knock at the front entrance. Michelle sees Jerry Russo and Billy Falcon, both volunteers for the Annual 'jeep jaunt', standing at the door. In their hands were parts from a trailer axle. Michelle noticed they were wearing 'jeep jaunt' t-shirts, and knew that the event was being held that day.
When Michelle understood that the parts came from a trailer that was hauling equipment needed for the 'jeep jaunt', she allowed the two gents inside and quickly went to work to find replacement parts, even though the store wasn't officially "Open" yet.
Within minutes, the two were out the door with the parts needed to get the trailer back on the road and to the event in time.
When Michelle's supervisor at AutoZone learned of her actions that morning, he submitted her name for the company's "Extra Miler" Award for going above and beyond. Not only did Michelle satisfy 2 customers, but she also helped the 'jeep jaunt' raise funds for the American Lung Association. Michelle's actions did really save the day for the 'jeep jaunt': within that trailer was all of the event's door prizes and auction and raffle items, the real bread-and-butter of the fundraiser.
Congrats, Michelle, on your well-deserved award; we hope that your dedication to customer satisfaction serves as an inspiration to others.
More From News Talk 96.5 KPEL