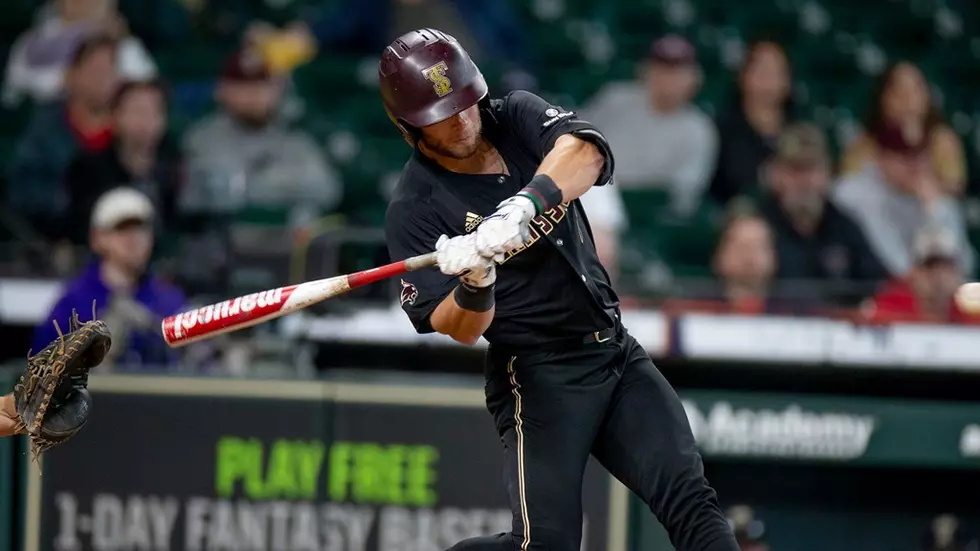 Sun Belt Tournament Preview – Bracket One – From the Bird's Nest
sunbeltsports.org
This is a preview of the teams in the Sun Belt Conference Baseball Tournament beginning Tuesday in Conway, SC.  This preview features the #1 seed Texas State, #4 UTA and #5 Coastal Carolina. All three teams begin play on Wednesday.
#1 SEED TEXAS STATE (36-18, 20-10)  Coach:  Ty Harrington (20th season)
Offensive Ranks (all games)  AVG 5TH, SLG 3RD, OBP 2ND, OPS 2ND
Offensive Ranks (SBC)  AVG 5TH, SLG 4TH, OBP 3RD, OPS 5TH
Pitching Ranks (all games)  ERA 2nd, Batting avg against 1st, Fewest Walks 1st, Strikeouts 8th
Pitching Ranks (conference)  ERA 2nd  BA 2nd, Walks 1st, Strikeouts 8th
STRENGTHS:  There's a lot to like about this offense.  Five hit over .300 and six have five or more homers.  It all starts at the top with Jalen Hubbard and Jaxon Williams.  Those guys get on base a lot and creates opportunities for Will Hollis and Dalton Shuffield.  They've stayed with their weekend rotation all season, and Fraze, Reich and McMahon haven't disappointed.  All three have excellent K/BB ratios.  Texas State has the league's best defense and has given up the fewest unearned runs in the league.
WEAKNESSES:  They have multiple guys in the bullpen, but none of them are lights out.  Zachary Leigh has become their late innings first choice, but he walks a lot of batters.  They aren't the most athletic bunch and only have a couple of guys who are threats to run.
OUTLOOK:  This team has plenty to hang their hat on.  The three starters are really good and the lineup is solid.  At the same time, they lost ten games in league play so they certainly aren't invincible.  While I agree with most that this tournament is wide open, it would be a mistake to bet against these guys.  It's the closest thing to a complete team that this league has.
#4 SEED UTA (31-24, 17-12)  Coach:  Darin Thomas (12th season)
Offensive Ranks (all games)  Batting 6th, Slugging 8th, OBP 10th OPS 9th
Offensive Ranks (SBC)  Batting 6th, Slugging 7th, OBP 6th, OPS T6
Pitching (all games):  ERA 4th, Avg. Against 10th, Fewest Walks 3rd, Strikeouts `12th
Pitching (SBC)  ERA 3rd, Avg Against 8th, Walks 7th, Strikeouts 10th
STRENGTHS:--They've got five or six in their lineup who are really good hitters.  Minjares, Dominguez and Aube are especially impressive.  Drew Gooch and David Moffett don't have overpowering numbers, but they don't allow a ton of runs, either.  Andrew Gross leads the league in saves, while Cesar Gomez can give valuable innings out of the pen.  This is the toughest team in the league to strike out.
WEAKNESSES--Depth in the pitching staff is an issue.  They never did find a reliable third starter and that bullpen after Gomez, Gross and Wyatt Divis is pretty thin.  They have holes in the lineup after the top six and you can navigate that part of the order.  They don't have a lot of home run power, but to be fair, their spacious ballpark has a lot to do with that.  They can be really shaky defensively at times and have made critical errors leading to unearned runs.  Aube and Zac Cook are their only real threats on the bases.  They don't walk enough.
OUTLOOK:  UTA was flying high after back to back sweeps and had a pretty good lead in the West.  But they lost eight of their last eleven conference games and that's a concern.  It's the second year in a row the Mavs fade down the stretch.  This team is going to have to do a better job of scoring runs, especially if they get past day two.  That thin bullpen is a real concern.
#5 SEED COASTAL CAROLINA (30-23-1, 15-13 Sun Belt)  Coach: Gary Gilmore (24th season)
OFFENSE (all games)  BA 1ST, SLUG 1ST, OBP 1ST, OPS 1ST
OFFENSE (SBC)  BA T-1ST, SLUG 1ST, OBP 1ST, OPS 1ST
PITCHING (all games)  ERA 9TH, BATTING AVG. 8TH, WALKS 7TH, STRIKEOUTS 2ND
PITCHING (SBC) ERA 9TH, BATTING 6TH, WALKS 5TH, STRIKEOUTS 4TH
STRENGTHS:  They can swing it.  They've got seven .300 hitters, seven players with 50 or more hits and six hitters with seven or more home runs.  They walk more than anyone else in the league.  It's a lineup that really has few weaknesses. They can be aggressive on the bases and have several who can really scoot.  They have plenty of power arms with multiple pitchers who throw 90+.
WEAKNESSES:  Those power arms have hit a lot of bats.  They miss within the zone as much as they miss out of it.  They're giving up nearly six earned runs per game and on top of that, they struggle defensively and have given up more than 50 unearned runs.  Their ball park helps their hitter, but the pitching staff has given up the third most homers in the league.
OUTLOOK:  This team looks nothing like the ball club that was ranked as high as 12th in the nation.  They haven't handled adversity well and the weekend I saw them, they didn't seem to have the intensity that I've seen in the previous two years they've been in the league.  But there's more talent on this roster than any other one in the Sun Belt.  They've been an underachieving bunch, especially on the mound, and yet, playing at home, they can't be taken lightly.  If they put it together, they can certainly win this thing.
More From News Talk 96.5 KPEL