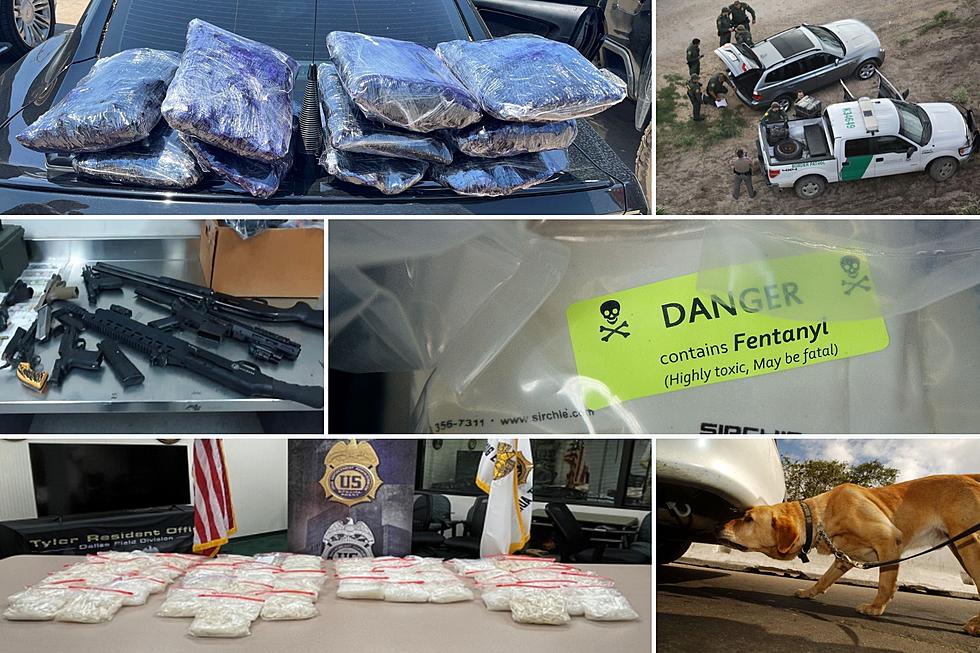 The Biggest Drug Busts in Texas for 2023…So Far
Getty, FWDP, CCSO
It's no secret that the Lone Star state has a thriving illicit drug trade. And in turn, we've got a whole lot of dedicated law enforcement officers who have one goal: to take these drug trafficking organizations down.
Whether it's on the border of Texas and Mexico or on any of the major highways that thread throughout the state--it's a perpetual game of cat and mouse. Every day is a chance at a successful run or a major takedown.
So with that said, what are the biggest drug busts that have taken place in Texas this year? Well....as much as I poked around, there was no definitive source I could find. So I decided to cobble together a few of the most "wow"-worthy busts found on the internet.
So, while this is by far and away not a definitive list, it's definitely an eye-opener as to the incredible amount of illegal drugs and trafficking that happen all around Texans at any given moment.
The Biggest Drug Busts in Texas for 2023...So Far
While it's nowhere near the amount of busts made in 2021 and 2022, the year 2023 has been a busy one for Texas law enforcement. Take a look at just a few of the Lone Star state's biggest and most notable drug busts. We'll keep this updated throughout the year!
**Last updated: September 23, 2023
The Biggest Drug Busts in the Texas Panhandle for 2022
Amarillo can be a rowdy place with some lawless characters. Here's some of the biggest drug busts made in the Texas Panhandle for 2022, so far.
Let's just say that these folks are in t-r-o-u-b-l-e.
Note from editor: An indictment is not a conviction. All individuals shown below who have not appeared in court for a judgement are to be presumed innocent until proven guilty.
20 Unusual Laws in the State of Texas
We want you to stay legal so here is a list of 20 strange laws you could break in the state of Texas.
More From News Talk 96.5 KPEL