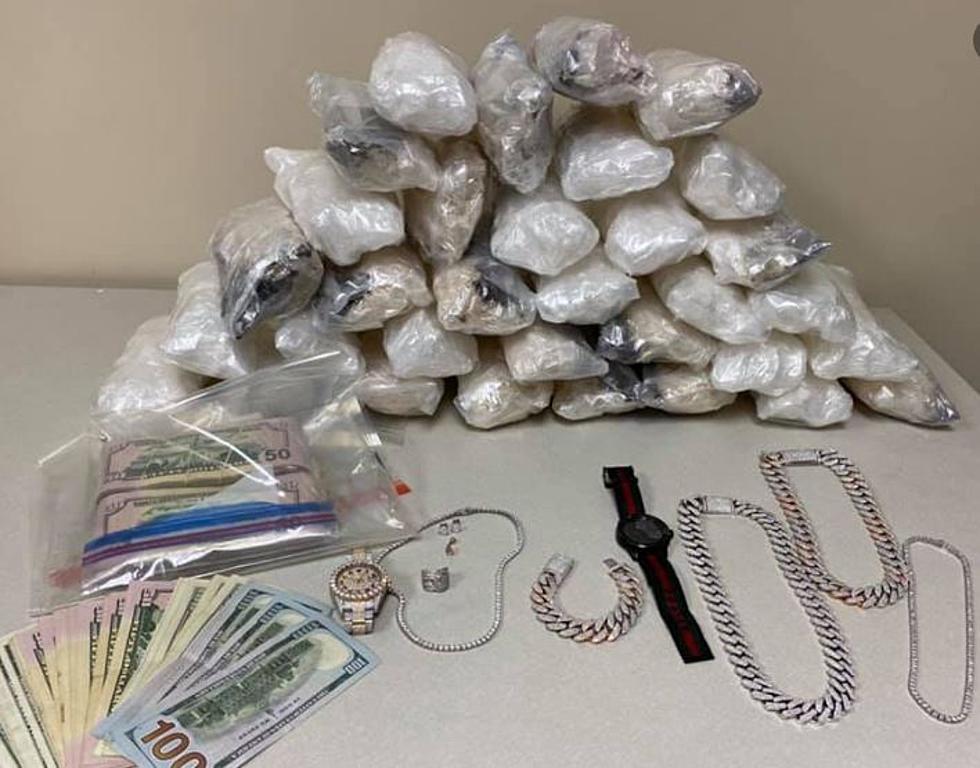 Two Men Arrested After Various Drug Raids in Iberia Parish Take Nearly $1 Million Worth Off Streets
NIPD
Authorities in Iberia Parish - the Sheriff's Office and the New Iberia Police Department - are showing just how serious they are about getting drugs off the street of both the city and the parish. Recent arrests announced by both agencies on Monday highlight what officers and deputies are doing to clean the area up.
Over the past several months,
the Sheriff's Office
has been investigating a large-scale methamphetamine distribution ring in rural Iberia Parish. 34-year-old Lance Narcisse, identified as a key suspect in this drug organization, was arrested during a traffic stop last month after he allegedly tried to run away with two pounds of methamphetamine. Deputies say they found $8,000.00 in the vehicle.
Narcisse was arrested and booked at the Iberia Parish Correctional Center on the following charges:
LA RS 40:967-A1 Possession with Intent to Schedule II
LA RS 40:1041 Transaction involving proceeds from drug offenses
LA RS 32:71 Drive left of center
LA RS 32:63. A Speeding
LA RS 14:100 Hit and Run Driving
LA RS 14:108 Resisting an Officer
LA RS 40:982.3 Violation of Controlled Substance Law
LA RS 40:982 Second or Subsequent Offenses
LA RS 14:130.1 Obstruction of Justice
Narcisse has since bonded out after it was set for $18,000.00 by Judge Suzanne DeMahy, according to a press release from Sheriff Romero. As investigators continued looking into this case, they say they found an additional $85,000.00 in cash and one vehicle. Deputies expect additional arrests.
In the city of New Iberia itself, approximately 36 pounds of suspected Crystal Methamphetamine, $800,000.00 worth of seized drugs and $400,000.00 in assets were taken off the streets as New Iberia Police teamed up with the Drug Enforcement Administration to conduct an investigation of their own over the last several months. Agents were able to stop a vehicle they say was delivering illegal drugs to New Iberia. No names are being released at this time as the investigation is on going.
And, in a separate case, 40-year-old Lionel Hill, Jr. of New Iberia was arrested on Thursday night after police officers say he was distributing drugs from a vehicle at a local business. Officers arrested him in the 1200 block of East Admiral Doyle Drive and say they found suspected Crystal Methamphetamine (1 ounce) and Heroin (approximately 2 ounces) in his possession. Deputies also seized approximately $1,500 in assets.
Hill was booked into the Iberia Parish Jail on the following charges:
Monies Derived from Drug Proceeds
Second or Subsequent Offenses.
Possession with Intent to Distribute a Schedule I CDS

Possession with Intent to Distribute a Schedule II CDS
KEEP READING: Scroll to see what the big headlines were the year you were born
More From News Talk 96.5 KPEL