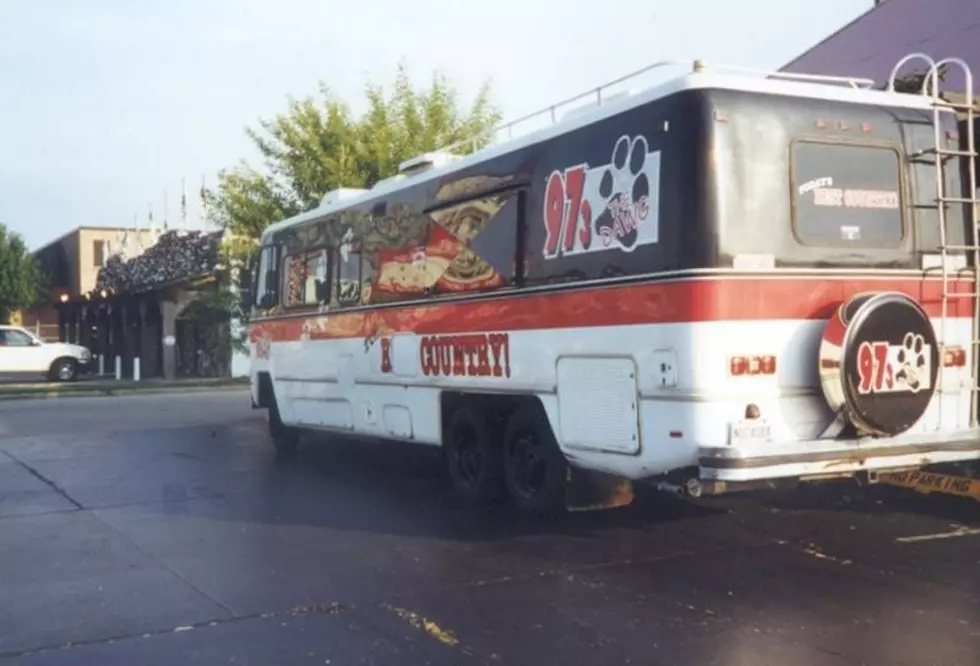 97.3 The Dawg Celebrates 25 Years On The Air [Photos]
Staff Photo
Today is a very special day for us here at 97.3 The Dawg. We celebrate 25 amazing years on the air here in Acadiana.
Some of you may remember that over a weekend in the fall of 1995, this station basically played dogs barking for two days non-stop. It may have annoyed you, but you still remember to this day!
It's been a heck of a ride together. All of us here at the station present and past got to experience so much of our lives with you.
We talk about it a lot on the morning show, but you really have helped us raise our kids. We've shared in all the joys that life's milestones bring our way. We've also cried together and picked each other up through the not so easy times.
Simply put, this is your station and we're just proud you choose us to be a part of your family. We've always strived to be the station that the whole family can enjoy together. And of course, family is what it's all about here in south Louisiana.
Gosh, we look back over the last 25 years and it seems so long ago, but then again, just like yesterday. How many fun events have we've all been apart of?!
Concerts, yep, we've had some great ones. From the great shows at the local clubs like Cowboys, Yellow Rose, Back-2-Back, Stockyard Saloon and so many others. Then the big Cajundome shows -- from the all-time greats like George Strait, Garth Brooks, Reba, and Brooks & Dunn to the big hitters of today such as Carrie Underwood, Luke Bryan, Jason Aldean and Miranda Lambert.
It's always fun for us to give away great prizes. We've given away thousands of dollars in cash over the years. Games like The Dollar Bill Game and The Dawg Pound Sound have always been your favorites.
However, the most satisfying part of our job (we call it "play" actually) is when we get to give back to the community that has given so much to us. Of course, when we talk about our charitable work, the first organization that comes to mind is St. Jude Children's Research Hospital. We are so very humbled as to how much money, time and prayers you have all sent up to that slice of Heaven in Memphis.
There is a multitude of other great charities that we are so proud to be associated with including Miles Perret Cancer Services, Faith House, American Cancer Society, Healing House, and so many more. And let's not forget about every bake sale, fun run, fall festival, live music benefit, gumbo cookoff, and the like that has raised money for many great local causes.
To our great advertisers over the years, especially our local merchants, we thank you for your patronage and trust in the station. We hope we have served you well over the last 25 years and please know that we are nothing without you.
We'd like to send props to the amazingly talented Acadiana musicians that we've been proud to support over the years but even prouder to get to know on a personal level. There's no place on this Earth as special as Acadiana, and you men and women are a big reason for that.
To all the former DJs that have lent us their talents on-air over these past 25 years, we thank you for setting the foundation for a great sounding radio station and selflessly giving your time and talent to Acadiana.
Y'all, we could go on forever in thanking you all for the last 25 years. We know your time is valuable so we'll just say, "THANK YOU ACADIANA FOR BEING SO LOVING AND SUPPORTIVE OF THE LIL OLE COUNTRY STATION!"
[Enjoy some pictures we've dug up out of the drawers from the last 25 years. If you have a great photo from one of our station events, please email it to jude@973thedawg.com or post it on our socials.]
97.3 The Dawg 25 Year Celebration