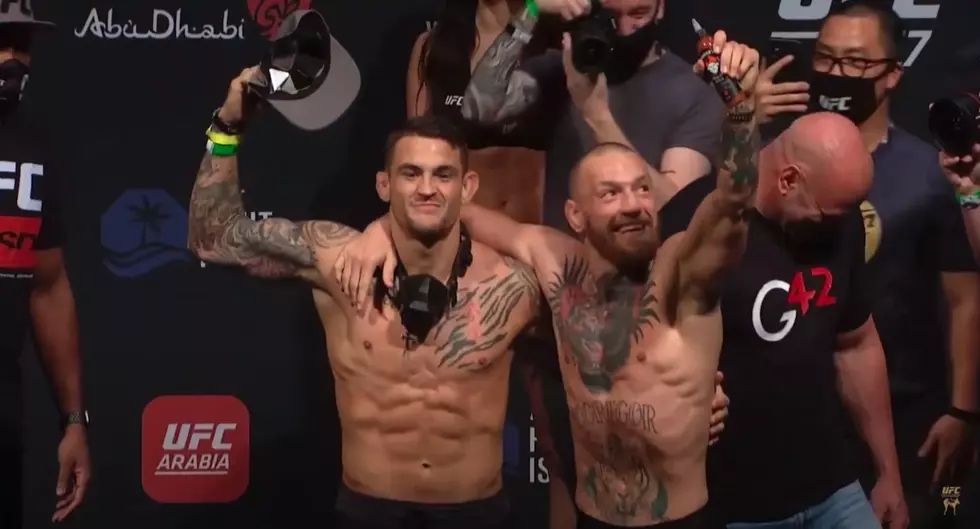 How to Buy Dustin Poirier's Hot Sauce
YouTube Via UFC Fighting II
Lafayette's Dustin Poirier is hot in the streets right now, and with his new hot sauce, he's hot on your plate as well!
Dustin Poirier shocked the MMA community Saturday night by knocking out Conor McGregor in the second round at "UFC 257". It was the first time in McGregor's career he's been knocked out.
At the pre-fight weigh in, once the ceremonious photo of the two fighters was snapped, Poirier reached into his trunks and handed McGregor a bottle of "Poirier's Louisiana Style" hot sauce.
Was Poirier just crackin' wise, or was he being an absolute genius and seizing a golden opportunity to get national exposure for his new hot sauce?
He was doing both, and as a result people all over the world are scrambling to get it!
"Like any good Cajun sauce, the recipe starts with the best cayenne peppers, fermented to round out the sting and up the flavor before finishing with vinegar, sea salt, celery and garlic. Add in a handful of red habaneros for an extra punch of heat, and you have a knock out sauce that can take on everything from heavyweight meals like biscuits and gravy to featherweight dishes like grilled chicken breast or cauliflower pizza."
If you're ready to knock out bland food and get a bottle of "Poirier's Louisiana Style" hot sauce for yourself, head over to heartbeathotsauce.com.
5 Cajun Phrases/Words That Make Us Laugh
More From News Talk 96.5 KPEL