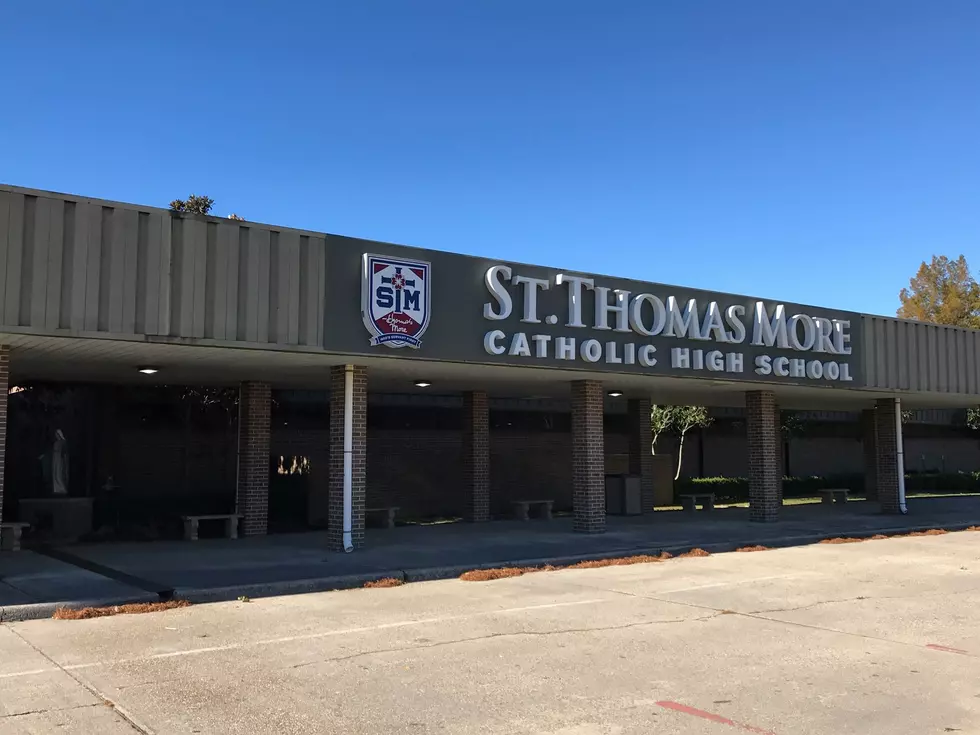 Explicit Video of Lafayette Teacher Sparks Social Media Outrage, Prompts Investigation in Vermilion Parish
Facebook Photo
LAFAYETTE, La. (KPEL News) - A coach and teacher at St. Thomas More Catholic School in Lafayette has been fired amid an investigation into a sexually explicit video that went viral on social media.
The video, which was purportedly originally sent to a minor, depicted Jacob De La Paz describing a sexually explicit fantasy to the recipient of the video. The original leaked video appears to have originated on Snapchat, though it is not clear who the intended recipient was. However, Facebook posts sharing the video alleged it was sent to a 16-year-old.
De La Paz was a math teacher and a cross country coach at STM, and officially joined the school this year, according to a school Facebook photo caption originally posted in August. However, he is reported as having been abruptly removed from the school on Wednesday and was reprimanded for inappropriate contact with a student, according to KLFY.
KPEL News attempted to reach out to STM, but received no reply. However, in a message to parents, STM clarified that there is no evidence he had engaged in any inappropriate contact or behavior with students at the school.
Dear STM Family,
Since yesterday, questions and concerns regarding STM faculty member, Mr. Jacob De La Paz, have been brought to the attention of the St. Thomas More administration. While the school is not at liberty to extensively discuss personnel matters due to legal restrictions, we can confirm that Mr. De La Paz is no longer employed by or associated with STM in any capacity as of yesterday. We can also confirm that we have no reports, evidence or reason to believe that Mr. De La Paz engaged in any type of inappropriate behavior or misconduct with any students at STM. On the contrary, by all accounts, he has been very effective as a teacher and coach with no complaints against him. While legal restrictions prevent me from saying much more, am also a pastor, and I feel obligated to make three brief points:
1 Whenever a teacher is hired at STM, due diligence is done by the school to check the person's background and qualifications. De La Paz came highly recommended by his former employer after an extended period of exemplary service, had passed a background check in Vermillion Parish and passed our own.
He was also safe environment trained. STM was made aware, up-front by Mr. De La Paz, of an isolated and imprudent infraction in his past.
Having passed a probation period and performing well (and without further incident) in his previous teaching position, Mr. De La Paz was offered a position at STM and, again, proved to be exceedingly effective as both a teacher and a coach.

2 Whenever a faculty member or student departs, there can be deep pain and sorrow for those involved, including extended family members and friends. As followers of Jesus, we are called to be sensitive to this fact - that people are hurting. Iask that you join me in prayer for all involved, for God's healing and for hearts to mend.
3 Finally, I assure you that the school is handling this situation in accord with proper legal procedures and diocesan policies. As always, I ask for your continued trust of our efforts as STM continues to strive for excellence in the formation of the mind, body and soul, staying rooted in our mission to form disciples according to Gospel truths and values.
As painful as these types of situations can be, they have the potential to make us stronger and to renew our determination to stay in the struggle of being a seeker of Truth and God's servant first. Thank you for your continued support and understanding.
Multiple social media comments, however, pointed to an investigation by the Arkansas Department of Education into De La Paz when he was working in the state, where he was alleged to have inappropriately texted a student.
That led to a hearing in Arkansas, but there were no other restrictions on his license in the state. In 2017, he was hired in Vermilion Parish "on a temporary one-year only status based on the Arkansas DOE clearance and Louisiana Dept of Education approval," according to a statement from Vermilion Parish Superintendent Tommy Byler.
"All of these certifications were verified by the Vermilion Parish School System personnel department. He also had to undergo a criminal background check that came back with no criminal charges," the statement added.
As of this time, De La Paz has not been charged with any crime, though the Vermilion Parish Sheriff's Office has confirmed to media outlets that they are investigating. The student who was allegedly sent the video is a resident of Vermilion Parish.
The video began circulating Wednesday on social media, with multiple users sending a link to KPEL News. Several comments on those posts cannot be verified.
Louisiana law is clear that teachers and coaches should not have any unapproved digital contact with their students and athletes. These rules are specifically written to highlight the dangers of teachers abusing their authority over their students and players. But there are no education-specific rules for teachers and coaches contacting students in other districts.
Multiple sources speaking to KPEL News on background questioned whether those laws should be expanded to include that scenario.
Investigations into this matter are still underway.
Louisiana's Biggest Political Scandals
10 Movie Stars Who Got Caught Up In Sex Tape Scandals
More From News Talk 96.5 KPEL