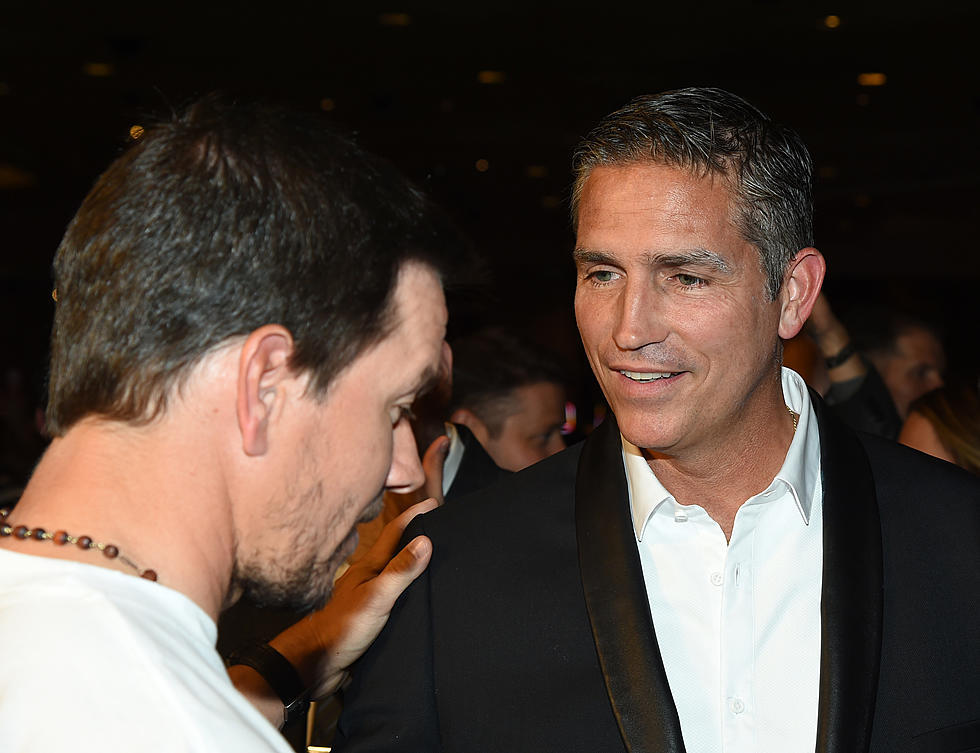 Passion of the Christ, Sound of Freedom Star Coming to Lafayette, Louisiana
Ethan Miller, Getty Images
Lafayette, LA (KPEL News) - The movies Passion of the Christ and Sound of Freedom have one thing in common: Jim Caviezel. He has had a somewhat eccentric career, but he remains a devout Catholic, as are many people in south Louisiana, and he will be coming to an event hosted by a Lafayette group that shares his faith.
Caviezel grew up in a Catholic family in Washington state, one of five children. His acting career began in 1991 with a minor part. After moving to Los Angeles, the caliber of films and television parts improved.
His resume lists more than 45 credits including G.I. Jane, The Thin Red Line, Frequency, High Crimes, Person of Interest, and Pay It Forward, in addition to the two for which he is most well-known. He's shared the screen or worked with such names as Robin Williams, Mel Gibson, Morgan Freeman, Denzel Washington, Mira Sorvino, Ashley Judd, and Demi Moore. Those are but a few.
A sequel to Passion of the Christ called Passion of the Christ: Resurrection- Part 1, also directed by Mel Gibson, is projected for release in 2025.
Caviezel's politics and personal beliefs have been controversial. He's been scorned for not compromising his religious convictions. However, the way he lives his life reflects those convictions, even as they pertain to his work.
He has been married to a high school English teacher since 1996, and they have three adopted children who all had cancer. He said in an interview with Catholic World Report in 2020, 
The children (that we adopted) were abandoned and unwanted. Two of them had brain cancer. The third one had sarcoma. My wife said it doesn't matter whether children are wanted or not. They are people, just like we are.
In that interview, the devotion to not only his faith but to his wife is palpable. Caviezel is known for not doing overt sex scenes nor scenes of violence that cross his personally-drawn line. Every decision he makes, as he tells it, is directly linked to his deep Catholic faith:
People in Hollywood keep asking me why I can't separate my acting career from being a Catholic. Actually my faith helps me. When I played basketball it motivated me. It's the same now. I'm aware of the fact that I'm lazy, but that's the reason I work so hard to overcome my weakness. My faith helps me to make the right choices, even though many people who inspired me didn't have faith.
Caviezel's complete devotion to the Catholic faith and teachings, as well as his love for the Virgin Mary and Pope John Paul II, attracted one of Lafayette's private Catholic schools, John Paul the Great Academy.
The school and its community hold a fundraising event called "Veritas: Mission of Truth" each year. In 2024, Jim Caviezel will headline the Spring gathering on April 13 at the Cajundome Convention Center. Tickets are available, as are sponsorships.
Actors Who Were Replaced for Unexpected Reasons
Below, check out why these 19 movie and TV actors left or lost their roles.
Gallery Credit: Jacklyn Krol
Commercials Actors Were in Before They Were Famous
Before they were famous, many celebrities did commercials.
Stacker
challenges you to guess the ads that helped launch 25 actors' careers.
Gallery Credit: Stacker
More From News Talk 96.5 KPEL