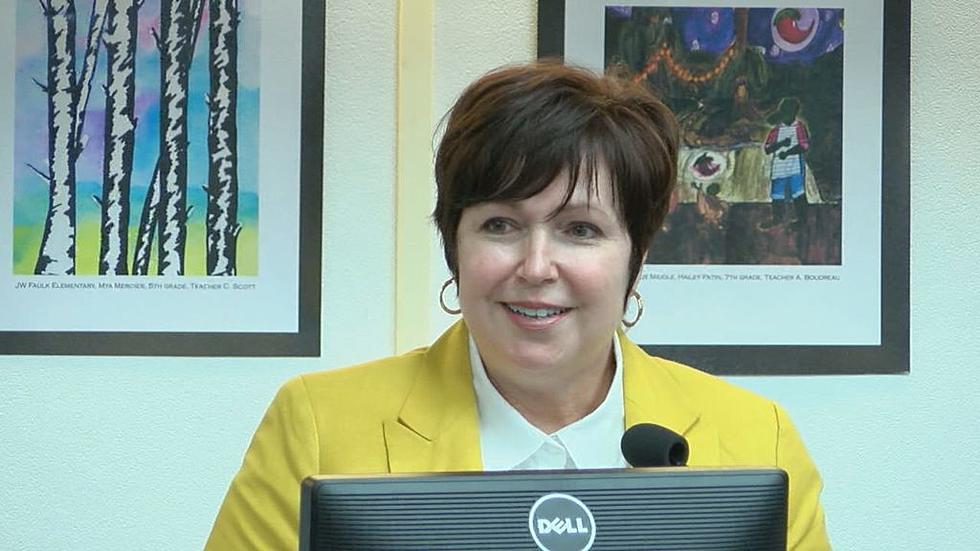 Lafayette Parish School Superintendent Irma Trosclair Announces She Is Stepping Down
LPSS Superintendent Irma Trosclair (Via KATC)
LAFAYETTE, La. (KPEL News) - Lafayette Parish Superintendent Irma Trosclair will be leaving her role as of July 20, according to a notice sent out to Lafayette Parish School System faculty and staff on Monday morning.
The surprising resignation comes after just 4.5 years in the role. Trosclair's brief tenure was marked by both growth in school and district scores and a carefully-navigated COVID-19 pandemic.
"It is with a heavy heart that I write to inform you of my decision to step down as Superintendent, effective July 20, 2023," she wrote in the message to the rest of the LPSS staff. "Many factors have contributed to this difficult decision, with my family being at the forefront of my decision."
She further listed what she touts as highlights of her time in the top LPSS job.
Together, we have:

managed the COVID-19 pandemic without students falling behind academically raised district performance scores to the highest in LPSS history

reduced the number of D schools from eight (8) in 2019 to one (1) in 2022

reduced the number of F schools from three (3) in 2019 to zero (0) in 2022 increased graduation rate and strength of diploma

ranked #1 in district performance scores amongst large districts serving over 30k students.

ranked #1 in large districts statewide for the number of students scoring mastery on state assessments

increased performance of students with disabilities to the highest level in district history

ranked 16th overall in state district performance score rankings, climbing 13 spots since 2019

ranked #5 in the state for score growth increases for years 2019-2022


leads regions IV and V in district performance score growth change for the years 2019-2022

closed achievement and opportunity gaps

provided WiFi connectivity to decrease the digital divide

significantly increased social and emotional support for students

significantly enhanced school safety measures and protocols

began construction of four new schools


purchased a new central office facility with the construction of a new state-of-the-art Board room nearing completion

raised teacher salaries

through strategic and intentional systemic changes in practices 

increased equity in schools developed & sustained strong community partnerships that continue to support schools, staft, and students


maintained an intentional focus on teacher recruitment and retention

more than tripled the dual enrollment opportunities for high school students

prioritized career and technical education, significantly increasing the number of students graduating with high-level credentials so they are work-force ready

maintained balanced budgets aligned with student needs


notably, 95% of schools in the district now have a letter grade of C or higher compared to 76% of schools pre-pandemic.
"The aforementioned highlights don't just happen," she added. "Instead, they are a testament to the hard work and dedication of so many individuals. We have built a strong, talented, and dedicated district team that is capable and committed to continuing the work of moving LPSS forward."
She also said she fully expects the district to receive a score of "A" when the 2023 scores are released for the state.
Trosclair was also recently named the 2023 Southwest Superintendent of the Year.
Fun and Free for Kids and Parents in Lafayette
It seems like the cost of everything is going up. If you're a parent you want to take your kids out to enjoy our area, but it would also be nice to know where you can go and find attractions that don't cost anything.
More From News Talk 96.5 KPEL