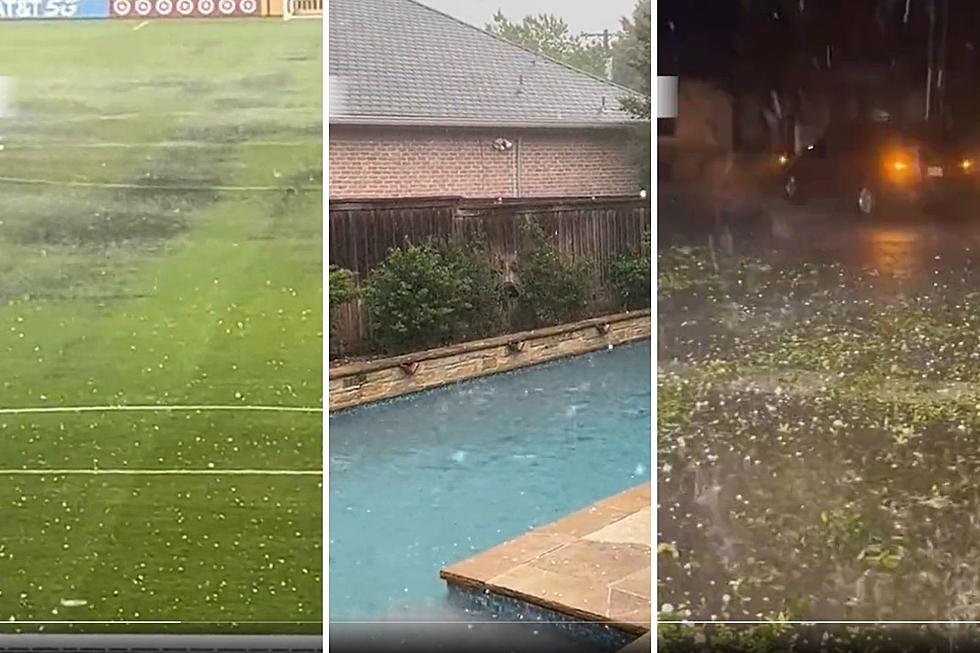 Large Hail Pummeling Texas Captured on Video
Twitter/Canva
Mother Nature just turned the Lone Star State into a chaotic game of dodgeball!
The AccuWeather video at the bottom of this article is a mashup of three different areas in Texas getting pelted with some fairly large hail.
We're going to rank all three in terms of how bad it would suck if you got caught out in that icy precipitation, going from the least amount of suck to the most sucky.
3. Least Sucky: The Pool
Look, those are some big ol' hail balls bombing down, no doubt.  But it's easily escabable. Just grab a snorkel and get underwater, problem solved. Hailstorms don't typically last that long, so just get under there and enjoy the show.  Sounds kind of fun actually!
2. Mid-sucky: Neighborhood Street
So the premise of these rankings is that you're stuck out in the storm. Which means. you can't go inside for whatever reason.  Otherwise, you'd just walk into one of the houses on this street.
However, as one can plainly see in the video, there is a car with its alarm going off across the street.  You would simply just roll up under that bad boy until the storm passed.  Why is this better ranked worse than the pool? Well, you're going to be soaking wet under a car while its alarm goes off. Loudly. Yes, you'll be wet in the pool as well, put that's where you're supposed to be wet. Just shed those clothes and get in your undies. Of course, this only works because it's still 100 degrees in September here in Texas.
1. Most Sucky: The Soccer Field
This one is terrible. There's nowhere to go. Are you going to get in the goal and try to suck in your breath and get under the crossbar and hope you don't get smacked? Run up in the stands and lay down under a bench. If you're standing in the middle of the field when these suckers start raining down, you might be dead by the time you ran over there.
How Would You Rank Them?
What do you think? Did I nail it, or would your rankings be totally different? Watch the video for yourself and let me know in the comments section.
Check out the video below:
Let's Learn 25 Cool and Likely Unknown Facts About the State of Texas
Texas has an interesting history full of facts that even many native Texans do not know.
6 Places to Visit in Texas That Won't Kill Your Bank Account
Here is a list of places you can visit in Texas and have lots of fun without spending massive amounts of money.
These 9 Disgusting Men are the Most Wanted Sex Offenders in Texas
We shouldn't hate anyone. However, it's hard to not hate any of these 9 disgusting men wanted as sex offenders.
More From News Talk 96.5 KPEL