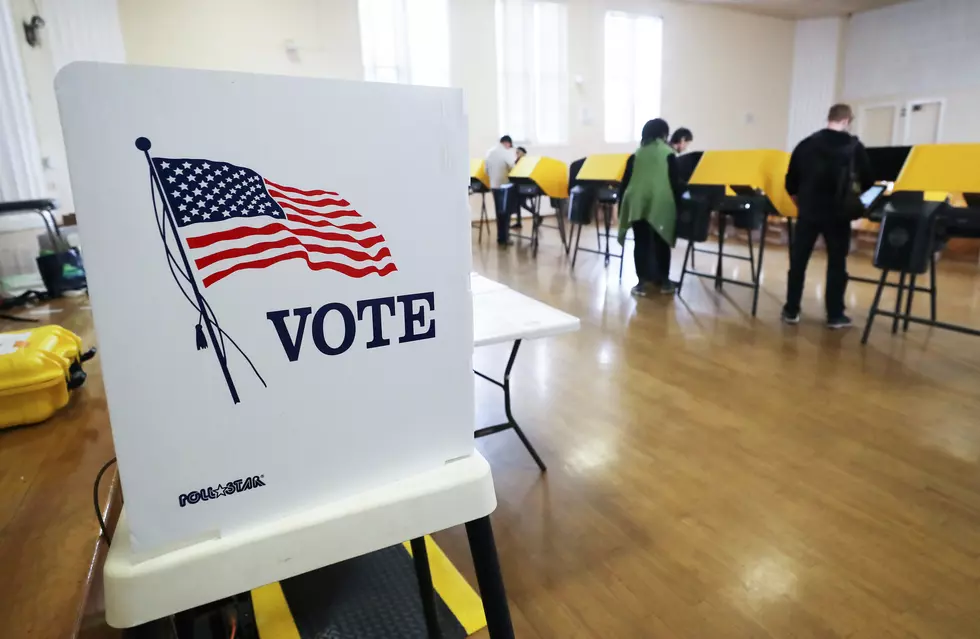 Louisiana Elections 2023 – The 4 Constitional Amendments on the November 18 Ballot
Mario Tama/Getty Images
BATON ROUGE, La. (KPEL News) - The November 18th Election in right around the corner for voters in Louisiana.
While the race for governor has been decided, the November runoff will feature a hotly contested BESE race, local races that are now gaining more attention, and another set of Constitutional Amendments to vote on.
Brief History of the Louisiana State Constitution
The Louisiana State Constitution is the 11th version and was approved by voters in 1974. That's according to ballotpedia.org, which points out that the current constitution has been amended 203 times, most recently in 2021.
Louisiana tends to say "yes" to proposed Constitutional Amendments, approving 77 of the 108 proposed amendments between 2006 and 2021. As ballotpedia.org points out, that's the most of any state during that time frame.
In the October 14th Election, all four Constitutional Amendments were approved by voters. Will that happen again during this round?
PAR's Guides to the Constitutional Amendments
Every election cycle that contains any proposed Constitutional Amendments, the Public Affairs Research Council of Louisiana puts out an excellent guide to them. Amendment proposals are full of legal jargon and PAR does a fantastic job of putting that language in layman's terms. They make it clear not only what the Constitutional Amendment actually says but also what a Yes or No vote actually means for you.
Moon Griffon's Guide to the 4 Constitutional Amendments
Each election cycle, voters ask "The Voice of Louisiana" Moon Griffon to give his take on proposed Constitutional Amendments.
AMENDMENT 1 - DEADLINES TO VETO BILLS AND RULES FOR VETO SESSIONS
"Do you support an amendment to clarify that the timing of gubernatorial action on a bill and his return of a vetoed bill to the legislature is based upon the legislative session in which the bill passed and to authorize the legislature, if it is in session, to reconsider vetoed bills without convening a separate veto session?"
Moon Griffon: "I am voting 'Yes.' If you have a veto-proof bill to override the governor, this allows lawmakers to take care of business during the Legislative Session."
AMENDMENT 2 - REPEAL OF INACTIVE SPECIAL FUNDS IN THE CONSTITUTION
"Do you support an amendment to remove provisions of the Constitution of Louisiana which created the following inactive special funds within the state treasury: Atchafalaya Basin Conservation Fund, Higher Education Louisiana Partnership Fund, Millennium Leverage Fund, Agricultural and Seafood Products Support Fund, First Use Tax Trust Fund, Louisiana Investment Fund for Enhancement and to provide for the transfer of any remaining monies in such funds to the state general fund?"
Moon Griffon: "I am voting 'Yes." I don't have a problem with them taking money that's laying around and using it."
AMENDMENT 3 - PROPERTY TAX EXEMPTIONS FOR FIRST RESPONDERS
"Do you support an amendment to authorize the local governing authority of a parish to provide an ad valorem tax exemption for qualified first responders?"
Moon Griffon: "I'm voting 'No' on this one. I'm not trying to be ugly because I appreciate first responders. I really do. But, we can't just keep giving all of these property tax exemptions to certain groups of people."
AMENDMENT 4 - RULE CHANGES FOR THE REVENUE STABILIZATION TRUST FUND
"Do you support an amendment authorizing the legislature, after securing a two-thirds vote of each house, to use up to two hundred fifty million dollars from the Revenue Stabilization Trust Fund to alleviate a budget deficit subject to conditions set forth by law and allowing the legislature to modify such conditions for accessing the monies in the fund, subject to two-thirds vote?"
Moon Griffon: "I am voting 'No' on this one. In its current state, there is flexibitlity allowed for the Revenue Stabilization Trust Fund and I think that's a good thing."
10 New Buc-ee's Locations Coming Soon
The popular rest stop chain has announced several new locations will be coming in the future. Check out the list now.
Gallery Credit: Joe Cunningham
More From News Talk 96.5 KPEL