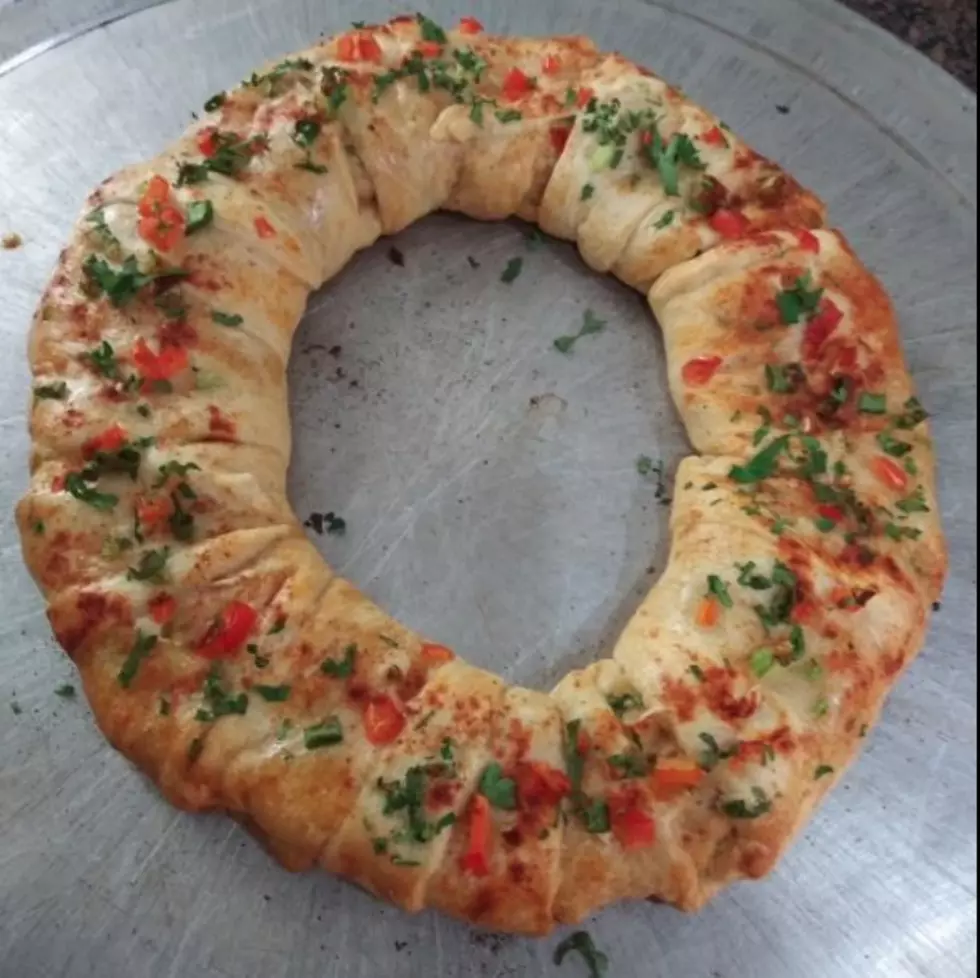 Louisiana Woman Creates Chicken Salad King Cake
Staff Photo
Y'all are already aware that this Mardi Gras is going to be the strangest Mardi Gras we've had in a while. No, it won't be a bad strange, it's just going to be a different kind of celebration.
One way folks have been keeping their Mardi Gras groove alive is by adding a new twist on Mardi Gras favorites. We've seen Yardi Gras in New Orleans where people are decorating their homes to look like floats. We are seeing reverse parades where people in their cars drive by decorated homes and get beads tossed to them as they pass by. We are also seeing some unique interpretations of some of the Mardi Gras season's favorite foods.
Yes, I am talking about a twist on King Cake. King Cakes are a staple in South Louisiana for Mardi Gras. They are usually very sweet and covered with gooey icing that's been colored in green, gold, and purple, the official colors of the season.
But because this Mardi Gras is strange, we have a new twist on the King Cake. Janet Theriot is the gatekeeper here at our Lafayette Radio Studios, she also makes some of the most badass chicken salad you will ever eat. Sorry Chicken Salad Chick, Ms. Janet's chicken salad tastes more like South Louisiana if you ask me.
This is Ms. Janet. She is a hoot to work with. She also loves to cook and by gosh when she says she is going to make something, she'll make it. So, here's the story of how the Chicken Salad King Cake came to be.
One day in the studio Ms. Janet and I were poking fun at the Mardi Gras strangeness that we've seen this year. I mentioned to her she should do a chicken salad king cake. It was actually a joke, but the more we talked about it, the more it appeared to be quite doable.
Well, it was doable and now it's been done. Here's how you can recreate your own Chicken Salad King Cake, minus the Ms. Janet Chicken Salad, you'll have to use your own recipe or a store-bought version. Cuz, Ms. Janet will not give up the chicken salad recipe, however, she does show you how to wrap it up into a King Cake like structure.
As far as baking instructions go, just follow the directions on the can of croissants and maybe give it a few extra minutes. Remember, you're not cooking the filling, it's already done, you're basically baking the dough that surrounds the filling.
Make Your Own Chicken Salad King Cake
More From News Talk 96.5 KPEL