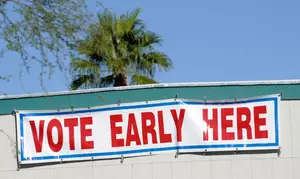 State Treasurer Election Only One Month Away
Getty Images
One month from today is the general election for State Treasurer.
Three Republican candidates are raising money. There's also a Democrat and Libertarian on the ballot.
Publisher of Lapolitics.com, Jeremy Alford, says Columbia Senator Neil Riser has been the most active in televising advertising.
"He was the first candidate to go up on TV, right around when Harvey was moving a shore and he is back up on TV again with another commercial."
Ex-state legislator John Schroder and former Commissioner of Administration Angelle Davis are the other Republicans fundraising. But Alford says none of the candidates have enough money to run TV commercials statewide, which will lead to a low voter turnout on October 14th.
"Secretary of State Tom Schedler has already predicted that turnout will be less than 20%."
Alford says expect to hear more from these candidates in the coming weeks as Early Voting begins September 30th. He says even though it's a statewide race, the candidates have not raised a lot of money, so they'll have to be creative in getting their message out.
"Right now, I think it's really about getting voters' attention. All of them have some runway left in terms of getting some name recognition."
More From News Talk 96.5 KPEL