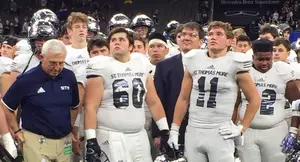 STM Falls to University Lab but Eunice Captures 3A Title
APG: Greg Larnerd
Two local teams took their shot at a State Title on Friday.
The first shot would be taken by St. Thomas More as they took aim at University Lab and next we had a match-up in 3A with Eunice taking on Sterlington.
St. Thomas More had heard all about what they were up against with U-High, all the big-time players that were going to the big name schools but that didn't deter them, it helped fuel them.
Most thought this would be a high scoring affair and most were right because it certainly was. The Cougars found themselves down just eight points in the first half at 21-13 but knew it should have been closer than that as quarterback Caleb Holstein threw two picks, one of which came right after his defense had gotten him an interception right before the first half ended.
Still, even with that STM was able to go toe-to-toe with the Cubs, being outscored by just one point in the second half and in the third quarter each team put up 20 points. Problem was that the U-High running back and Virginia commit Mike Hollins had himself an absolute GAME, he racked up 240 yards on 27 carries and four touchdowns on the ground (five total for the day).
The Cougars would come up short (55-46) but it wasn't for a lack of terrific offensive performances as Holstein was fun to watch in this one as he was 38-58 for 410 yards passing. He added five total passing touchdowns but also threw three interceptions. Wide Receiver Grant Arceneaux was also exceptional as he received the player of the game award on the STM side. He set a record for catches in a State Title game with 14 and he racked up 169 yards with a touchdown.
Speaking of records set, this game had plenty of them:
Now, for the Eunice vs. Sterlington game, it had a crazy beginning as Sterlington's CJ Colvin took the opening kickoff back for a touchdown! If that wasn't crazy enough, on the ensuing kickoff Eunice's Jordan Ledet returned the favor and made a house call of his own! It was twenty seconds into the ballgame and we were tied at seven, you just had a feeling we were in for a high scoring contest.
Sophomore quarterback for the Bobcats Simeon Ardoin was a true leader out on the field for Eunice Friday as he led his team to multiple scoring drives, many of which he finished off himself with runs. Senior Avery Lee was also a big part of this game for Eunice accounting for multiple touchdowns and fellow senior Tyler Darbonne added three himself.
If you're doing the math at home you can suffice that this was a very high scoring affair as well. For Sterlington, they had just one weapon and it was a very good one in running back Dallas Reagor who was hard to stop for most of the game. However, as the game wore on the Bobcats defense seemed to do a better job bottling him up and making things difficult.
When it came down to it Eunice was just too much for the Panthers of Sterlington as they captured the Class 3A State Title 59-47. Avery Lee was named the player of the game.
Congratulations to both the Bobcats and the Cougars on terrific seasons. I know the Cougars came up short but still, they put up a helluva fight against an extremely talented U-High squad. For Eunice, they grinded out a win with a very young quarterback and great senior leadership.
More From News Talk 96.5 KPEL