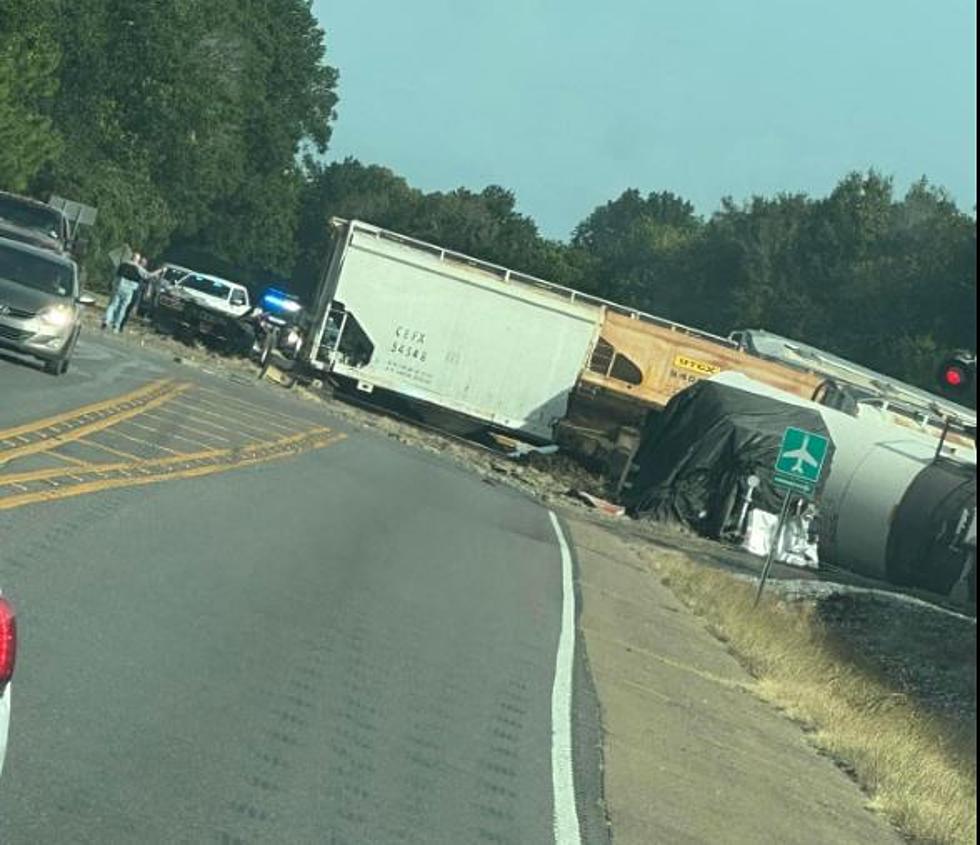 Train Derailment Site Cleanup to Cause Traffic Closures in New Iberia, Louisiana
New Iberia Train Derailment, Facebook via KQKI 95.3 FM
NEW IBERIA, La. (KPEL News) - Last month, Louisiana Highway 182 in New Iberia was shut down by a train derailment that fortunately left no injuries.
Clean up following the train derailment is set to begin, causing traffic closures throughout the day on Thursday.
Beginning at 9:00 a.m., La 182 will be closed to all traffic between the intersections with LA 3212/Northwest Bypass and LA Hwy 88/Coteau Road as Louisiana DOTD crews will carry out the work and Louisiana State Police will handle the road closure.
Detour Route: La 88, Admiral Doyle Drive, and La 674.
Permit load will be restricted. Emergency vehicles will not have access.
According to Iberia Parish President M. Larry Richard, the closure should be lifted sometime on Thursday if no issues occur. Residents and businesses located inside this closure may enter with proof of address.
Louisiana DOTD Project Begins Repairs on Evangeline Thruway and US 90 in Lafayette
Just down the highway, Louisiana DOTD crews continue work to repairs patches of the Evangeline Thruway/US 90 in Lafayette.
As we all know, driving on the Evangeline Thruway and US 90 makes for a very bumpy ride and is in desperate need of repair.
Well, as previously reported, a $21.1 million project is targetting two sections of the roadway:
Evangeline Thruway from the railroad junction to East Pinhook Road
U.S. 90 from La. 92 (Young Street) to La. 88 (Coteau Road)
This project includes concrete pavement patching, asphalt concrete paving, joint sealing, dowel bar retrofit, high-density polyurethane foam (slab jacking), handicap ramps, and related work.
Work during the week is happening during the following times:
Monday - Thursday: 8 p.m. - 6:00 a.m.
Work during the weekend will happen continuously from Friday evenings at 8 PM until 6 AM Monday mornings. This means you can expect to see workers on scene throughout the day and the night.
Drivers can expect alternating double lane closures during the project. The periodic lane closures are required to perform slab jacking and concrete pavement patching operations within the roadway.
The project is estimated to be completed by spring 2025.
Daytime Lane Closures Happening on Johnston Street in Lafayette, Louisiana
If you've driven down Johnston Street lately, you know some areas are now very smooth and others are very rough. The asphalt work continues as DOTD crews are concentrating on two areas of the heavily-traveled roadway:
Johnston Street from Maurice to Aqueduct Drive will have intermittent lane closures on Tuesday and Wednesday (September 5 and 6) between 7:00 a.m. and 6:00 p.m.
Johnston Street from Touchet Road to Maurice will have intermittent lane closures on Tuesday and Wednesday (September 5 and 6) between 7:00 a.m. and 7:00 p.m.
The road is open to regular traffic with an 12-foot lane restriction on oversized loads passing through the work zone.
Emergency vehicles do access to the area but may encounter delays.
Daytime Lane Closures on US 167 in Maurice, Louisiana to Begin
Meanwhile, further down US 167 in Vermilion Parish, the southbound outside lane of Maurice Avenue between Senator Picard Drive and Desire Road will be closed from 6 AM to 6 PM for one week. This will last from Monday, September 11 until Monday, September 18 as crews construct a deceleration lane.
As you can see in the map, this is the stretch of roadway that passes in front of the DR Horton development and the Ochsner Lafayette General Urgent Care.
Emergency vehicles will have access to the area but may encounter delays.
Accord Train Station Converted to Luxury Airbnb
The historic Accord Train Station, built in 1902, is now a high-end rental property
More From News Talk 96.5 KPEL