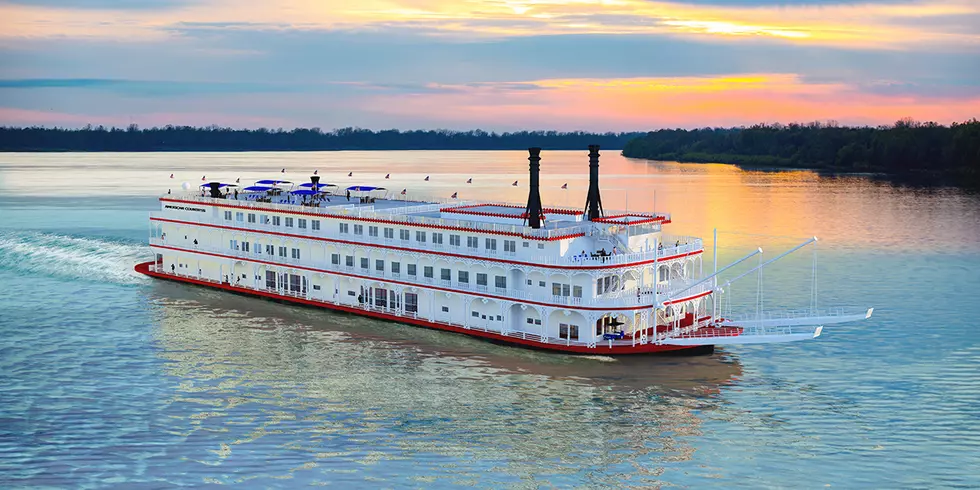 Two Cruise Lines in Louisiana to Reopen in June
American Queen Steamboat Company
You'll soon be able to cruise again here in Louisiana.
ACL is hoping to be the first cruise operator in the U.S. to return to the water since the coronavirus outbreak. Its first Port of New Orleans-bound riverboat, the American Harmony, is set to launch from Memphis on June 28.
Both cruise lines have Baton Rouge and St. Francisville as stops on their itineraries.
Early on in the pandemic outbreak, the Centers for Disease Control and Prevention put out a "no sail" order, which barred the big cruise ship operators from sailing until at least the end of July.
Most of the vessels in these two cruise lines fall under the 250-passenger limit, thus, clearing them to begin sailing again.
However, ACL CEO Charles Robertson says they are taking added steps by restricting passenger load to no more than 75% of capacity to allow for social distancing, as well as to accommodate for medical staff on board.
The passenger profile for riverboat cruises generally skews older, so any kind of coronavirus outbreak on early cruises would be a disaster for their reputation, Roberston acknowledges.
American Queen Steamboat Company CEO John Waggoner told "Cruise Critic" magazine last week that the company has partnered with Ochsner Health to provide a health screening in passengers' hotel rooms the night before they board the vessel.
The reopening of these two cruise lines will help revive a small but important portion of the Port of New Orleans' cruise line business that has been hurting since COVID-19 all but shut this industry down.
'Only in Louisiana' Experiences
More From News Talk 96.5 KPEL