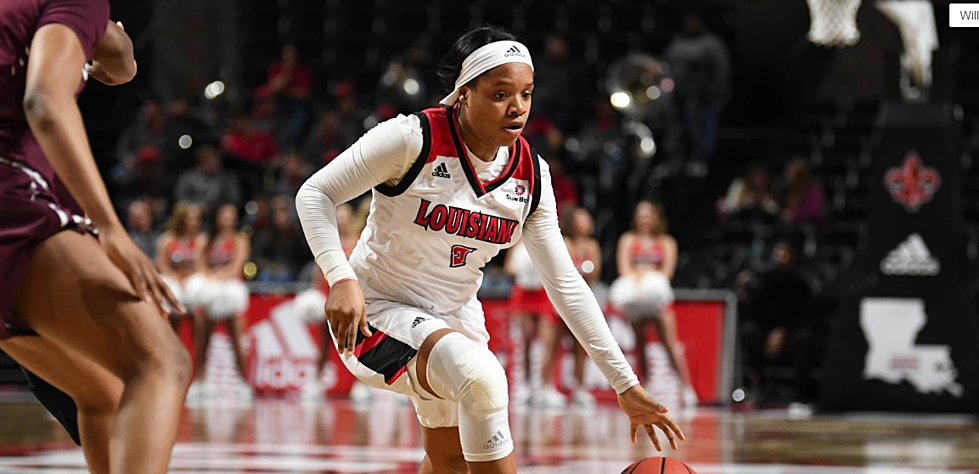 Williams Named Sun Belt Freshman of the Year
Ben Massey Photo
Brandi Williams, who set a school record this season for most points by a freshman, has been named the Sun Belt Conference Freshman of the Year.
Williams, a Lake Charles native, has scored 377 points this season, breaking the school record set by the legendary Kim Perrott.  Williams is also on pace to be the best single season free throw shooter in school history.  She is hitting 87.7 percent of her attempts.
Williams has shot 44 percent from the field and has averaged 13 points per game.
2018-19 SUN BELT WOMEN'S BASKETBALL POSTSEASON HONORS 
All-Sun Belt First Team
Ronjanae DeGray, Little Rock (Sr. F, Odessa, Texas)
DJ Williams, Coastal Carolina (Jr., G, Moreno Valley, Calif.)
Antoinette Lewis, South Alabama (So., F, Memphis, Tenn.)
Cierra Johnson, UTA (RS-Sr., G, Bedford, Texas)
Toshua Leavitt, Texas State (Sr., G, Nixa, Mo.)
All-Sun Belt Second Team
Kyra Collier, Little Rock (Jr., G, North Little Rock, Ark.)
Alexis Brown, Georgia Southern (Jr., G, Madison, Ga.)
Jada Lewis, Georgia State (So., G, Powder Springs, Ga.)
Savannah Jones, South Alabama (So., G, Ocean Springs, Miss.)
Sky'Lynn Holmes, Troy (Sr., F, Mount Pleasant, Texas)
All-Sun Belt Third Team
Bayley Plummer, Appalachian State (Jr., C, Thomasville, N.C.)
Tori Lasker, Little Rock (So., G, Mayflower, Ark.)
Peyton Martin, Arkansas State (So., F, Pine Bluff, Ark.)
Allison Johnson, Georgia State (Sr., F, Norcross, Ga.)
Arsula Clark, ULM (So., G, Douglasville, Ga.)
Sun Belt Women's Basketball Co-Players of the Year
Ronjanae DeGray, Little Rock (Sr. F, Odessa, Texas)
Cierra Johnson, UTA (RS-Sr., G, Bedford, Texas)
Sun Belt Women's Basketball Defensive Player of the Year
Sky'Lynn Holmes, Troy (Sr., F, Mount Pleasant, Texas)
Sun Belt Women's Basketball Freshman of the Year
Brandi Williams, Louisiana (Fr., G, Lake Charles, La.)
Sun Belt Women's Basketball Newcomer of the Year
Allison Johnson, Georgia State (Sr., F, Norcross, Ga.)
Sun Belt Women's Basketball Coach of the Year
Krista Gerlich, UTA
More From News Talk 96.5 KPEL