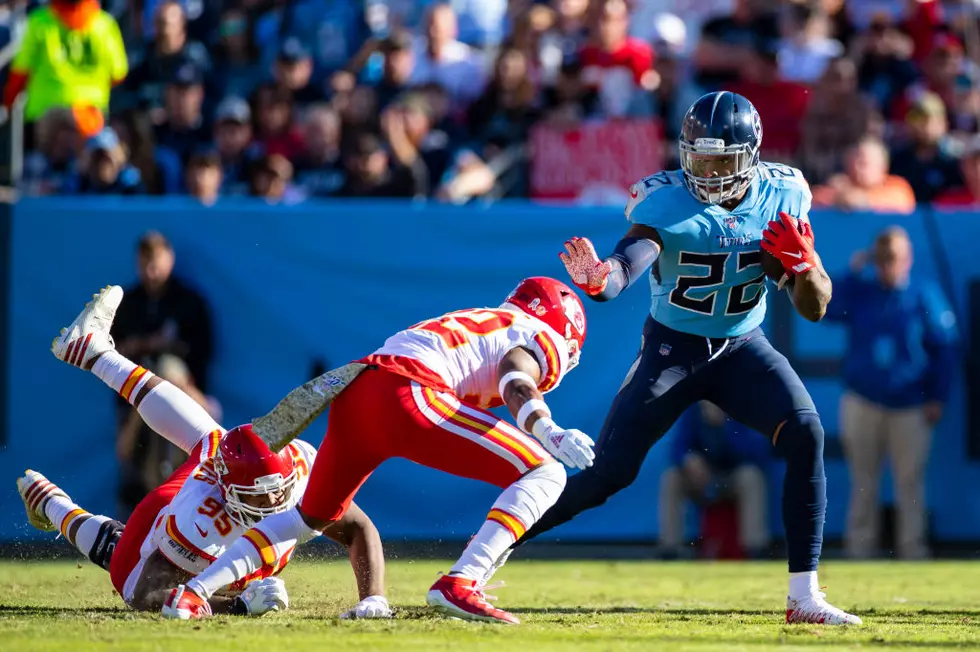 Biggest Concern For Each NFL Team on Championship Weekend
(Photo by Brett Carlsen/Getty Images)
Enter your number to get our free mobile app
This weekend we find out who will represent the NFC and the AFC in Super Bowl 54 as the Tennessee Titans travel to Kansas City to face the Chiefs at 2:05 and the San Fransisco 49ers host the Green Bay Packers at 5:40.
Every team has at least a couple of concerns based on their specific match-up but I'm going to give you the biggest one for each team playing this weekend.
This one is easy, slowing down Patrick Mahomes and this high-flying offense. The Chiefs just erased a 24-0 deficit at home against the Houston Texans in about 10 minutes to grab a 28-24 lead at the half and never looked back. This Kansas City passing offense was ranked 5th best in the league this season (281 yards per game).
This team can beat you with so many players, Travis Kelce, Tyreek Hill, Sammy Watkins, Mecole Hardman, Damien Williams, LeSean McCoy among others. This is going to be a tall task for Mike Vrabel's defense for Tennessee.
Again, this one is pretty simple, the Chiefs have to find a way to contain the man-beast that is Derrick Henry. Tennessee defeated Kansas City back in week ten 35-32 and Henry had a typical Derrick Henry game with 23 carries for 188 yards and two touchdowns. On the season, the Chiefs were seventh-worst in yards allowed per game on the ground with 128 yards/game. However, over their past seven games, they've been much improved as they've allowed just 95 rush yards per game over that span.
The Chiefs vs. Top 10 rush offenses in 2019: 3-3, 28ppg allowed, 396ypg allowed. In addition, over the past eight games, Derrick Henry has averaged 160ypg and their talented defensive tackle Chris Jones is questionable for this game which would be a big blow if he's didn't play for a second straight week.
Slowing down the 49ers pass rush and give Aaron Rodgers time to throw the football. The 49ers defensive line is dangerous, to say the least as they're able to create pressure with just those four guys upfront. In fact, they blitz only 22% of the time this season which was 5th lowest in the NFL.
The 49ers rank third in pure pass-rush and pressure rate and second in pass-rush win rate. Additionally, San Fransisco creates disruption on 70% of dropbacks when a quarterback holds the ball for three seconds which is 9% higher than the league average, highest in the league.
Now, the Packers offensive line is good, they ranked fourth in pass protection. When they give Rodgers three seconds to throw he's got a 50% chance of avoiding a sack or having to throw the ball away which is third-best in the NFL.
This is a super solid roster for the 49ers but the one place they could be vulnerable is Jimmy Garappolo's inexperience. Against the Minnesota Vikings last week Garappolo threw an early interception and head coach Kyle Shanahan decided they weren't going to allow Jimmy G to lose the game for them. So, what did they do? They began pounding the football on the ground. If Green Bay can stifle the run game, get a lead, and make Garappolo throw the ball 35 times the Packers can force him into mistakes. That could spell trouble for the 49ers chances to get back to the Super Bowl.
For all my sports posts and to hear my inner sports thoughts, make sure to keep up with me on Twitter, Instagram, and Facebook
More From News Talk 96.5 KPEL