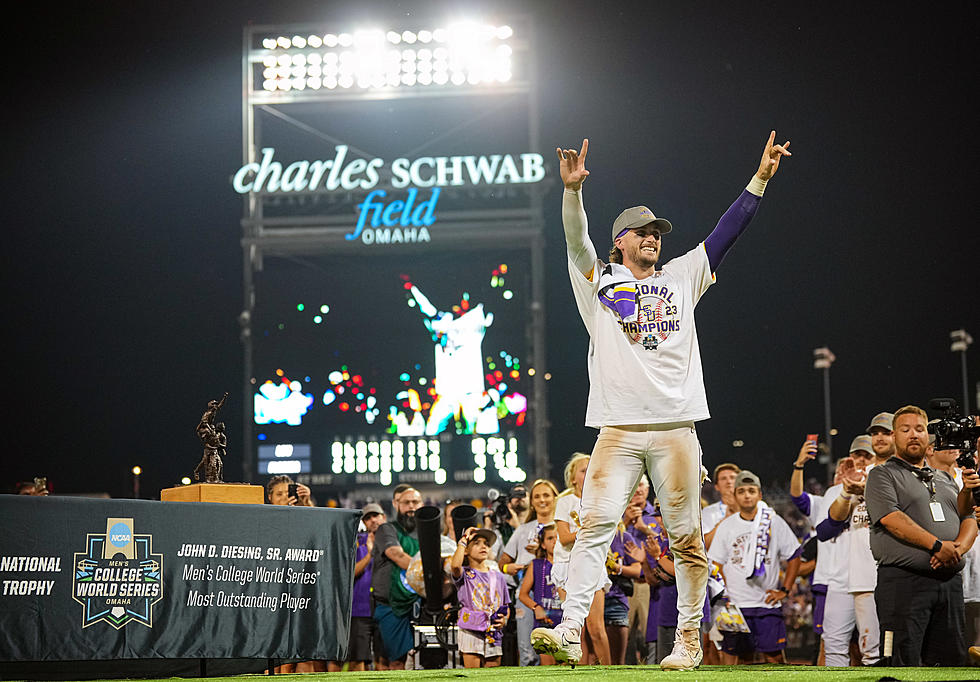 Former LSU Tigers Outfielder Dylan Crews Begins Pro Career With A Bang
Getty Images
Former LSU outfielder Dylan Crews began his professional career in style.  Playing in rookie ball in the Florida Complex League, Crews went 3-3, including a double and scored three runs.
Crews spoke to MLB.com
"I was seeing it pretty good. I didn't swing at any balls, which is something I take a lot of pride in and work really hard at. I was commanding it pretty good and seeing it pretty well. I'd say it was a positive today for sure," Crews said.
The overall #2 pick, selected by the Washington Nationals, Crews signed a contract with a $9 million bonus.
After not playing for more than a month, Crews was pleased with day.
"The game doesn't change at the end of the day, it's still the same game. I'm going to go out there and compete every day. [Today] was a great day," Crews said.
Crews along with the #1 pick Paul Skenes, led the LSU Tigers to the 2023 National Championship. Crews was named College World Series MVP and won the Golden Spikes Player of the Year Award.  He arguably had one of the best seasons in college baseball history for LSU.  This past season, Crews hit .426 (110-for-258) with 16 doubles, two triples, 18 homers, 70 RBI and 100 runs.
LSU Athletes Drafted #1 Overall Across All Sports Drafts
LSU Athletics have had players drafted #1 overall in all 4 of the major sports drafts in America. Here are those top picks.
Chaz Goes to 2023 College World Series - LSU
Top 10 LSU Tigers Drafted by the New Orleans Saints
Top 10 LSU Tigers Drafted by the New Orleans Saints
More From News Talk 96.5 KPEL