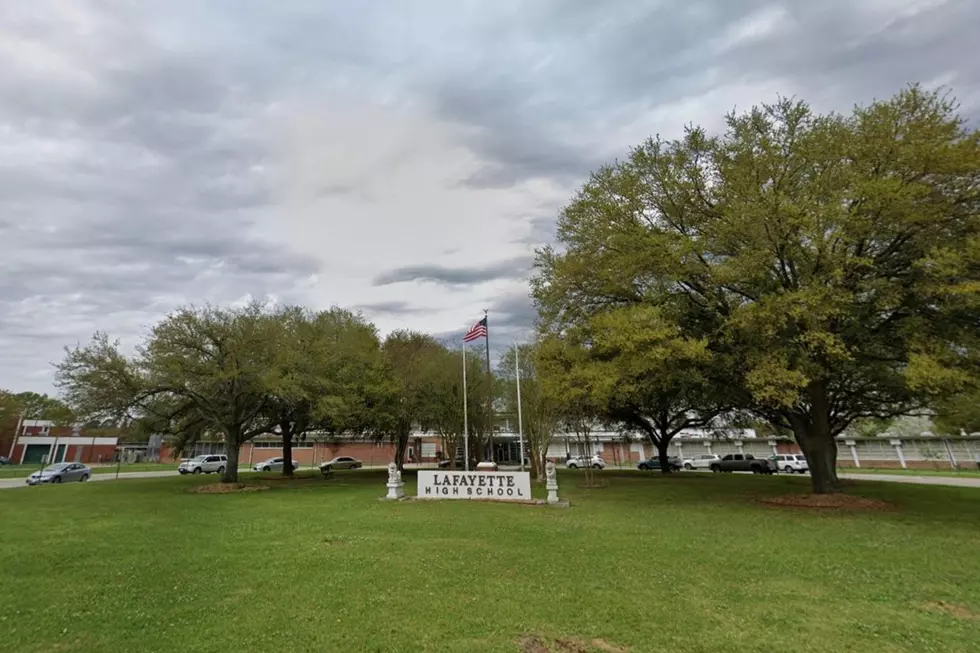 Lafayette High School Back in Class, Student Arrested After Bomb Threat Forces Evacuation
Google Maps
LAFAYETTE, La. (KPEL News) - Lafayette High School students are back in class after a threat was made on social media Tuesday.
The Lafayette Police Department, with assistance from the University of Louisiana's bomb dog, swept the campus and found no devices. Students were sent back to class afterward.
Lafayette Police have confirmed a 17-year-old was arrested for making the threat. That student was arrested and charged with one count of Terrorizing and booked into the Lafayette Juvenile Detention Home.
---
Original Story
Lafayette High School is under an evacuation order while law enforcement investigates a bomb threat on campus.
According to reports, a threat against the school may have been made on social media, prompting the school to lock down. Law enforcement arrived at the scene and the district announced in an alert to parents that the school was "on evacuation status."
"This is a message from the district," the alert, sent out around 9 a.m., said. "The campus of Lafayette High School is currently on evacuation status as a precautionary measure while law enforcement conducts an investigation."
"Students and staff are safe and at an exterior location at this time," the message added. "Visitors will not be able to enter or leave campus. We will provide an update when one is available. Thank you. Please visit your district's web based Student Progress Center for more details."
Evacuation policy for Lafayette High is for students to be escorted to the midtown campus of Our Savior's Church.
This is the most recent in a string of threats that have locked down or forced evacuations at Lafayette area schools, including several threats that locked down LHS over the course of a week in October.
Other schools in the parish, including Paul Breaux Middle School and Northside High School, have faced similar events as law enforcement and LPSS attempt to crack down on threats that force school lockdowns and shutdowns.
So far this school year, multiple students have been arrested for making threats against schools. They have been charged with "Terrorizing," a crime that comes with up to 15 years in prison and/or up to $15,000 in fines.
How Many in America: From Guns to Ghost Towns
Can you take a guess as to how many public schools are in the U.S.? Do you have any clue as to how many billionaires might be residing there? Read on to find out—and learn a thing or two about each of these selection's cultural significance and legacy along the way.
KEEP READING: Scroll to see what the big headlines were the year you were born
Here's a
look at the headlines
that captured the moment, spread the word, and helped shape public opinion over the last 100 years.
More From News Talk 96.5 KPEL