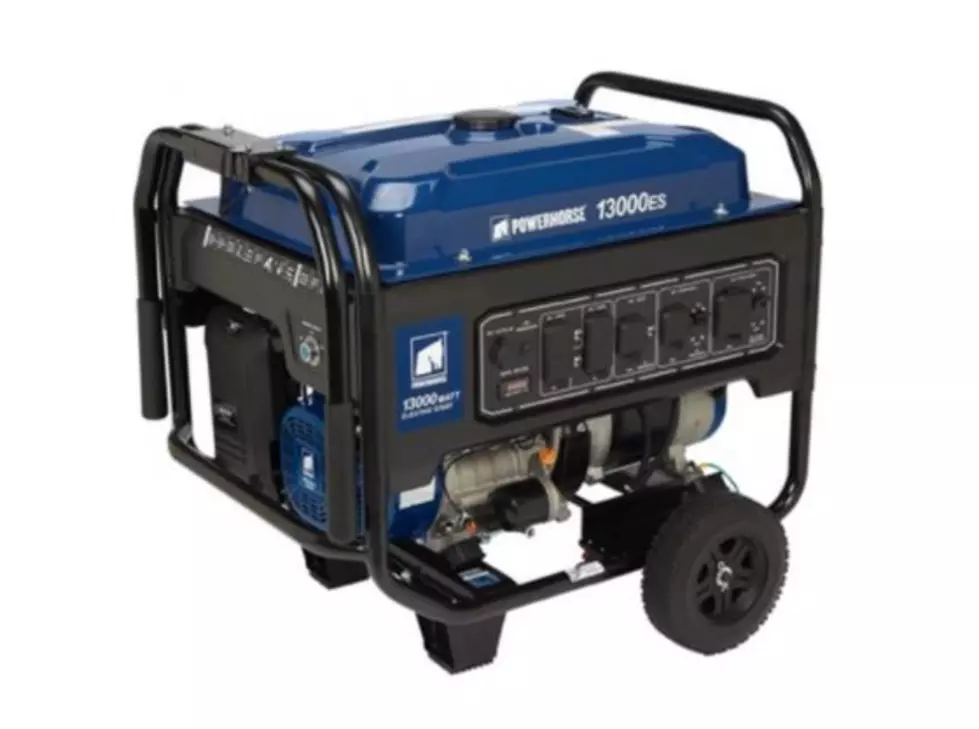 Portable Generators Sold in Louisiana Recalled
cpsc.gov
Chances are if you lived through Hurricane Season 2020 and the Winter Storm of 2021 then you probably have a portable generator. Those on the go electrical devices have become a way of life here in Louisiana, especially during storm season. While these devices can be literal lifesavers they can also be deadly if used improperly. And in the case of one particular series of generators, there could be a shock hazard as well.
More than 3,600 portable generators sold by Northern Tool and Equipment have been recalled as a result of that shock hazard. According to Northern Tool, the specific reason for the recall is this,
A wiring error has potential for electric shock if not grounded according to instructions. The wiring error ONLY affects the L5-30R receptacle providing 120V / 30A power (possibly used for RV and Marina applications).
This recall is specifically for the Powerhorse 13000ES Portable Generator Model #799215. The company is asking that you bring the unit back for repair. In fact, Northern Tool and Equipment has a handy guide that you can follow to make getting your unit repaired.
Repair Arrangement:
Did you buy this at a Northern Tool & Equipment (NTE) Retail Store?
Call NTE Store or Powerhorse Product Support for a repair appointment.
Did you buy this online from the Northern Tool & Equipment Website?
Call Product Support for repair appointment (NTE retail store or authorized repair center).
Do you want to choose your own qualified technician to make the repair for you?
Technical Service Bulletin "Incorrectly Wired L5-30R receptacle" is available through Powerhorse Product Support. It is also included with mailings to known purchaser addresses. Northern Tool & Equipment will reimburse up to $200 for repairs. Arrange payment through Powerhorse Product Support.
Contact Information
Powerhorse Product Support
1-866-443-2576
Monday – Friday: 7am – 5pm CT
That information was provided by the Northern Tool and Equipment product recall page on their website. There will be no charge for the recall repair service.
ALSO SEE: 30 Most Decade-Defining Memes
More From News Talk 96.5 KPEL