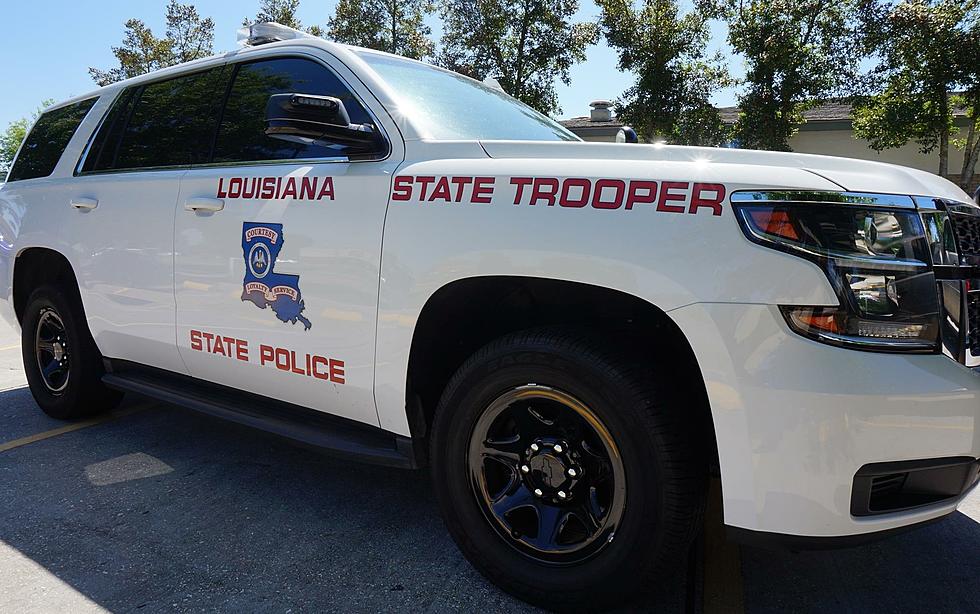 Suspect in Lafayette, Louisiana Apartment Shooting Dead After Pursuit on I-49
Photo courtesy of LSP
LAFAYETTE, La. (KPEL News) - A suspect wanted in a Monday shooting in Lafayette is dead, according to Louisiana State Police, after a high-speed pursuit northbound on I-49.
According to the Lafayette Police Department:
LPD Investigators were able to develop and identify a suspect in the shooting incident at Brook Pointe Apartments. Investigators were able to disseminate information pertaining to the vehicle which the suspect was operating, to surrounding Law Enforcement agencies.

Not long after this information was disseminated, Louisiana State Police was able to locate the suspect vehicle traveling on I-49 near Opelousas, LA. LSP attempted to conduct a traffic stop on the suspect vehicle, however the suspect vehicle elected to disregard attempts to be stopped.
Louisiana State Police pursued the suspect into Avoyelles Parish, where the vehicle came to a stop on the Bunkie exit.
LSP is reporting that the suspect is dead of an apparently self-inflicted gunshot wound.
The preliminary investigation has revealed that the subject is deceased by an apparent self-inflicted gunshot wound. No Troopers were injured during this incident.

LSP Force Investigation Unit is working diligently to process this crime scene and gather further information. Any questions regarding the attempted homicide in Lafayette should be referred to the Lafayette Police Department.

This is an active scene, please utilize alternate routes around the area to allow for the movement of emergency vehicles and investigative personnel.
He has been identified as Norvel Etienne, 26, of Morganza, Louisiana. The exit is currently closed as LSP investigates the scene.
"At this point this incident is listed as being domestic related," LSP said in a statement, "as it was determined that the suspect violently confronted the victim who is his ex-girlfriend and mother of his children. It was determined that the victim was attempting to leave her residence, when she was confronted by the suspect."
"The suspect then physically attacked the victim and escalated the incident by shooting the victim multiple times," the statement continued. "The suspect then fled the scene via vehicle transport until he encountered LSP. The female victim remains hospitalized and in critical condition."
Anyone with information and/or pictures and video are urged to share that information with LSP Investigators by calling 318-487-5911.
In addition to the option above, citizens can anonymously report information through the Louisiana State Police online reporting system by visiting the DPS website or calling the LSP Fusion Center Hotline at 1-800-434-8007.
The Lafayette Police Department urges anyone who is a victim of domestic abuse and needs help getting out of the environment to contact the Domestic Abuse Hotline at 1-800-799-SAFE (7233) or you can contact the local Family Justice Center at 337-210-5986 for assistance.
You can see the original story below.
---
ORIGINAL STORY
The Lafayette Police Department is investigating a shooting that left a woman in critical condition at an apartment complex in town.
According to LPD, someone called in a report of shots fired at the Brook Pointe Apartments on N. Pierce St. Lafayette. When they arrived at the scene, they found a female victim suffering from multiple gunshot wounds.
She was transported to a local hospital and is currently listed in critical condition.
The incident will remain under investigation and any further developments will be provided as requested. Investigators are currently on the scene and working to determine any leads.
Anyone with information pertaining to the incident is asked to contact Lafayette Crime Stopper at (337) 232-TIPS (8477). You can also contact Lafayette Crime Stoppers by downloading the P3 TIPS Mobile App or by dialing **TIPS (**8477) on your mobile device. All callers remain anonymous.
---
This is a developing story, and the KPEL News Team is working to provide additional coverage for Acadiana. Updates will be shared as they become available, so download the KPEL News app via Google Play or in the App Store and subscribe to breaking news alerts to get the latest information sent directly to your mobile device.
You can also use the KPEL app to submit a news tip, share a traffic update, or chat directly with our on-air team.
Be sure to bookmark our latest site, wearelafayette.net, where we provide more local news coverage as well as lifestyle and community features.
To report errors, omissions, or other concerns regarding the content above, send emails to news@kpel965.com.
Million Dollar Homes in Carencro, Louisiana
These houses are for sale in Carencro, and they offer a lot of space - both inside and outside. If you could afford them, would you buy them?
More From News Talk 96.5 KPEL