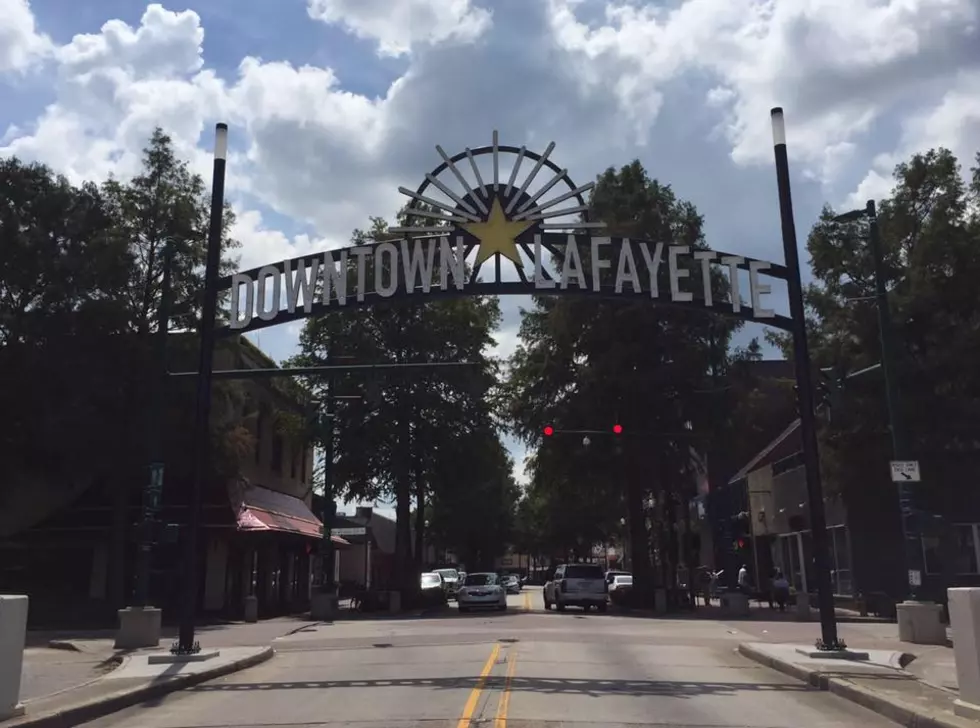 Downtown Lafayette Intersection Closure, Johnston Street J-Turn Project Highlight Busy Construction Week
Staff Photo
LAFAYETTE, La. (KPEL News) - It's another busy week for road construction in Lafayette.
On Sunday, we reported traffic closures happening this week on bridges across Louisiana including in the Hub City, on the I-10 Atchafalaya Basin Bridge, and on the I-210 Bridge in Lake Charles. Today, we are going to report on road projects happening in Lafayette and the Parish.
Intersection in Downtown Lafayette to Close Tuesday Morning
On Tuesday, workers with Lafayette Consolidated Government will need to close down the intersection of S. Buchanan Street at Vermilion Street as a crane will need to be placed in the roadway to lift HVAC equipment onto the roof of a business.
The closure will happen from 7:00 a.m. to 9:00 a.m. There will be detour routes made available and local access will be maintained. Please be courteous of workers and try to avoid the area.
Johnston Street J-Turn Construction Continues
Nighttime construction will continue this week on Johnston Street as part of the J-Turn project that's scheduled to be completed by the end of 2023. There will be lane closures happening Monday until Thursday (April 17-20) on two lanes on Johnston Street as crews will lay asphalt for the new J-turns. Keep in mind, some of these lane closures will last well into the morning commute hours.
Inside Lane of Johnston Street northbound from Crestlawn Drive to Sears Drive from 7:30 p.m. to 6:00 a.m.
Inside Lane of Johnston Street southbound from Ambassador Caffery Parkway to Brown Fortier Road from 9:30 p.m. to 8:30 a.m.
Emergency vehicles will have access to these areas.
Construction Happening on East Main Street in Lafayette Parish for Next 3 Months
Lane closures continue on LA 182 (East Main Street) as DOTD workers will drive concrete piles in the foundation of the northbound frontage road bridge.
For the next three months (April 11-July 9), there are nighttime lane closures happening on LA 182 - from St. Etienne Road to LA 96 (Terrace Hwy.). The road will be open to regular traffic with a 12-foot lane restriction on oversized loads passing through the work zone.
The road closures happening this week will be from Monday until Saturday (April 17-22) - from 8:00 p.m. to 6:00 a.m. each night.
Emergency vehicles will not have access to the area.
A detour route will NOT be posted; however, traffic may utilize US 90 to LA 92-1 (Smede Hwy.) to access LA 182.
REMINDER: Construction to Continue on Pinhook Road for About 3 Months
At the beginning of March, construction began on the stretch of Pinhook Road between Mall Street and Jomela Drive as workers for Lafayette Consolidated Government began applying new lining on the inside of subsurface drainage pipes. This is within the particular stretch of the often-traveled roadway that is a bit challenging (and kind of dangerous) to navigate: the slim stretch between the bridge over the Vermilion River and its intersection with University Avenue.
Beginning on Monday (April 10), a longer stretch of Pinhook Road - from Jomela Drive to Dorset Avenue - construction begins to make that 1-mile stretch much smoother for drivers. This resurfacing process will last for about three months, weather permitting.
In the first phase, workers will conduct drainage improvements along side streets near the Oil Center during daytime hours. According to LCG, "traffic flow on Pinhook will be virtually unaffected aside from a couple of days of temporary one-lane closures."
Then, crews will move into the next phase: removing and replacing the asphalt road surface. This work will happen during the nighttime hours so traffic delays will be lessened. Now, there will still be lane closures and detour routes, so drivers can still expect delays.
REMINDER: Daytime Closures Happening on Interstate 10 in St. Martin Parish During the Week
Last week, we reported to you about daytime closures happening on I-10 eastbound from mile marker 112 to mile marker 114 as DOTD crews needed to remove materials from the construction project.
Well, the same work needs to be done on Monday through Friday of this week as well - from 7:00 a.m. until 6:30 p.m. each day. The outside lane of I-10 eastbound from mile marker 112 to mile marker 114 will be closed.
Emergency vehicles will have access through the work area, but may encounter delays.
No detour is necessary.
Traffic Closures Happening on the I-10 Atchafalaya Basin Bridge in St. Martin and Iberville Parishes
DOTD crews will be conducting a sweeping operation on the Basin Bridge on Sunday and Monday nights. This will cause alternating lane closures in BOTH DIRECTIONS from 8:00 p.m. until 6:00 a.m. on both nights.
All permit and oversize loads along with emergency vehicles will be allowed to pass.
REMINDER: Daytime Traffic Closures Happening on I-210 Prien Lake Bridge in Calcasieu Parish
Routine bridge inspection will be the cause of daytime traffic closures scheduled for the I-210 Prien Lake Bridge (MP 1.4 to 3.0) this week.
Tuesday, April 18 from 8:30am until 3:30pm (Westbound right lane)
Wednesday, April 19 from 8:30am until 3:30pm (Eastbound right lane)
Thursday, April 20 from 8:30am until 3:30pm (Eastbound right lane)
REMINDER: 2 Lafayette Bridges Closed for 2 Weeks for Repairs
There are repairs that need to be completed under two bridges in Lafayette: both of the bridges on Maryview Farm Road crossing Manor Park coulee and Bayou Vermilion. These repairs are expected to take two weeks to complete.
Encouraged Detour: E. Pont Des Mouton
If Lafayette Streets Could Talk This Is What They'd Say To You
70 Google Maps Images That Show How Much Lafayette Has Changed
Guess Louisiana Cities from Satellite Photos
More From News Talk 96.5 KPEL