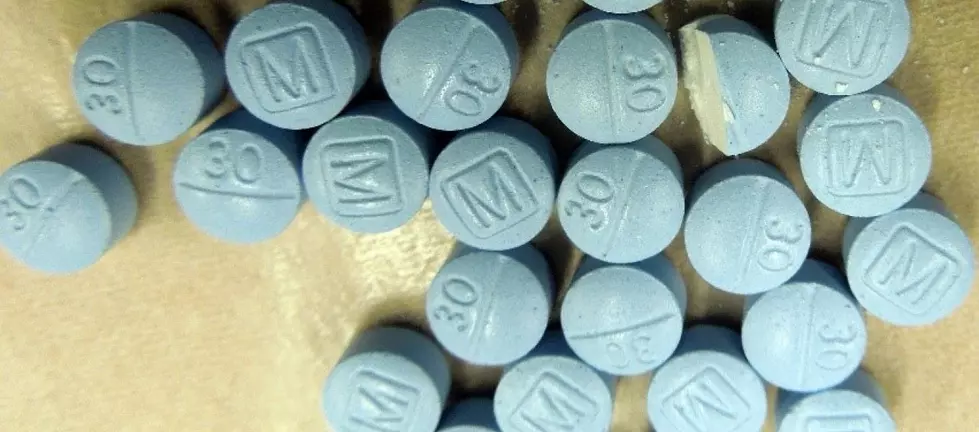 Lake Charles, Louisiana Man Caught With a Backpack Full of Fentanyl
Credit: DEA (Not actual pills from drug bust)
LAFAYETTE, La. (KPEL News) - Four men - three from South Louisiana and one from Baytown, Texas - each received lengthy sentences for their participation in the trafficking of narcotics in the Lake Charles and Lafayette areas.
Lake Charles, Louisiana Man Fails to Evade Officers; Officers Find Fentanyl in a Nearby Backyard
In November 2020, a patrolling officer with the Lake Charles Police Department noticed a vehicle traveling at a high rate of speed and tried to conduct a traffic stop. That driver - 29-year-old Christopher Wayne Jones - would not stop, though, and tried to get away. Police say Jones lost control of the vehicle, though, went off the road and hit a utility pole. As he got out of the vehicle, he was holding a red backpack and tried to get away on foot.
It didn't take long for officers to catch Jones. They then found the red backpack he was carrying in a nearby backyard. In that backpack, officers found found approximately 554 pills which weighed approximately 282 grams. In that bag, officers say lab reports confirmed the pills contained a mixture of acetaminophen and fentanyl. Officers also say they found a loaded Taurus 9mm pistol in the front seat of the vehicle.
After pleading guilty to possessing with the intent to distribute fentanyl in December 2022, Jones was sentenced last week to 175 months (14 years, 7 months) in prison, followed by 4 years of supervised release.
Lafayette, Louisiana Man Gets Lengthy Sentence After Drugs and Firearms Found in His Rayne Home
60-year-old Dallas Prejean of Lafayette has been sentenced to spend the next decade behind bars following his involvement in a drug trafficking conspiracy with several others.
According to a press release from the U.S. Attorney's Office, Prejean was convicted of Conspiracy to Distribute and Possess with Intent to Distribute Controlled Substances. He was charged in an indictment in October 2019 following an FBI/DEA raid on a home occupied by him in Rayne. Agents say they found numerous firearms and large amounts of drugs and other drug paraphernalia in the home. Prejean admitted to possessing the items to the agents and pleaded guilty in October 2021.
Prejean was sentenced week to 113 months (9 years, 5 months) in prison, followed by 3 years of supervised release.
Eunice, Louisiana, Man Caught Buying Cocaine
100 months behind bars was the sentence handed down to 51-year-old Shane Christopher Malveaux of Eunice last week after he was convicted for Conspiring with Others to Distribute and Possess with the Intent to Distribute Cocaine and Cocaine Base.
According to information introduced in court, Malveaux was involved in a drug trafficking conspiracy with others from August 2019 until January 2021. DEA agents investigating their organization began tracking them and caught Malveaux buying both powder cocaine and cocaine base from his co-conspirator Shawn White on multiple occasions. The U.S. Attorney's Office, in a press release, says Malveaux pleaded guilty in November 2022.
Baytown, Texas Man Caught Hiding Meth in a Beer Box While Traveling Through Calcasieu Parish, Louisiana
52-year-old Michael Javel Toefield of Baytown, Texas, may have gotten away with fooling the human police officers if it wasn't for their pesky (and heroic) K-9 officer.
In May 2019, officers with the Calcasieu Parish Combined Anti-Drug Task Force, Criminal Patrol Unit, stopped a vehicle being driven by Toefield. When the K-9 got a whiff of the drugs, it alerted the officers who found two clear plastic tubs containing over 500 grams of methamphetamine inside a cardboard Ultra beer box inside a white bag. Officers say Toefield admitted the meth hidden inside the box was his and pleaded guilty to Possession with Intent to Distribute Methamphetamine in November 2022. 
Toefield was sentenced last week to 130 months (10 years, 10 months) in prison, followed by 4 years of supervised release.
Parents Should Familiarize Themselves with These Illegal Drugs
Knowledge is power, especially when it comes to recognizing and understanding when your child becomes involved with illegal drugs.
Fighting Fentanyl: Important Arrests Made Across Acadiana in 2022
The fight against fentanyl is a daunting one as the highly potent drug continues to take lives every day across the country. From Lafayette to the surrounding areas, law enforcement agencies have their hands full as they fight to get fentanyl off their respective streets.
Let's take a look back at headline-catching cases involving fentanyl in 2022.
Idaho Fentanyl Deaths Quadruple Since Lockdowns Began
More From News Talk 96.5 KPEL