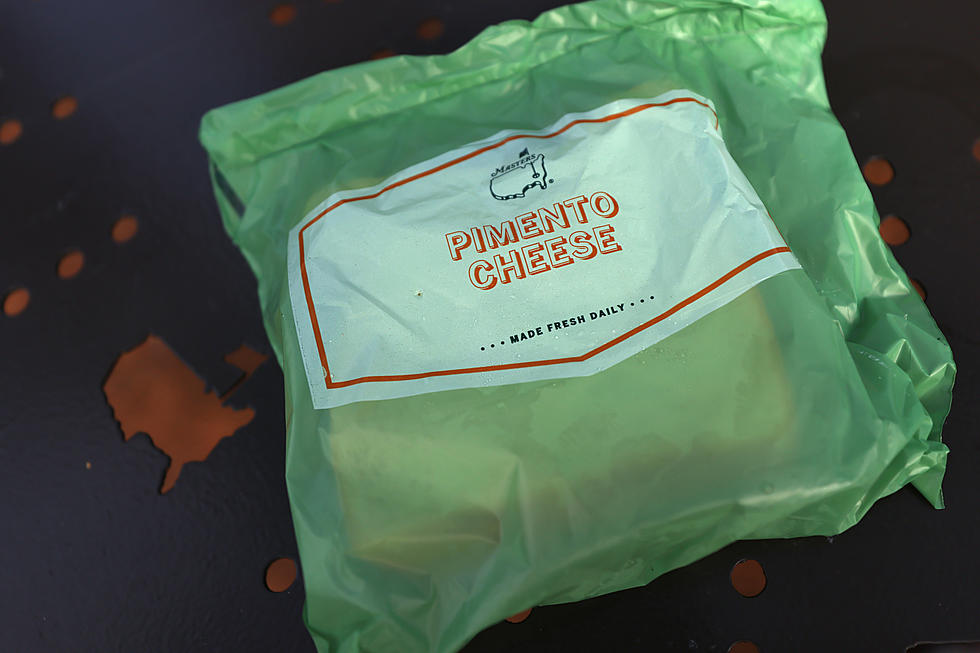 The Story (and Recipe) Behind the Legendary Pimento Cheese Sandwich at the Masters
Getty Images
When it comes to The Masters, one of the most famous golf tournaments on the professional circuit, there are two traditions that are "unlike any other".
The first is the golf itself. It's a level of play that is one of the most respected in professional sports, and there's almost a regality behind it. The second tradition, however, is one visitors seem to enjoy almost as much: the pimento cheese sandwich.
Apparently, you can now order it online.
Spectators visiting Augusta, Georgia, every year at this time are treated to a beautiful course and good food. Pimento cheese, a traditional southern food, has been a big part of the tradition at the course for as long as most can remember.
The Chef Behind the Pimento Cheese
You may not be familiar with his name, but Golf Digest says that chef Nick Rangos "was to a sandwich as Gene Sarazen was to a sand wedge."
At the outset, he was just doing it to provide a living for his family," his son Billy once told ESPN. "But at some point, the pimento cheese did become somewhat famous. He took a great deal of pride in knowing that.There were several articles written over the years about my dad's pimento cheese, and he really enjoyed reading those. He had a smile on his face when he saw those articles."
But, at some point, there was a falling out. Augusta National parted ways with Rangos, and went with a different restaurant. He kept the original recipe a secret.
His recipe was used for the sandwiches for more than 40 years before it was replaced by what many claimed was an inferior product.

"For as long as people can remember, a man in Aiken, S.C., made and mixed the cheese himself," Wright Thompson of ESPN the Magazine wrote two years ago. "Ten or so years ago, the tournament decided to get Wife Saver to make the sandwiches. The old man, obviously mad about losing the business, refused to give the tournament the recipe."
That hasn't stopped others from trying, however.
The Duplicate
The restaurant that Augusta Nations switched to, Wife Saver, is run by Ted Godfrey. At first, he struggled to re-create the magic.
He eventually succeeded - or came as close as he could - and began to deliver the same magic... that is, until Augusta National decided to move the production of pimento cheese in-house. Godfrey, too, refused to give them the recipe.
He tried to sell it to them, but they didn't buy it. Instead, their recipe allegedly made the product worse, and even commentators at ESPN noted it. Today, however, the sandwich has its fans, to the point where Augusta National allows orders of their "Taste of Augusta Package" online in the run-up to the Masters (that package, however, is currently sold out).
Godfrey did sell the sandwiches online through a site called Goldbelly at one point, but it is currently unavailable on the site.
What's the Recipe?
It's complicated. The ones that say you can make your own just like Augusta National's - like those at USAToday and Golfshake - vary quite a bit.
At its most basic level, pimento cheese is mayonnaise, cheddar cheese, cream cheese, and sliced pimento peppers. But other ingredients are also undoubtedly used, like paprika, garlic, soft cheeses, and other ingredients.
Instead of trying to copy theirs, however, it may be wise to follow the old Cajun truism of gumbo: No two recipes are the same.
Here's solid base to start with, though:
2

 

cups

 

sharp cheddar cheese

 

shredded*

1

 

cup

 

Monterey Jack cheese

 

shredded*

4 

oz

 softened 

cream cheese (room temperature)

1/2 

cup

 

mayonnaise

4 oz

 

jar

 

pimientos

 from a jar (diced)

, drained

1/2 teaspoon onion powder

1/4 

teaspoon

 

garlic powder

1/4 

teaspoon

 

cayenne pepper

1/4 

teaspoon 

salt

1/4 

teaspoon 

black pepper

8

 

slices

 

white bread
*Note: Buy blocks of cheese and shred yourself.
Green Jacket Ceremonies at the Masters
A look back at the green jacket ceremonies from the Master
LOOK: Here are the 10 US golf destinations with the most courses per capita
Discover where you can find the best access in the country for your pick of courses, the unique terrain that lends itself to world-class golf, and what makes select clubs noteworthy.
More From News Talk 96.5 KPEL