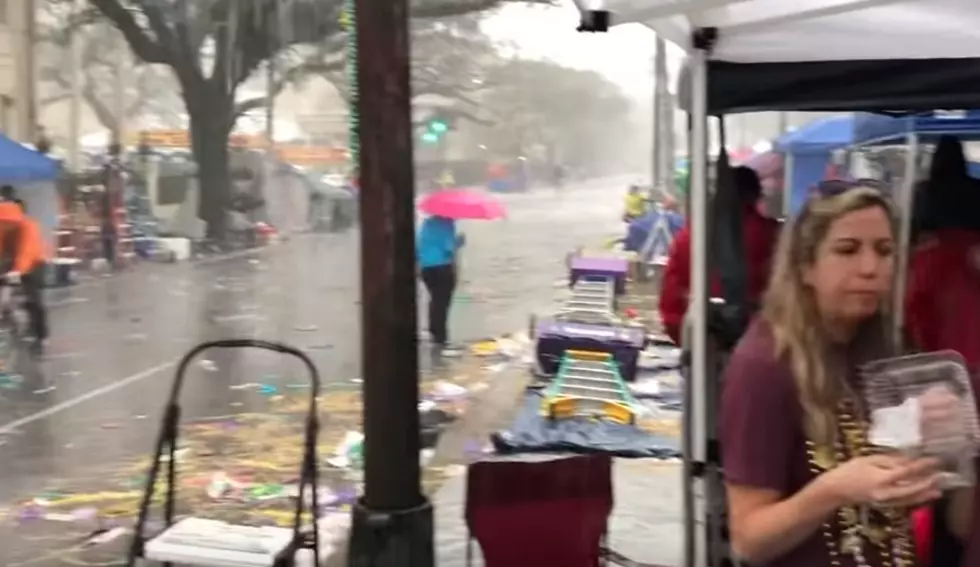 Weekend Showers Could Affect Parades in Acadiana
NOLA.com via YouTube
It looks as if Mother Nature is sending us a sign that she likes Mardi Gras revelry as much as we do. The weather forecast for this first big weekend of Mardi Gras parades in Acadiana is not perfect but it's not bad either.
Here's the way it breaks down.
For Tonight's Krewe de Canailles Parade skies should be mostly clear. The temperatures will likely be the biggest concern for parade watchers. Tonight's parade is set to step off at 7 pm. I say "step off" because this is Lafayette's walking parade. The temperature for the parade will likely be in the low to mid-40-degree range so bring a jacket and a beverage to help keep you warm.
For Saturday's Carencro Mardi Gras Parade which rolls at 11 and the Krewe des Chiens Mardi Gras Parade for dogs conditions should be about as nice as you could hope for on a mid-February afternoon.  Forecasters are suggesting partly cloudy skies and temperatures around 65 or so for the Krewe des Chien that rolls at 2:30. It will likely be a few degrees cooler for revelers at the earlier parade in Carencro
Saturday night's Krewe of Rio Parade could be the one with the most weather angst. Clouds will be building into Acadiana during the day on Saturday and there will be a 30% chance of rain for early in the evening. The rain chances increase considerably after midnight so the late stages of the Rio parade could see some sprinkles, especially if the timing on the forecast changes.
Sunday's Scott Mardi Gras Parade will have the opposite angst of Rio revelers. Those participants will be hoping the rain moves in and moves out by the time that parade is set to roll at 1 pm. As of now, forecasters are suggesting the greatest threat of rain in the area will happen between midnight and noon on Sunday. So, hopefully, the showers will be moving out as the parade is rolling on.
More From News Talk 96.5 KPEL