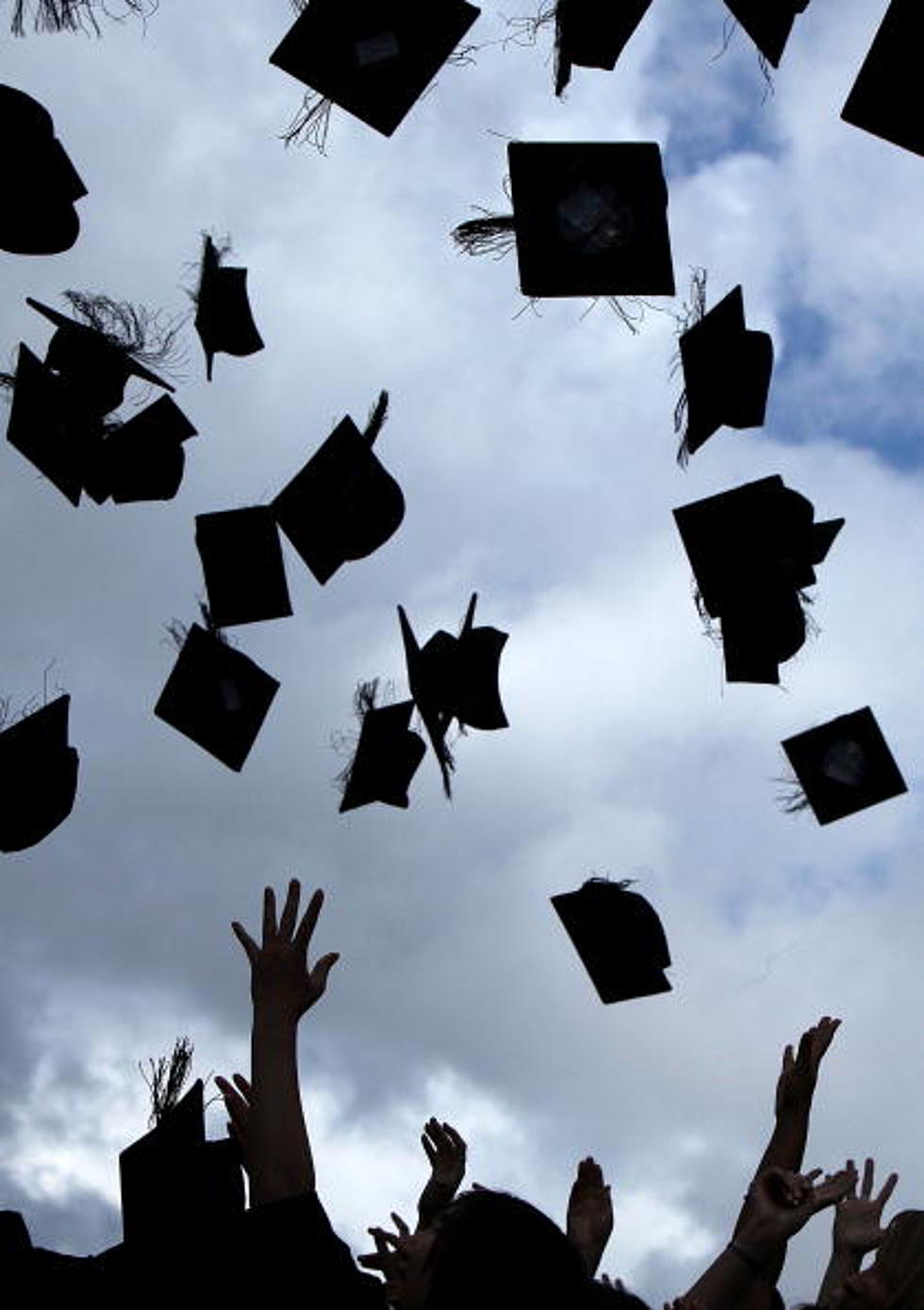 Winging It Wednesday Panelists Argue Economy and Legacy Lawsuits
graduation hats (Photo by Christopher Furlong/Getty Images)
On 'Mornings With Ken & Bernie' our Winging It Wednesday panelists had different opinions on two topics but actually agreed on one.  Warren Caudle, Mike Stagg and Carol Ross all felt that a commencement address by David McCullough Jr. was refreshing and "on target".
1.   Recently President Obama said the private sector was doing well.  But nearly one in five Americans employed in the private sector has a food industry job, and according to a new study, the vast majority aren't being paid a living wage.   The Food Chain Workers Alliance surveyed 700 workers and employees in five main areas of the food industry — production, processing, distribution, retail and service — and found that 86 percent of them earn subminimum, poverty or low wages, even though almost half work more than 40 hours a week.  In addition, fully 14 percent of such workers need food stamps just to feed themselves, and more than three-quarters have no health insurance.
If this is any indicator, is the private sector doing well?
2.  High school teacher David McCullough Jr. told graduates at Wellesly High School that they were not special.  McCullogh said,
"Across the country no fewer than 3.2 million seniors are graduating about now from more than 37,000 high schools. That's 37,000 valedictorians… 37,000 class presidents… 92,000 harmonizing altos… 340,000 swaggering jocks… 2,185,967 pairs of Uggs. But why limit ourselves to high school? After all, you're leaving it. So think about this: even if you're one in a million, on a planet of 6.8 billion that means there are nearly 7,000 people just like you."

Do you think his address was too harsh?
3.  The Louisiana legislature last week sent Governor Bobby Jindal a pair of bills to end "legacy lawsuits." For a decade, this litigation has cost the state thousands of jobs and billions in foregone investment. In a legacy suit, trial lawyers scour property records and then sue on behalf of landowners, claiming billions in environmental damage from prior drilling. Any piece of land may have been leased over decades to many different drilling operators, so the suits seek to hold all predecessor companies liable.
What do you think of the end of "legacy lawsuits"?
Listen to today's Winging It Wednesday:
More From News Talk 96.5 KPEL