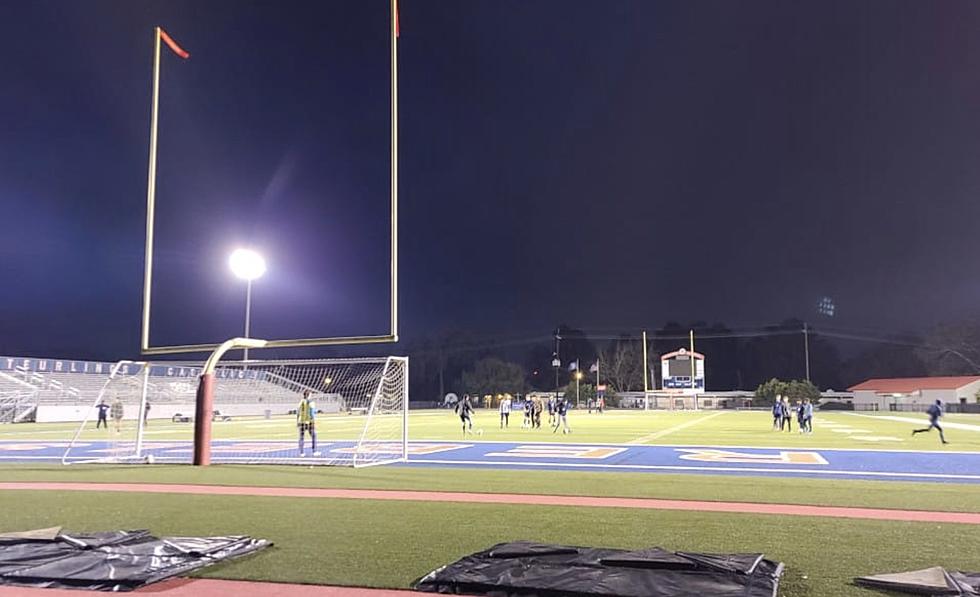 Carencro High Soccer Coach is South Louisiana's Own 'Ted Lasso' and Will Restore Your Faith in Humanity
Facebook, Carencro Soccer
By now, you may have seen the heart-warming story about a Carencro High School soccer coach in your news feed. If not, let me introduce you to South Louisiana's very own 'Ted Lasso.'
Before we go any further, I should probably make sure you know who Ted Lasso is.
Ted Lasso is a character on a popular Apple TV+ show (of the same name) who is a small-time American football coach who gets hired to coach a professional football club in England, despite having no actual experience coaching football.
Mark Foreman's story is a similar one—and even though he's never actually seen 'Ted Lasso' on television, he's definitely the real-deal version of Jason Sudekis' character right here in Acadiana.
You see, a little over a month ago, the Carencro High Boys soccer team had no coach, making it uncertain that they could even have a season. Foreman, a veteran, attended Carencro High School and played football for the Golden Bears. When he heard about what was going on, he felt like he needed to help.
The thing is, no one else threw their name in the hat to assist, so Foreman went from being a recent law school grad prepping to take the bar to the volunteer soccer coach for his alma mater.
On top of that, Foreman quickly learned he was coaching a program that didn't have the minimum amount of money it would need to travel to away games.
Jan Risher at the Acadiana Advocate caught wind of Mark's situation and shared an amazing story that goes into way more detail.
Her story also asked local readers to consider supporting Foreman who had to find roughly $2,000 to cover expenses for a fast-approaching season.
Once people read Risher's incredible story, donations began to pour in!
Once Ochsner Lafayette General Sports Medicine caught wind of his story, they pledged to MATCH donations up to $5,000.
According to The Advocate, OLGH spokesperson Patricia Parks Thompson said that everyone loves supporting a good "underdog story" and hopes that their generosity encourages other local businesses to do the same.
Even other soccer programs chimed in with support.
Support from locals who were inspired by Mark's selfless gesture said they were willing to do what they could to back his effort to field a team for the Golden Bears by any means necessary.
Perhaps the best moment in this feel-good story was the $550 donation from actor Brendan Hunt, who plays assistant Coach Beard on 'Ted Lasso.' Talk about life imitating art, right?
Foreman says he's hoping to have a booster type club that can handle the donations as he continues to wrap his head around his new undertaking as well as the generosity from our local community.
When I asked him to tell me about the last week of his life, he described it in three words.
Very interesting, overwhelming, heart-warming, yeah…all of that!
While Foreman's Bears didn't have the best initial showing (they were down a man the entire match) that hasn't killed their spirit in the least bit. Coach Foreman couldn't stop beaming when telling me about his team and how getting to know them has made his new gig even more important.
Having gotten to know the kids on this team since taking on this position—they deserve the attention and all that this season will bring to them. I have a really great group of kids.
Foreman also said one of the biggest realizations in his coaching stint thus far is just how much behind the scenes work factors into the gig. So much so that he actually apologized to a former coach from his days as as Carencro High football player.
I didn't initially realize all the behind the scenes work that coaches put in to maintain and run a program. It's not just whistle blowing and getting kids in the right spot on the field. I ran into Coach Kovatch my first day and quickly apologized for any trouble I may have given him when I played at CHS (when he was just starting out in his coaching career). Being oblivious (as a student) to all that our coaches actually did for us.
The Carencro Bears soccer team will play their home opener on on December 7 vs. Opelousas Catholic and it should be a packed house as numerous people on social media have already vowed to be there in support of Foreman and his team.
While his heart-warming story continues to inspire many—both near and far—Coach Foreman says that his team isn't looking too far ahead. Right now, their focus is on the team's away match vs. rival Cecilia High School coming up on November 30.
Best of luck to you, Coach. "Futbol is life," and all of us cheering you on.
KEEP READING: What were the most popular baby names from the past 100 years?
More From News Talk 96.5 KPEL