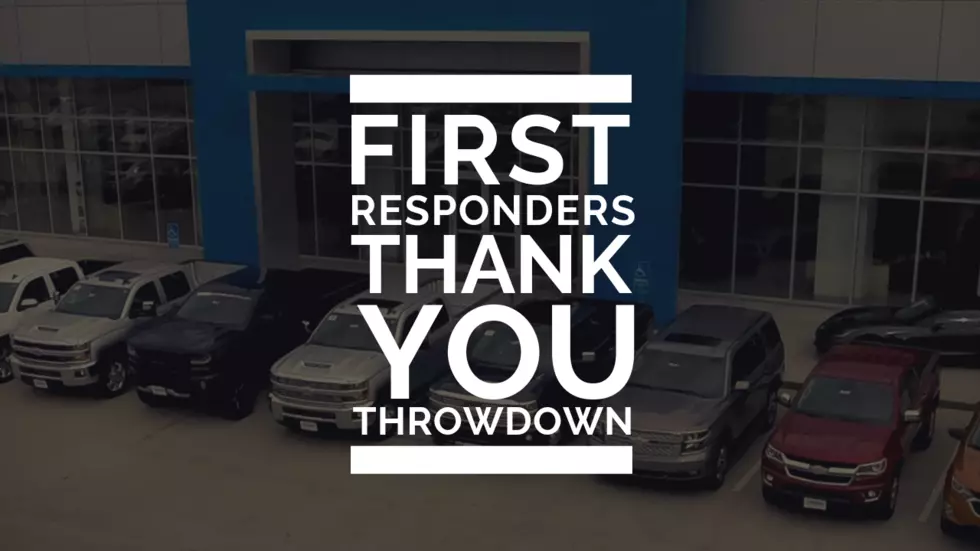 First Responder Event Honorees Announced [FULL LIST]
KPEL
We're so excited to honor the best first responders in Acadiana with a big event at Service Chevrolet Cadillac. We poured over nominations and are happy to honor 60 First Responders in Acadiana. If you haven't heard from us personally yet, you will be!
If you can attend the event on January 11th. For more information, email Townsquare Media Promotions Director Dawn Stoot at dawn.stoot@townsqauremedia.com
Congratulations and thanks for all you do to keep us safe!
| | | |
| --- | --- | --- |
| Pedro | Alexander | Youngsville Police |
|  Ryan | Andrews | Paramedic |
| Josiah (Husband) | Atkins | Abbeville and Broussard Fire department |
| Christine | Bell | New Iberia PD |
| Chad (Sgt.) | Benoit | New Iberia PD |
| Deon | Boudreaux | First Responder |
| Robbie | Brown | Lafayette Police |
| Cameron | Comeaux | Acadian Ambulance |
| Brooks | David | LA State Police |
| Taylor | Doucet | Broussard Police |
| Bridget | Dugas | Lafayette Police Department |
| Patricia | Dupre | Acadian ambulance |
| Dominique | Fruge Carriere | Acadian Ambulance Co |
| Thomas | Gossen | LA State Police |
| Craig | Gregory | New Iberia PD |
| Gene | Guidry | Broussard Police |
| Hannah | Hayes | Acadiana ambulance |
| Jeff | Hebert | Lafayette Police |
| Sarah | Hollingsworth | New Iberia PD |
| LeTroy | Johnson | Franklin Police Dept |
| Seth | Lagrange | Port Barre Police Department |
| Ethan | Landry | New Iberia PD |
| Chris (Lt) | Lantier | New Iberia PD |
| Leland (Lt) | Laseter | New Iberia PD |
| Reva | LeBlanc | Iberia Parish Sheriff's Office |
| Korie | LeBlanc | Iberia Parish Fire district #1 |
| Caleb | Lege | Scott Police Department |
| Michael | Leon | City of Lafayette |
| Samuel | Lorio | Louisiana State Police Troop I |
| Jeffery | Mistric | Lafayette Police |
| Officer | Mize | Broussard Police |
| Reginald | Mosely | Youngsville Police |
| Calvin | Parker | Lafayette Police |
| Andrea | Pattison | Lafayette Police |
| Monika | Porter | Lafayette Police |
| Monte | Potier | Lafayette Police Department |
| Jimmie | Richard | Lafayette police department |
| Chris | Richard | Broussard Police |
| Ryan | Richard | Lafayette Police |
| Bart | Ryder | Lafayette Police Department/Lafayette Consolidated Gov |
| Murraysha | Sheppard | Lafayette Police |
| Robert | Shontz | Lafayette Parish Sheriff |
| Sallie | Spears | Lafayette City Marshall's Office |
| Jarrod | Spurlock | Youngsville Police |
| Kristina | Strong | Lafayette Police |
| Eddie | Thibodeaux | St. Landry Parish Sheriff's Office |
| Eddie | Thibodeaux | St. Landry Parish Sheriff's Office |
| Gabriel | Thompson | Youngsville Police |
| Jennings | United States | Acadian Ambulance |
| Lafayette | United States | Acadian Ambulance |
| Richard | Vincent | Youngsville Police |
| James | Webb | Lafayette Police |
| Dale | Wells | Broussard Police |
More From News Talk 96.5 KPEL