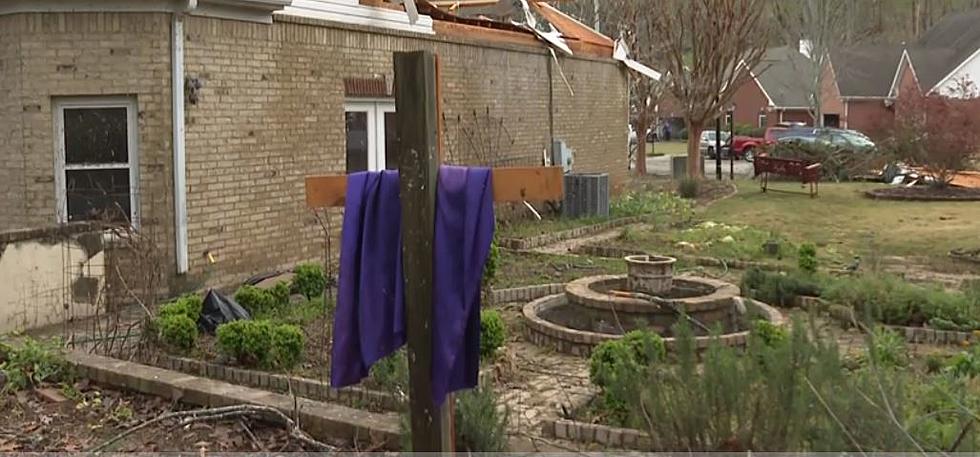 'It's Just God': Tornado Spares Cross with Scarf
WDSU.com
Tornadoes tore through Alabama this week, leaving devastation and death in its wake.
WDSU News says that, according to the National Weather Service, at least 7 tornadoes swept through the area, leaving at least 5 people dead.
Dena Cook and her husband were lucky: their home was struck by a tornado, but her family is safe. Even though the tornado ripped the roof off of her home, it left a cross with a scarf draped over it unscathed.
"It's just God," Cook said of the situation. "If you don't believe in miracles, then something's wrong with you."
We don't know why the tornado would leave the cross unscathed, or the homes next door, or the trees next to the cross, but Dena Cook believes in miracles.
According to the story, Cook's husband had built the cross last year and then draped it with the cloth in observance of the Lenten season.
WDSU quotes Cook as saying."It's still there and my cross is still there because God was with all these people, and us."
We're just glad that Dena and her husband, and her cross, are safe.
LIST: 10 Deadliest Louisiana Hurricanes
Six Things A Cajun Needs To Survive A Storm
More From News Talk 96.5 KPEL