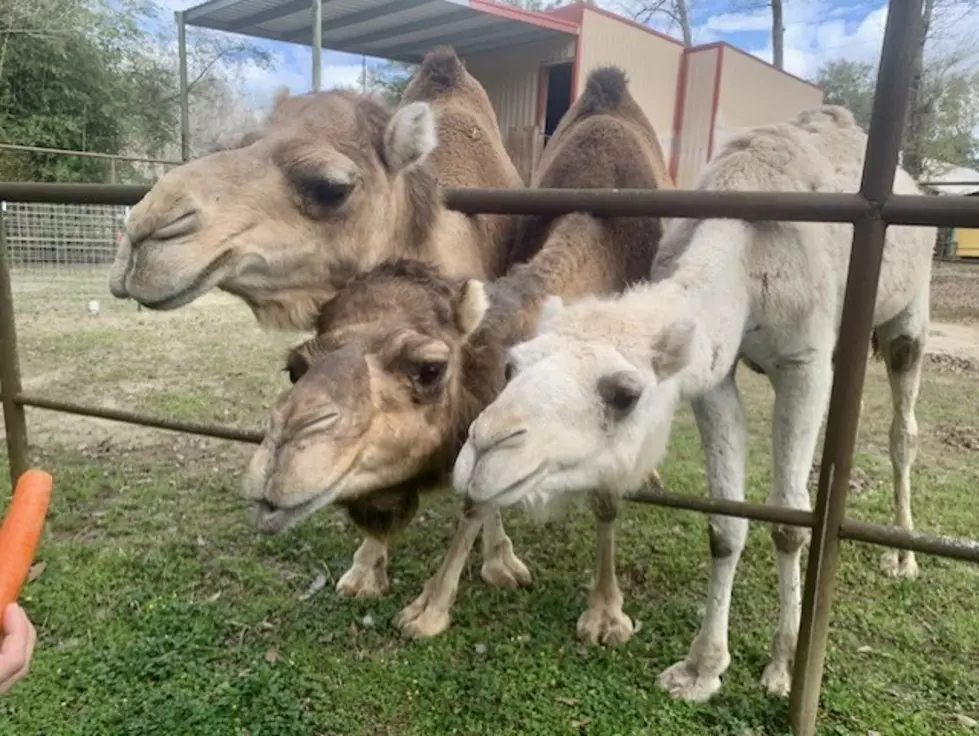 Meet Sammy, Leslie and Krinky Three New Additions to the Zoosiana Family
Zoosiana
Zoosiana is celebrating the arrival of two new zebras and three new camels. Now, Zoosiana is more exciting than ever with these new additions to its animal family.
Zoosiana in Broussard recently made national headlines over the 12 squirrel monkeys that were stolen from their cages. The man believed to be responsible for the theft has been arrested after a joint investigation by Broussard and Opelousas police. The monkeys however have not been found.
Joseph Randall, 61, of Opelousas was arrested and booked into the Lafayette Parish Correctional Center on charges of burglary, as well as 12 counts of Cruelty to Animals. -News Talk 96.5 KPEL

 
Even though zookeepers are sickened over the loss of the squirrel monkeys, and hoping for their safe return, there is also good news at Zoosiana as well.
In addition to two new zebras, Zooziana has three new camels! The white one is Sammy, the light brown camel is Leslie and the third is Krinky.
The two girls are five years old. They came to us from a facility in Nevada. They are on display right now. -George Oldenburg, Owner of Zoosiana.
Zoosiana has been open since 1992, providing children and families in Acadiana with fun and educational information about animals and the planet. The Oldenburg family strives to provide habitats for the safety and health of the animals that are the stars of Zoosiana.
Zoosiana is open daily 9 a.m. to 5 p.m., 7 days a week, all year long. The zoo is closed on select holidays and all hours are weather permitting.
Zoosiana is located at 5601 Hwy 90E, Broussard, LA 70518.
LOOK: 30 fascinating facts about sleep in the animal kingdom
More From News Talk 96.5 KPEL