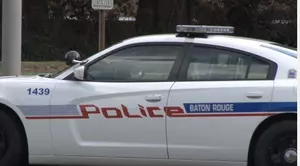 Police: Asst. Principal Arrested After Woman Disappears
BBPD Car Youtube
BATON ROUGE, La. (AP) — Baton Rouge police suspect foul play in the disappearance of a woman after her 3-year-old daughter was found alone near her mother's vehicle and a middle school assistant principal was arrested in connection with the case.
Police say 39-year-old Robert Marks was arrested Friday on charges of kidnapping of a child and child desertion. Police are searching for Lyntell Washington, the child's 40-year-old mother.
Sgt. Don Coppola, a police spokesman, says Marks and Washington were in a relationship and that she was pregnant with his child.
Adonica Pelichet Duggan, a school system spokeswoman, told The Advocate that Marks is an assistant principal at Brookstown Magnet Honors Academy and that Washington is an instructional specialist at the school. Marks was placed on administrative leave after his arrest.
Copyright 2016 The Associated Press. All rights reserved. This material may not be published, broadcast, rewritten or redistributed.
More From News Talk 96.5 KPEL