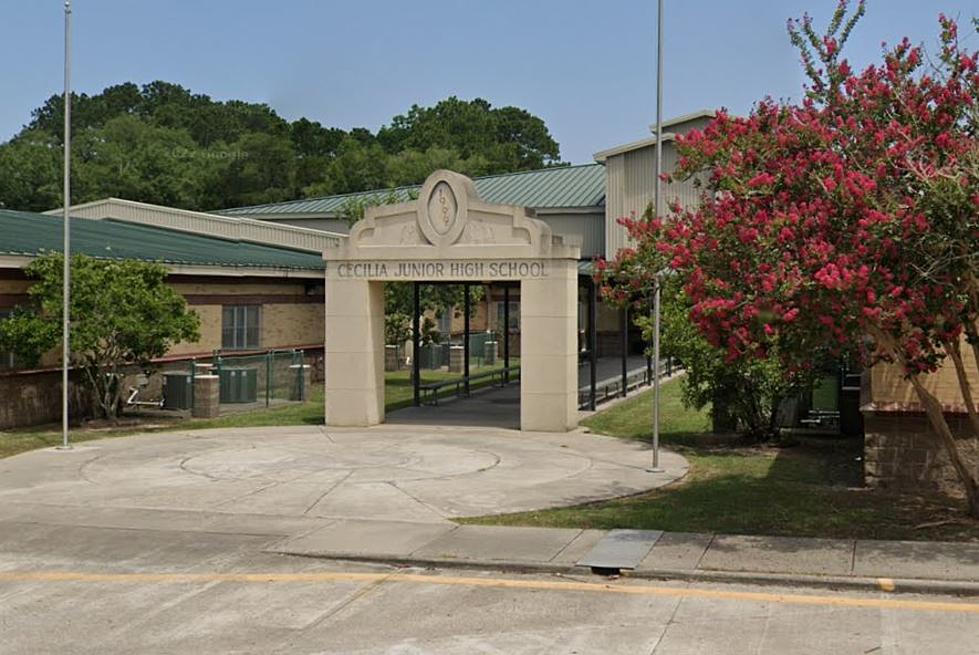 Student Arrested Following Social Media Threat Against Cecilia Junior High School
Cecilia Junior High School, google street view
ST. MARTINVILLE, La. (KPEL News) - A 13-year-old student faces two counts of Terrorizing following a threat made on Snapchat over the weekend regarding Cecilia Junior High School.
According to the St. Martin Parish Sheriff's Office, deputies responded to the threat late Sunday evening as it began circulating online. Investigators obtained a warrant and arrested the student, who goes to the school, Wednesday morning. The student has since been released to his parents following the booking process.
Sheriff Becket Breaux has this message for parents:
We would like to reiterate that these types of threats are taken very seriously and those who partake in this type of activity will be held accountable to the full extent of the law. Please speak with your children and let them know the consequences and seriousness of making online threats.
The charge of terrorizing can carry a fine of up to $15,000 or up to 15 years of imprisonment or both.
Earlier this year, St. Landry Parish District Attorney issued this stern warning to any students looking to test the judicial process by calling/texting school threats.
From a police officer's perspective, sending resources to cover these threats is a waste of manpower and is just plain scary for parents.
As a parent and as a first responder, yes, it is scary because our children are at these schools where these bomb threats and shooting threats are being called," Lafayette Police Spokesperson Sgt. Robin Green said to KLFY TV 10 awhile back.
6 Car Issues That Will Get You Pulled Over in Louisiana
These routine traffic stops help prevent accidents, enforce regulations, and identify potential issues with vehicles. Addressing minor infractions contributes to overall public safety and ensures vehicles meet basic standards on the road.
Gallery Credit: Joe Cunningham
The Healthiest and Least Healthy Parishes in Louisiana
Here's the list of the top 10 and bottom 10 healthy parishes in Louisiana.
Gallery Credit: Joe Cunningham
More From News Talk 96.5 KPEL